Party for Chica Power – Austin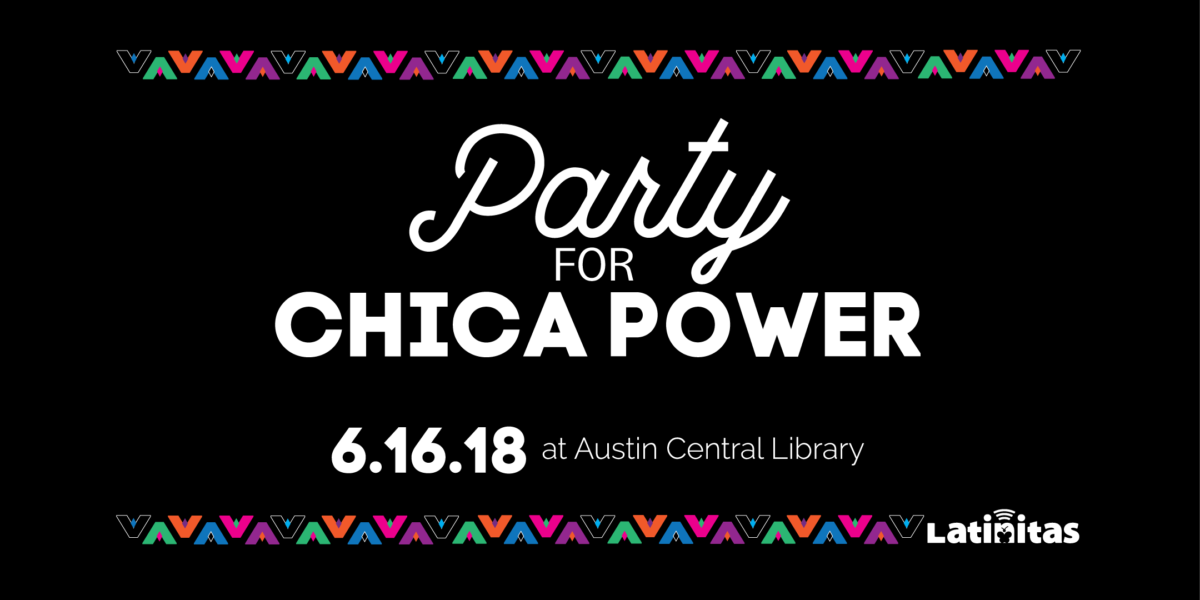 June 16, 2018, 6:30 pm – 10:30 pm; $75 Online | $85 Door (entry includes 5 tickets for games and activities)
How do you follow up more than a decade of Latinitas' enrichment programs for some of the city's most marginalized girls, its signature annual photography auction event, and last year's anniversary Quinceañera with an overflowing guest list of the city's most influential notables – with the Party for Chica Power, of course!
Latinitas' annual event has always been about the unexpected, creativity, and a celebration of Austin's up-and-coming youth and the urgency to help them innovate, get access to the latest digital platforms and technologies, and elevate their goals and dreams!
This year delivers an evening of signature cocktails, dinner, music from the Chulita Vinyl Club DJ collective and a kermés-themed celebration at the new Austin Central Library.
What's a kermés? Ker·mes ˈkermēz/ – A form of celebration, very similar to a carnival with several traditional activities. Normally outdoors.
Taking the kermés experience to a sophisticated level, Latinitas will present a cake walk with some of the city's most in-demand delectable cakes, a bottle toss, cornhole game, Loteria, and a virtual reality piñata (!!!) with "grown-up" prizes such as elite alcohol tastings, jewelry, and some of Austin's most delicious confections.
Latinitas will present its 1st Chica Power Award, sponsored by Bumble, to a Latinitas' alum who is applying a "super chica power" she gained through Latinitas media and technology education programs in her everyday life. She will also be awarded a $500 scholarship. Event proceeds support 25 Club Latinitas programs at Title 1 schools and public housing sites, annual Chica Conferences, low- to no-cost camps, free family workshops at area libraries, and leadership development programs for teens.
The last year has shown a tremendous change in the wind for female empowerment. Many women have made their voices heard in a way that America has never seen before.
This courage was supported by many men who asked – how can I help?
Inspired by that inquiry, Latinitas Party For Chica Power presents an all-male ally Honorary host committee that includes:
Austin Mayor Steve Adler

Evan

 

Smith, Founder, Founder and Publisher, Texas Tribune
Josh Baer, Founder, Capital Factory
Dan Graham, Founder Build-a-Sign and the Notley Fund
Luis Rodriguez, President, Greater Austin Hispanic Chamber of Commerce
Sandy Dochen, 

Manager, Corporate Citizenship IBM

Hugh Forrest, Head of Interactive, SXSW
Additional donations can be made through Eventbrite and at the event.
Interested in becoming a sponsor? Click Here!