FUTURE CHICA CONFERENCE – AUSTIN, TX
Saturday, May 4, 2019 from 9:00 am to 4:00 pm
Oracle |2300 Cloud Way  | Austin, TX 78741 

Cost: Admission for a full day of fun and learning is $15. Lunch and snacks are included as well as parent workshops in the morning and afternoon. Scholarships are available and current Club Latinitas participants can attend for free.
At Future Chica Conference 2019, girls will: 
Exploring 21st century technologies and their own innovative ideas. 

Learning how these technology tools and platforms work through hands on demos and activities. 

Engaging with local professionals to inspire career exploration across technology, creative, design and business industries. 
For more information, call Latinitas Austin at (512) 900-0304 or send a message to austin@latinitasmagazine.org
VR CHICA CONFERENCE – SAN FRANCISCO, CA
Saturday, May 18, 2019 from 9:00 am to 4:00 pm
Seven Tepees Learning Center|3177 17th Street|San Francisco, CA 94110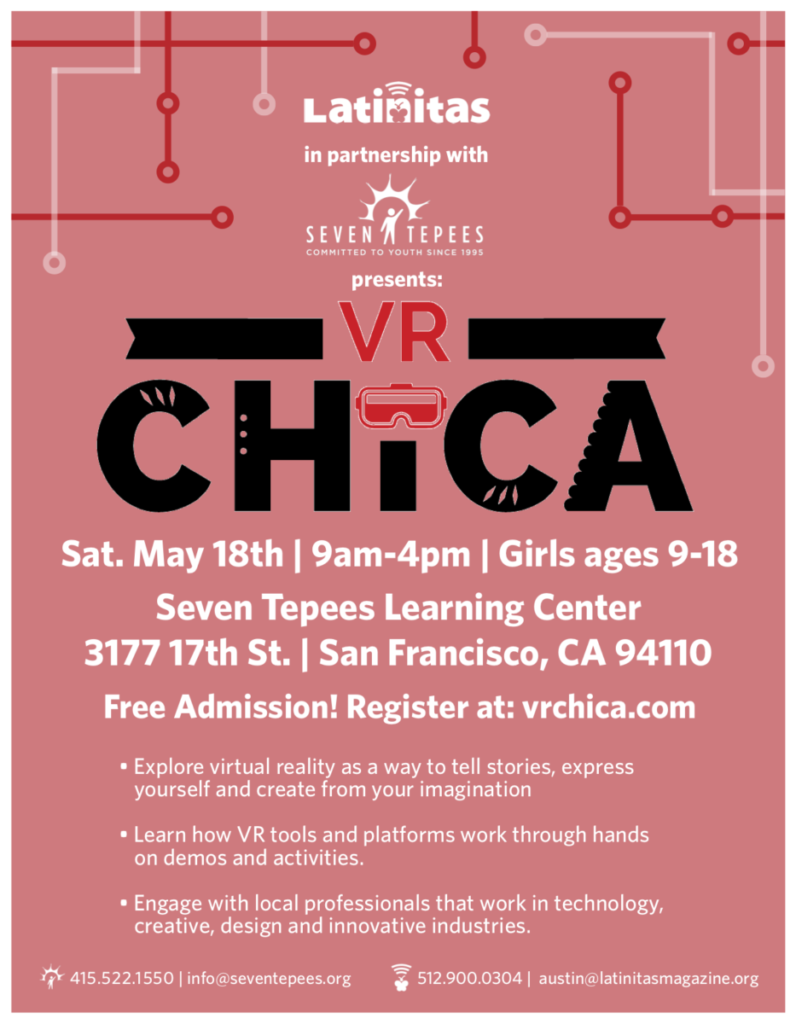 ---
PAST CONFERENCES
GAME CHICA – November 2018 – SAN FRANCISCO, CA
STARTUP CHICA – October 2018 – AUSTIN, TX
GAME CHICA – August 2018 – MCALLEN, TX
GAME CHICA – April 2018 – AUSTIN, TX
STARTUP CHICA – April 2018 – EL PASO, TX
STEAM CHICA – Nov 2017 – EL PASO, TX
STARTUP CHICA – Oct 2017 – AUSTIN, TX
DESIGN CHICA – April 2017 – AUSTIN, TX
HEALTHY CHICA – April 2017 – EL PASO, TX