GAME CHICA CONFERENCE – AUSTIN, TX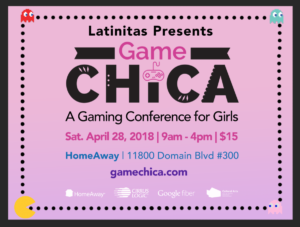 Saturday, April 28, 2018 from 9:00 am to 4:00 pm
HomeAway at the Domain | 11800 Domain Boulevard #300 | Austin, TX 78758
Cost: Admission for a full day of fun and learning is $15. Lunch and snacks are included as well as a parent workshop in the afternoon. Scholarships are available and current Club Latinitas participants can attend for free.
Game Chica Conference will show all girls ages 9-18 how to design a video game using platforms such as Scratch, a programming language and online community where anyone can create interactive games and stories. The day will also include a keynote speaker and lunch where girls meet with a diverse group of women and men who work in video game design, virtual reality, programming, and various other roles in the tech sector.
For more information, call Latinitas Austin at (512) 900-0304 or send a message to austin@latinitasmagazine.org
---
START UP CHICA CONFERENCE – EL PASO, TX
Saturday, April 21, 2018 from 9:00 am to 4:00 pm
Southwest University | 1414 Geronimo Drive | El Paso, TX 79925 
Cost: Early bird registration is $20 until Friday, April 20th! Tickets at the door will be $25.
Startup Chica Conference will show all girls ages 11 to 18 the business skills needed to launch their own product or idea. As a team, working alongside community mentors from The Hub of Human Innovation they will come up with a creative product, pitch it to a group of judges and exit with a passion for entrepreneurship. Selected teams will also get the chance to continue working with The Hub following the conference to make their product become a reality. 
For more information, call Latinitas El Paso at (915) 282-5639 or send a message to elpaso@latinitasmagazine.org
---
PAST CONFERENCES
STEAM CHICA – Nov 2017 – EL PASO, TX
STARTUP CHICA – Oct 2017 – AUSTIN, TX
DESIGN CHICA – April 2017 – AUSTIN, TX
HEALTHY CHICA – April 2017 – EL PASO, TX