Hosted by Angelique Hechavarria
Editor's Note: This is a transcription of Latinitas Magazine's SoundCloud podcast "20 Questions With," where we invite bold and creative individuals to discuss their experiences and background. Listen along by clicking the link!
Hola Chicas! Welcome to "20 Questions With," a podcast in conjunction with Latinitas Magazine. Latinitas Magazine is a strong voice for Latina and POC Youth, which is why the hosts of "20 Questions With" are all young Latinas who are looking to gain experience in innovative and creative fields just like you! 
In each episode, you'll hear from striking individuals who are inspiring today's youth with their passion, motivation, and grit. 
Today, I'm excited to say that our Volunteer Writer Angelique Hecarvarria had the opportunity to sit down and ask 20 Questions With Maria Hinojosa! 
Before we get started, here's what you should know: 
Mexican-born and US-raised, Hinojosa is the President and Founder of Futuro Media. Throughout her career, Hinojosa has anchored for PBS, CBS, WNBC, and CNN. She is currently the anchor and Executive Producer of a Peabody Award-winning show, Latino USA, a hit PRX public radio show. As the author of three books, including her critically acclaimed memoir, Once I Was You, Hinojosa has informed millions about the changing cultural and political landscape in America and abroad. In many ways, Hinojosa is a voice for many communities that are not always heard, including immigrants, the incarcerated, and the LBGTQ+ communities.  
So without further ado, I'll hand it over to Angelique and Maria.
ANGELIQUE: Hey, everyone. Thanks for joining us on this episode of "20 Questions With" I'm Angelique Hechavarria, and I'm here with today's guest, Maria Hinojosa. Thank you, Maria, for joining us today.
MARIA: Hey, good to be here.
ANGELIQUE: Thank you. Let's get started with the questions. So our questions are quite light-hearted, to begin with. So I want to know what your favorite part of your career is?
MARIA: My favorite part of my career is anytime I'm able to interview people in person on the street. Like for real, that is the thing that makes me the happiest.
ANGELIQUE: And would you be able to describe your typical day for us?
MARIA: Well, pandemic days are different than what would have been a typical day. But basically, what I do is I work out very early in the morning. Usually, I'm getting ready to start boxing. So I'll be boxing at seven o'clock in the morning in the park, every day that I possibly can. I come back and early in the morning, I'm usually recording something, or there's a good chance I'm recording a show. In the middle of the day, I'm having editorial meetings and meeting with my team. I have multiple teams, and we're developing various projects. Often I'll be doing interviews in the middle of the day with people. And then in the evenings doing more lives, you know. 
And then on Thursdays, I'm a professor. So I teach two classes all day. I just finished taking a chunk of time off where I was writing every morning because I'm writing this book. Sometimes, you know, like on weekends, there'll be work too. I'm often trying to end the day and just be with my family even though I'm with them the entire day —because we are all at home together. For a somewhat typical, before the pandemic, I would have been on a plane every week going to a different city and talking to different people. Yeah, that's, that's what has been my life.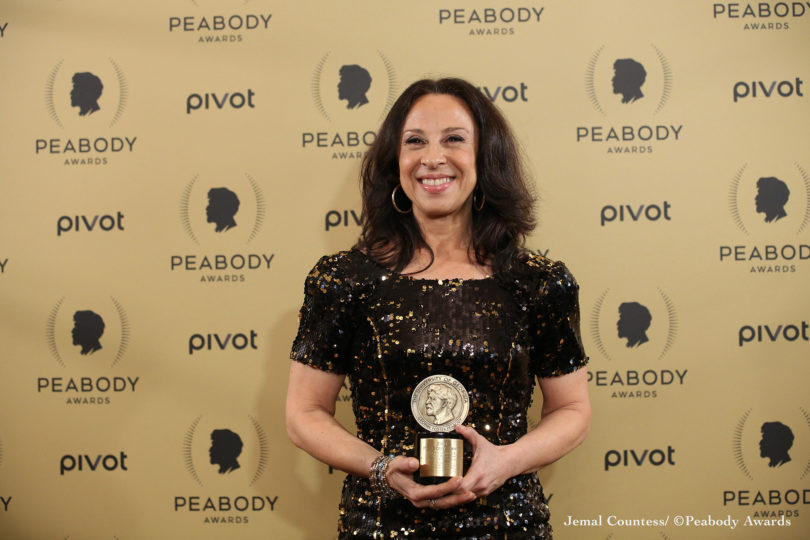 ANGELIQUE: Yes, you do so many amazing things. And I just learned that you are doing boxing, which I love and hope to do one day. Can you also tell us something else that might surprise us about you?
MARIA: I'm a big nature freak. I mean, I always liked nature. I just really find myself grounded by connecting with nature, by extension birds, which I become much more public about on my Instagram and Twitter, so some people are very surprised about that.
ANGELIQUE: Yes, my family also loves bird watching. We are like, 'We are going to get the best binoculars and spot the native birds.' So much fun to do. Does this go maybe with something that you do in your free time?
MARIA: Yeah,  I like to go out and hike with my daughter when we can, when the weather permits. It has been pretty brutally cold. I like to work out. Like I get joy out of that. I like diving into a phenomenal book or a great series. Right now, I'm watching something that's about my community, Harlem. So it's a series about Harlem that I'm enjoying. You know, I've been at this for a while, so I understand the importance of disconnecting. And so, you might find me just dancing to disco music at any time. It's something I love to do. 
ANGELIQUE: Me too! Also, this is my favorite question because I'm personally a foodie, especially for Latin American food. So I wanted to know what your favorite Latin American dish is?
MARIA: ¡Hijole! (Darn!) That's really hard. No, I don't have one. You know, I make excellent guacamole. Even my staff —we had a competition. It's award-winning. I can say that. I mean, I just love guacamole. But you know, I'm like bueno (well), pero (but), right now, I've connected with some Ecuadorians here in Connecticut. And so I'm getting into what they are eating. The plates are different. I know Peruvian dishes, which I love. I mean, pupusas. Oh my God. Like a really good, freshly made pupusa. Street tacos —Mexico City-style street tacos. You know, I'm down for that. Anything street —quesadillas on the street. Yes, anything from the street, which can be dangerous. So I try to limit that. So yeah, you could just keep me going for a while on this one.
ANGELIQUE: Yes, especially if you live in a Latinx community. My mom and I would always go get ceviche, arepas, empanadas. So we're missing that right now too. Hopefully soon. So we have so many iconic people that we know from the past and the present. I wondered, if you can meet anyone from the past or present, who would it be and why?
MARIA: It would be Jovita Idár. Jovita Idár was born in Laredo, in the late 1800s. She was an American citizen of Mexican descent. She was my founding mother, as a journalist in the United States of America. She fought off the Texas Rangers when they came to shut down her press. She helped in the Mexican Revolution. She was a nurse. She was a teacher. She did incredible things in her life. Also, Frederick Douglass, who is my founding father as a journalist in the United States. I think I would love to meet both of them —put the three of us together.
ANGELIQUE: Yes, yes, I recently read his novel. And it was so powerful, I cried. And I spoke about it with my classmates as well. So he's someone that I would also love to meet. So I was also wondering, where do you see yourself in five years?
MARIA: I think myself and the company will have moved into a real expansive territory in terms of media. By that, I mean we'll be making a film, a television series, something dramatic based on real life. So I will have written by then probably two more books. So I'm excited about that as well.
ANGELIQUE: Yes, I hope that does come true. Because I would love to read and I love films also. So what is one of your favorite stories that you've covered? 
MARIA: You're asking a journalist, right. The thing about being a journalist is that when we're living in a time that is so complicated —like we are right now to be Latino or Latina or to be an immigrant or refugee —I wish I could say happier things. But I think my favorite work that I've been doing in the last year has been focusing on those forgotten communities. Like I went down to Mexico's border with Guatemala, where people are stuck having to wait, even though they're refugees, and they want asylum. I was down in —on the border with the U.S. and Mexico along the Texas border. Then I was in Mississippi reporting about people who had been deported after being taken from the chicken processing plants where they worked. Most of them are Guatemalan, who do not speak Spanish as a first language. So I don't know about a favorite story. I think it's a story that I'm committed to telling.
ANGELIQUE: And throughout your career and covering both positive and also negative stories. What is one thing you find challenging about journalism?
MARIA: I think something I find frustrating about journalism, and it's not a problem that I have, because I have my own company, but I think it's hard for people when they're starting and they're working for other people. And you realize how little representation there is in terms of Latinos and Latinas, specifically. That part is hard for me because I think it can be a turn-off for many people. I just don't want people to give up. We need more of us.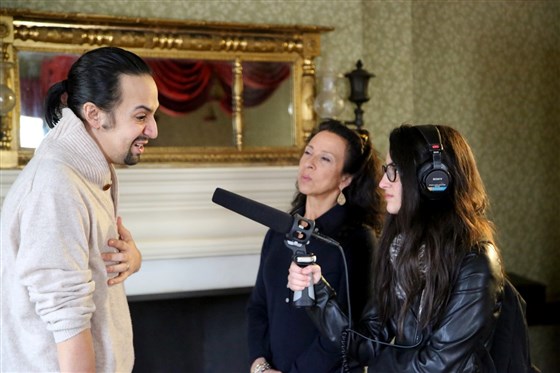 ANGELIQUE: Right. And have you faced any challenges to get to this point in your career?
MARIA: We don't have enough time. 
ANGELIQUE: Oh, no. 
MARIA: I mean, there's just been too many challenges. And then you're just like, 'OK, here we go. All right, here we go.' So I tell this to my students. On the days when I'm a college professor, I tell them, 'I don't want you to think that there's going to be a time when you get to your life where it's like, 'OK, free coasting. All right.' I can just chill out, and everything's going to be like water skiing. Yeah, I got it. All right, everything is fine.' No, there's always going to be the waves coming in, the wave is jumping, and then you just have to learn how to ride those waves. 
ANGELIQUE: So this also goes in relation to the next question. What advice would you give to a young girl trying to get more experience in the field of journalism?
MARIA: To consume a lot of journalism. First, find out what you like, and then go to those places and try to work in those places. And don't give up, it is very competitive. It is. But you just got to keep trying, so you have an image of where you want to be. But you have to realize that you have to start slow. And if you don't get that first job, you try again, and you keep trying. There's something to be said about tenacity and keeping at it. I just worry for many young Latinas that somebody could say something to them, which would turn them off. And that's where I'd like to tell them 'Please don't.' There are places like Futuro Media that exist and more of them and other places, not just about Latinas, cool places where you can work. And then you'll ultimately, ideally, maybe create your own. So put in the hard work, and don't be afraid. 
ANGELIQUE: Keep fighting. And when you're younger, what did you envision yourself doing?
MARIA: I think because I was always a border crosser because I was growing up in Chicago, we would drive from Chicago into Mexico. So I actually drove through the state of Texas multiple times. I was in the city of Austin when none of the buildings were over 10 stories high —if at that. I think I imagined that I could do something internationally. I think one time I realized like, 'Maybe I'd work at the UN,' and I'm so glad I didn't. Not to poopoo the UN, but it's also a bureaucracy. And I'm glad I didn't become a bureaucrat. I don't want to be a bureaucrat. Never have I wanted to be a bureaucrat. 
There was a time when I imagined that I would be an actress. I thought that even though I couldn't imagine being a journalist, at least I had seen "West Side Story," and there were Latinas there —well, Rita Moreno. That dream came true though, which is why you should never, ever, ever give up on your crazy dream because when the movie "In the Heights" comes out, I'm in it. So you will see me. I just saw the film. I just saw it. It's amazing. So yeah, that dream that I had, I never gave up. You become friends with people as you get older, and Quiara Alegría Hudes, Lin-Manuel, are people I know as friends —Lin is an acquaintance. He's- He's busy. But yeah, they know me. And they asked me to play this role. 
ANGELIQUE: Wow, I love that! Do you also have a favorite place that you visited?
MARIA: I've got a lot of favorite places. Oh my God, when you said that. When people ask me a question, I will respond with the first image that comes into my mind. And when you asked that question, I thought about Palenque, which is in Chiapas. It's where I went as a little girl. All of the pyramids were everywhere, still, you know, being kind of excavated and going in the pyramid and seeing the tomb. You're not allowed to do that anymore. And it always was one of my favorite places in the world because of the mysticism. But you know, later in life, I was lucky enough to get to Rome, and I love Rome. It's a beautiful city. Havana is extraordinary. Machu Picchu, you know, Bangladesh. I was able to be in Rwanda.  I've been very, very lucky to have traveled the world and I feel so blessed by that.
ANGELIQUE: Yes, the world is so beautiful. You mentioned all these things, and I get sparked by all of these places. And I also want to know, because one of my dreams is to film a documentary one day. Since I was little, I grew up watching documentaries. I saw that you filmed a documentary. So I was wondering, how has your experience been filming a documentary?
MARIA: It's one of my favorite things to do. As you're talking, I'm just like, 'God, wouldn't it be great if we had a crew' and it will happen. I'm developing another documentary right now for film. For radio, all of the work that I told you before, that's all documentary work. That's all investigative work. But the happiest I am is when I'm doing that kind of work.
ANGELIQUE: Yes. Oh, that's so reassuring to hear. Because I really do dream.
MARIA: It will take a while, don't worry. Or maybe you'll hit it. You know you don't know. You could decide to make a documentary about something that nobody has thought of. And it could become the hottest thing. You don't know, which is why you have to do it. I just pulled up my editor yesterday, and we had a big story meeting, and at the end of the meeting, I called him back. He's in Spain. And I was like, 'I forgot to tell you I want to do this piece where we research what happened with Churros in New York City.' They went from being a Mexican only food, and then they became a food sold by Ecuadorians on the street. Ecuador no tiene churros, (Ecuador does not have churros). Now, so I'm like, 'Let's do a mini-documentary about que paso con los churros (what happened with the churros), what happened there?
ANGELIQUE: We would watch it! I always grew up eating churros. My dad is Cuban, so he would say, 'Oh, let's go get churros,' and I was like, 'Oh, it's Cuban food.' But now that you mention it.
MARIA: Actually, when I told this to my Spanish friend, because le dije, para me los churros son de México de (for me churros are from México from) El Moro de Letran downtown Mexico and he was like churros are from Spain. Oh, he just threw some shade. It's true. Churros come from Spain. So that will lead us back. I know. See, the documentary gets even more interesting.
ANGELIQUE: Yes. Oh my gosh. Yes. And I saw that you appeared in the show "Finding Your Roots," which I believe comes out on April 2021. How does it feel to learn about your ancestry in a history that's often abstract or foreign to others?
MARIA: It was pretty extraordinary. Like dreaming. The things that I've learned I can't talk about yet because they're going to be revealed. I just feel like I'm so busy doing this project with the book, but that's something that sparked me. I have to do this internal spiritual work that is also journalistic. Like, for example, Cuba came up, and Henry Louis Gates said, under normal circumstances, we would have been able to go to Cuba. And they have so many records, he said, but because of the pandemic, everything is shut down. You can't get into the library. And so, just right there, there's an open door. I'm like, es que (it's that), I have to go and find out what happened with my family that was living there. Que es esto? (What is this?). So, I think it's making me feel like I have spiritual healing and ancestral work that can help root me even more.
ANGELIQUE: Yes. Wow, that's so amazing. It would be an absolute dream of mine. 
MARIA: It was my dream. It was a total dream. And it came true. 
ANGELIQUE: That's awesome. And I know, for many first-generation Americans, who sort of have like that lost touch from their heritage. So I wanted to ask you why it's important that we acknowledge our history and heritage?
MARIA: Because it gives us a sense of how we fit into all of this. And that really helps. I mean, it doesn't answer everything. But you know, today, I was writing about my first protest. This is for the new book. I was going to protests in the late, I guess it was the early 1970s. We need to understand that that protest that I went to was tied to civil rights with Martin Luther King. This goes back to the first day that the first enslaved African person was brought to this land. That's when the fight for justice began —the injustice related to Black Lives Matter, of course. 
The original sin may have been slavery, but the first sin was genocide against the indigenous people. So we have to understand that there's this historical time. And when I was able to comprehend, I was like, 'OK, so my role as a Mexican-born journalist in the United States matters. What I'm doing matters within the history of this country.' And then there's the personal history finding out your own story because you realize that you're different from everybody else. And also, you're not so different.
ANGELIQUE: Right, beautiful answer. Thank you. And switching gears now, how do you combat anxiety in your personal and or workplace?
MARIA: I meditate. If you follow me on Instagram, you'll see that I just posted today 555 days straight. So that's what I do. And I breathe.
ANGELIQUE: Meditation has so many benefits, oh my gosh! So what inspired you to launch the Futuro Media Group?
MARIA: Well, actually, what inspired me was when somebody told me that I needed to wait, they were like, 'Oh, we think you're great. But we need you to wait to come back for a job when one of these old white guys dies'. And I got into the subway, and I was like, 'I can't wait.' I just cannot wait. So that negative experience was the thing that just dale, dale 'pa 'ya (go, do it).
ANGELIQUE: Yeah, yeah, no, no, no waiting, just go ahead and do it. So who inspires you? 
MARIA: Oh, there are so many people who inspire me. Women inspire me, of course, my mom, badass. My sister, who I'm writing about, the original badass in the family. And I feel a lot of inspiration from the younger women I see on social media, who own their voices and tell their own stories. So I'm inspired by an older generation that doesn't give up, like Rita Moreno, who I know, and Dolores Huerta, who I know, and that they don't give up. But I'm also inspired by this younger generation who are finding their way, you know. I think of Quiara Alegría Hudes, who wrote the screenplay for "In the Heights" and wrote the play "In the Heights," and how she started telling her stories. So I'm very inspired by young women like you and Latinitas, where it's just like it's happening.
ANGELIQUE: Yeah, I find a lot of my inspiration from you, from older generations, from my family members, also. The women are so strong. So that fuels me too. So to our final question, what is your personal philosophy?
MARIA: I think in a personal —I hope that I try to find joy. That's very personal for me to kind of just try. But if you ask me like a personal philosophy related to my work, it would be accountability and not letting things slide and always representing a los que no le dan possibilidades de tener su voz (those who are not given the opportunity to have their voice). I don't like to say that people are voiceless —it's whether or not they're actually being heard. So that would be my personal philosophy.
ANGELIQUE: Thank you again. Thank you so much for taking the time to chat with us today. It was an absolute pleasure having you.
MARIA: Thank you so much.
If you're interested in pursuing a media career, make sure to visit us at latinitasmagazine.org for more information. Thank you guys so much for tuning in to this episode of "20 Questions With," we'll see you next time! 
About the host:
Angelique Hechavarria resides in Massachusetts, where she is a senior in high school. She is interested in all areas of STEM, biology in particular. Growing up in a Cuban and Colombian household, she loves learning about the history and culture of Latin America. With this, she also loves learning about and conserving artisanal craftsmanship from all over the world. Through her AP Literature and Composition course, she was fascinated by the art of literature, in which she participated in the poetry out loud competition where she made it to regionals. Through her new position in Latinitas, she hopes to highlight these interests and more to the Latinx community.
Featured Image by Columbia Spector and Instagram. 
Want to read more stories like this? Please give us your feedback here!
Latinitas Magazine is a department within Latinitas, a registered nonprofit. Readers like you fund us, so please consider donating today. Thank you!
Correction: In the audio version of this interview, it is stated that Jovita Idár was born in El Paso, Texas. The transcription of the interview has been updated to show Idár was born in Laredo, Texas, according to the National Women's History Museum.