3 Reasons Why Latinitas Should Consider a Career in Tech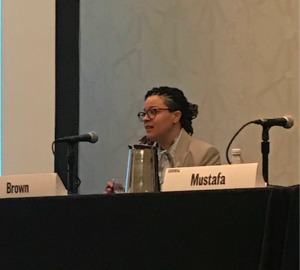 Have you ever noticed a difference between the way you were treated at home versus the way your brother, male cousin, or male friend was treated?
Perhaps, you're familiar with hearing "Mija, don't climb that tree!" or "Mija, don't play with those action figures!" since you were a little girl.
At a very early age, many Latina girls are given particular roles at home that are typically associated with "women" in their culture. However, we might not realize it at the moment, and we may not realize the message that these roles have in shaping how we see ourselves.
In Empowering Girls with Tech: Breaking Barriers at SXSW Interactive, Liz Brown, co-founder of Webjunto, a community and user experience focused web and mobile development company, shared how her playtime with her older brother and younger sister were distinct enough to realize that her brother was expected to be rough and courageous whereas her sister was expected to be kind and careful. Despite Brown's upbringing, she overcame stereotypes and myths about tech in order to pursue a career in this field.
Brown shared her story in hopes of inspiring young women of color, and to tell them that, "You, too, can break barriers and enter the technology industry, one of the most prolific sectors in the nation!"
Here are some reasons why you should consider a future in technology according to Liz Brown:
1. You Already Have Experience in Tech
Whether you've played Pokemon Go, Nintendo Wii, or used LEGO's, you are gaining skills that are vital for someone in the tech world. When you play, you're problem solving, building and designing, and engaging in augmented reality with gadgets and toys that you have already been exposed to.
2. "Tech Means Creativity"
There's an assumption that you can't express yourself in tech-related careers. In High School you are asked to solve for x, but in reality there are many different ways to solve problems in tech, science, and math. For Liz Brown, "tech means creativity" because it is possible to incorporate skills such as writing and design into Science, Technology, Engineering, and Math (STEM) careers. 
3. Use Tech For Something You Love
Pursuing a career in tech does not mean you will spend your days typing in the back corner of a lonely room. On the contrary, STEM fields allow you to work in teams or with a community that shares similar interests.
About the author:
Briseida Diaz joined Latinitas Austin in 2016 and now serves as the Volunteer Coordinator. She is passionate about youth empowerment, education, equality, and cultural literacy. Visit Latinitas Magazine for more SXSW stories focused on diversity, female empowerment, tech, and more.
Want to read more stories like this? Give us your feedback, here!
Latinitas Magazine is a project of Latinitas, a registered nonprofit. We are funded by readers like you, so please consider donating today. Thank you!