February Mariposas of The Month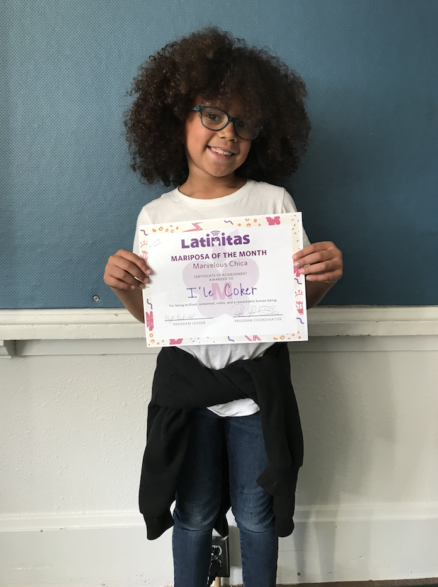 AUSTIN, Texas—Less than a month away from Spring and some bright mariposas are already blooming in Club Latinitas. This past month, the chicas continued to develop skills in graphic design, journalism and virtual reality. Like any butterfly, we had chicas show their true colors and the program leaders took notice. 
Mariposa of the Month is a new award offered to chicas who participate in Club Latinitas. February is the second round of awards and Latinitas is excited to share which chicas exemplify interest in science, technology, engineering, arts and math (STEM) fields. 
Here's a rundown of each category and their meanings:
S – Savvy Chica are those students who are excited or quick to learn about anything and everything technology based.
T – Team Leader Chica are chicas who find it natural to lead others and are inclusive towards her classmates.
E – Enthusiastic Chica are for those that come to the club excited to learn and show leadership by helping their classmates get excited about Club Latinitas. 
A – Artista Chica are for the girl whose creativity and art work blow us away and creates original pieces.  
M – Marvelous Chica certificates are for the chicas who have grown in skill or personally throughout the month. This award is for the girl who developed stronger tech skills or came out of her bubble. 
For the month of February, these five chicas will carry the title Mariposa of the Month:
Savvy Chica: Yvonne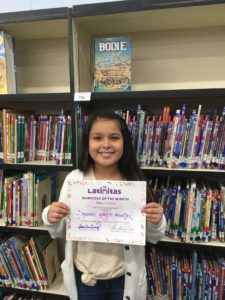 "I really like learning how to use different apps on the iPads. It's so fun discovering new things we can use technology for," Yvonne said.
Team Leader Chica: Belinda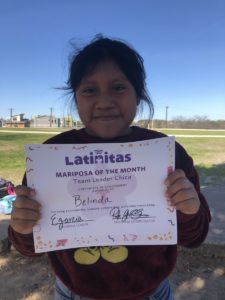 "Me gusta ayudar, ayudar a los demás me hace feliz," Belinda said.
"I like to help out. Helping others makes me happy," Belinda said.
Enthusiastic Chica: Madaly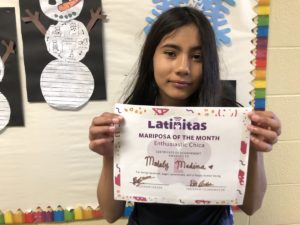 "I don't like to talk a lot but in the club I get too excited sometimes! Latinitas is fun because I get to act," Madaly said.
Artista Chica: Citlaly
"I like drawing because my mind just does whatever and then my paper is filled with art," Citlaly said.
Marvelous Chica: I'le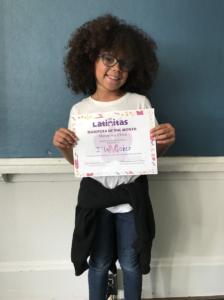 "I'm usually really quiet, but being apart of Latinitas gets me excited for all the things I can do," I'le said.
Latinitas is impressed with the progress the chicas have made thus far. Even though they are the students, everyday they teach us that our dreams can be turned into realities if we believe in ourselves.
Tune in next month to catch the March Mariposas of the Month!
Want to read more stories like this? Give us your feedback, here!
Latinitas Magazine is a project of Latinitas, a registered nonprofit. We are funded by readers like you, so please consider donating today. Thank you!