FREE Code Chica Certification Program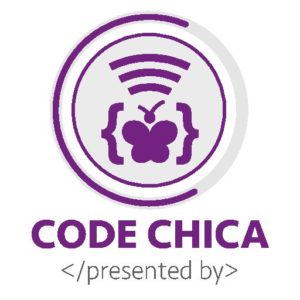 Code Chica is our FREE 8-week session for 8th – 12th-grade girls to gain knowledge about HTML, CSS, and JavaScript to create their own website.
School year sessions meet on Saturdays from 10 am to 2 pm.
Summer 2020 – Sessions meet ONLINE Monday – Friday 10am – 3pm for two weeks.
Ready to participate as a volunteer? Code Chica 2020 Volunteer Form 
We are encouraging both men and women to participate as coding instructors, STEM guest speakers, and curriculum liaisons.
Ready to participate as a student? Cohort 5 | Cohort 6 Registration Form 
Cohort 1 – Mar 30, April 6, May 18, June 1, June 8, June 15, June 22, June 29
Cohort 2 – July 22 – 26, 2019
Cohort 3 – Sept 7, 14, 21, 28 and October 5, 12, 19, 26
Cohort 4 – January 18, 25, February 1, 8, 15, 22, 29 and March 7, 2020
Cohort 5 – June 1 – 5 and June 8 – 12 (This is a 2-week condensed summer course)
Cohort 6 – July 6 – 10 and July 13 – 17 (This is a 2-week condensed summer course)
While enrolled in the Code Chica Certification Program, students will:
Be placed in cohort groups of 10 students for an 8-week long class
Class meets on Saturdays from 10 am-2 pm at Latinitas' office, 1023 Springdale Rd. Building 9E
Summer 2020 – Classes meet ONLINE from 10 am – 3pm Monday – Friday for two weeks.
This program is available to all high school girls between 14 to 18 years old.
Work with on-site instructors and guest speakers with subject matter expertise in computer science, engineering, technology development and more.
Learn the fundamentals of HTML, CSS and higher-order functions in Javascript to create their own website.