By Angelique Hechavarria
Kizzy Dogan, the T&G Commercial Cleaning, LLC CEO and the founder of Love Circle Inc., is now the author of the young adult novel "Thirteen: Lessons for Every Teen Girl's Journey to Womanhood." In her book, she prepares her readers for life ahead of them. By choosing to speak rhetorically to her readers, Dogan becomes a best friend, a role model, and a motherly figure, as she reassures her readers of the challenges they might face in life and the essential life-lessons needed to overcome them.
At the early age of 14, Dogan's mother passed away. The absence of a motherly figure presented many difficult challenges with the uncertainty of not knowing how to handle them. In addition to losing her mother, throughout her teen and young adult years, Dogan faced challenges posed by society's peer pressures, such as people-pleasing. Now at the age of 43, she looks back, wishing she knew the lessons she knows now. 
"There were so many things I wish my mom had told me before the age of 14, but I will say the one thing that I wish that I knew early on was that it's OK to say no, it's OK to say no to a boy, to say no to your peers," Dogan said in an interview. "I wish I knew that early on because I wouldn't have been in so many situations had I been confident and comfortable with saying no. You don't have to people-please. Because guess what? Whether you say yes or no, he or they still may not like you the next day." 
Through her book, she highlights the experiences of losing a parent, lack of parental guidance and feeling the need to please others. Dogan discusses the lessons she has learned from these experiences and the strategies needed to overcome them emotionally. Dogan began writing her story, and she wanted to fulfill the gap that so many children around the world are missing: the absence of a mentor, a teacher or a role model. A 2018 article by Vice states, "an estimated 1.5 million U.S. children lose one or both parents by the age of 15." 
"I wanted each reader to feel like I'm talking directly to them, and I'm meeting them right where they are and giving them exactly what they need at the moment. I know for myself, my mom passed away when I was 14. Even though I had a great support system, there were still things that I had to learn on my own," Dogan said. "So at 43, I can say, 'gee, if I knew this, then perhaps I wouldn't have done that.' So that was why I said, 'let me write to these young girls,' and I don't want to make it vague. I want them to think and feel that I am talking directly to them. And, this is where "Little Miss Thirteen" came from."
The lack of representation of women of color in the media also proved to cause a lack of inspiration and encouragement for young girls of color. According to Women's Media Center, in 2018, the representation of women of color was 6.2 percent in local radio staff, 7.95 percent in U.S. print newsroom staff, and 12.6 percent in local TV News staff. However, Diahann Carroll, an African-American actress featured in various TV shows, "who more than half a century ago transcended racial barriers," provided the needed inspiration for Dogan.
"As a woman of color, I will admit, growing up, there was not much representation. However, I fell in love with Diahann Carroll in her role in "Dynasty." And when I first saw her, she strutted onto the scene. I said, 'that is who I aspire to be,'" Dogan said. "She was fearless and beautiful and glamorous and just a fabulous character. I was like, 'I just want to be fabulous like that.' She was the first woman of color that I fell in love with and could see myself becoming. The only thing is, I just didn't know what that meant."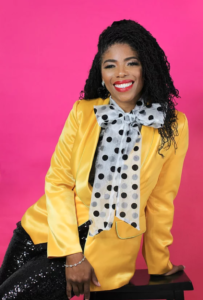 After becoming a mother at 20-years-old, Dogan felt inspired to take control of her perspective and work on herself to be the person she needed and the person her son needed.
"Having my son is what made me say, 'Oh no, I have to straighten up, and I have to get myself together' because I'm now accountable for other lives," Dogan said. "And to make sure that I'm happy, I'm healthy, I'm whole, I'm complete and so that he will be happy, healthy, whole and complete. My oldest son changed the trajectory of my life and made me want to become a better person."  
As her son inspired her, her faith motivated her to start writing.
"I think it was maybe fear, fear that made me tell myself that I never wanted to write, but one day I was driving, and God said to me, 'You need to write this book. And you need to write it to young girls.'" Dogan stated.
One of the main ideas Dogan hopes her readers take away from "Thirteen: Lessons for Every Teen Girl's Journey into Womanhood" is that they are enough.
"A lot of times, we don't do certain things because we don't think we are capable. Or we don't feel worthy of this or that. Mistakes are going to happen," she said. "Your mistakes do not define you, and you can recover. Once you understand that you are worthy, capable, and enough, you will be empowered to become the best version of yourself."
Teaching young girls the lessons they need to know before heading out into the world are the strategies necessary to overcome and recover from mistakes or difficulties. One of the strategies Dogan mentions in her book is to practice self-care.
"If I can impart anything to young girls besides developing a relationship with God, because I think that's the first one and number one, but to love yourself and to love yourself enough to say, I'm OK with this. And I'm not OK with that," Dogan said. "And the things that you're not OK with, you can work on improving, and it's OK. Self-love is so important because it is the catalyst, I believe the catalyst to all the decisions that you're going to make." 
Dogan hopes to inspire younger generations to be leaders and to reach the best versions of themselves. As she goes more in-depth into this topic in her book, one piece of advice she would give to young girls is understanding and knowing who they are first. 
"I would encourage (girls) to understand and know who they are first, so they won't be easily swayed and persuaded to do the wrong thing," Dogan said. "To be a good leader, you have to be a good listener. To be a good leader, you have to be willing to do the same thing you want somebody else to do. To be a good leader, you have to be OK with not being liked, and to be your most authentic selves and to be unapologetic."
Featured photo courtesy of Kizzy Dogan
About the writer:
Angelique Hechavarria resides in Massachusetts, where she is a senior in high school. She is interested in all areas of STEM, biology in particular. Growing up in a Cuban and Colombian household, she loves learning about the history and culture of Latin America. With this, she also loves learning about and conserving artisanal craftsmanship from all over the world. Through her AP Literature and Composition course, she was fascinated by the art of literature, in which she participated in the poetry out loud competition where she made it to regionals. Through her new position in Latinitas, she hopes to highlight these interests and more to the Latinx community.
Want to read more stories like this? Give us your feedback here!
Latinitas Magazine is a department within Latinitas, a registered nonprofit. Readers like you fund us, so please consider donating today. Thank you!