Editor's Note: This is a transcription of Latinitas Magazine's Unrepresented podcast segment"20 Questions With," where we invite bold and creative individuals to discuss their experiences and background. Listen along by clicking the link!
Hi! And Welcome to a special episode of Unrepresented. 
We're so excited to be collaborating with our Magazine podcast: 20 Questions With. You guessed it – we'll be asking today's guest a total of 20 questions. 
Both Unrepresented and 20 Questions With explore themes such as equality and equity told through the lens of the individuals out in the front lines of change. 
With that said, join Latinitas Contributor Angelique Hechavarria as she sits down and asks 20 Questions With Carlos Alfredo Jr. 
Before we get started here's what you should know about Carlos:
Carlos is a breakthrough actor and musician and stars in the Netflix biographical drama "Selena: The Series." Carlos portrays Joe Ojeda, who is the original keyboardist of Selena y Los Dinos – which allowed Carlos to showcase his musical talent. Before landing the role of "Selena: The Series" Carlos obtained a degree in animation and visual effects, ultimately leading him into the world of acting. 
Let's hear what Carlos has to say! 
ANGELIQUE: Hey, everyone! Thanks for joining us on this episode of 20 Questions With. I'm Angelique Hechavarria, and I'm here with today's guest, Carlos Alfredo Jr. Thank you for joining us today. 
CARLOS: Thank you so much, Angelique, for having me. This is an honor. Thank you. 
ANGELIQUE: Of course! So let's get started with the questions. Can you describe what influenced you to pursue a career as an actor?
CARLOS: Yeah, it's funny, because acting was the last thing on my list. I never wanted to be an actor. I was a very shy kid growing up. My first love was actually music. I wanted to be a musician. But realistically, my parents said, 'you can't do that, you can do that after you have a college degree.' So that's what I did. I went to college for art, isolated animation. During that time, my plan was to work for Pixar and be an animator. And as an animator, one thing that I learned is that you have to be the best actor that you can be. You're breathing life into your characters, into inanimate objects and things. So I got very lucky. 
When I graduated college, I started interning at Pixar, and I was there for about a year. During that time, I was taking acting classes because, like I said, I wanted to be the best actor. That just took me on a different path. I hated acting, first of all: it was uncomfortable, because I was in front of people when I was shy, and all those things. But it was completely opening me up as a human being. I saw the potential there, not just in acting, but also in me being a better version of myself. So I graduated from acting school after two and a half years. I told my parents, "I'm moving to Los Angeles to become an actor." Fast forward: here I am. I followed my heart, and I'm glad I did.
ANGELIQUE: Yes. I'm glad you did, too. What attracted you to begin a career as an actor? Was it how it opened you up as a human being?
CARLOS: Yeah, it was mainly because, as I said, I was very shy. And I didn't like that part of myself. I saw what acting was doing, I can make eye contact with people now, I can actually listen to people, those kinds of things. Mainly, that was what attracted me to acting. Then, later on, I fell in love with the process. I fell in love with creating characters and collaborating with other filmmakers. That's what later on became an obsession. And then just the lifestyle became a career.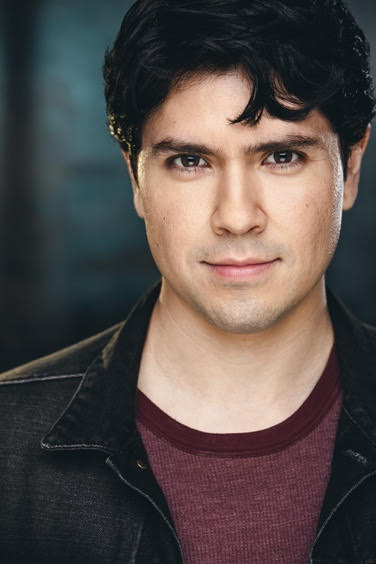 ANGELIQUE: How did you first get involved in the entertainment industry?
CARLOS: I would say it started with animation, really. Like I said, I was at Pixar for about a year. They were working on Toy Story 3 at the time. I was learning the programs, and I was watching these incredible animators doing their thing. I was so inspired. I think that was the beginning of the entertainment industry for me. And then when I moved to LA, I started acting in little short films and in commercials. I booked the commercial, then I did the voiceover, and then it just skyrocketed into something else.
ANGELIQUE: Yeah. When you first approach a role, how do you go about researching and learning about how you can be the best you can be for the role?
CARLOS: When I get a script, the first thing I do is I read it over and over again, make sure that I understand it intellectually. Then I start doing a process called subtext, which is, "What am I actually saying between the lines?" Then based on that, I start writing a biography that's not on the page. I start seeping into my personal life or things from my imagination. I start filling in the blanks for this character, and I'll write pages and pages and pages of backstory. Stuff that you'll never hear me say in the actual script but things that t I know that you'll see in my behavior when I say the lines. I think that's how I approach it.
ANGELIQUE: Yeah, that's really cool, actually. Because if you look at historical movies like pirates, you're fascinated by that. You really wonder about the true history behind it, so I can see how that can be really fun. In "Selena: The Series" you played Joe Ojeda. What steps do you take to fully understand the importance of your character to the story?
CARLOS: I got very lucky. I sent Joe, the real Joe, a message. And I didn't expect him to write back, but within a day, he wrote back to me and we became really, really close buddies. He was there for all my questions, all the stuff that I needed to know for Joe. For me as an actor, I felt it was important to reach out to the real dude, because who knows better than him, right? For me, to find Joe's essence, I had to learn the keyboard. That was probably the biggest challenge for me was learning the keyboard because I'm a passionate guitar player naturally. The keyboard was an instrument that I played when I was a kid, and then left it, I never played it again. Once I started learning the Selena songs on a keyboard, that really helped me influence who Joe was, and who Joe still is. So like I said, I'm very lucky that I got to interact with the real Joe. He was there to answer all my questions and he held my hand throughout the whole process.
ANGELIQUE: Wow, that's amazing. Listening to her songs, and even learning how to play them, is so fun. What's the biggest challenge about taking on this role?
CARLOS: Well, this was my first big project. I didn't know what to expect. Before that, I was doing student films. This was a professional set for Netflix. I didn't know what to expect. I just knew that I had to be completely, 100% prepared for what I had to do. So I think the biggest challenge for me was playing keyboards. Before I even stepped foot on that stage, I took about three months of piano lessons, and then I had to learn all the Selena songs. Then I had to learn Joe's way of playing, which is completely different from mine. I had to learn how to play standing up, I had to learn how to dance at the same time as I'm playing keyboards, because if you see Joe in all the Selena videos, he's always dancing and standing up. I had to get that nailed down. Once I had that I felt like I had the core essence of who Joe was. Once I got the haircut and then the outfits, the cow prints and all those famous outfits, then I 100% felt like Joe. So props to the wardrobe team too.
ANGELIQUE: So you learned how to dance cumbia, for example?
CARLOS: Yeah, mainly. I don't even know what Joe's dancing is called. I'm not a dancer myself, I don't dance at all. But behind a keyboard, I can look like I'm dancing. Joe is a dancer. 
ANGELIQUE: Yeah, you have to channel Joe. 
CARLOS: As much as possible, yeah.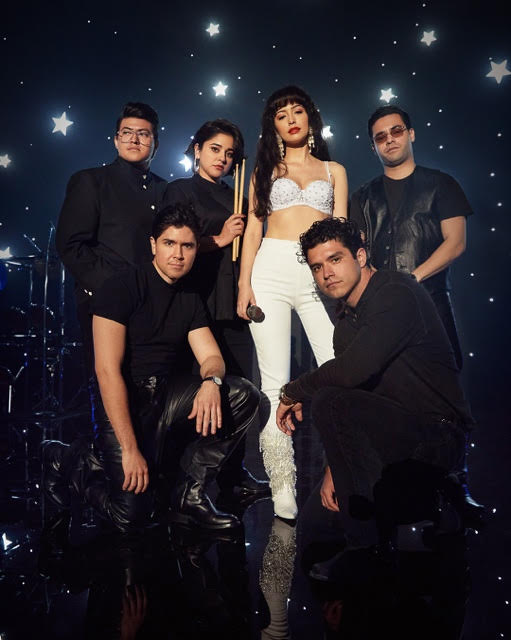 ANGELIQUE: What's your favorite memory from working in the show? 
CARLOS: There's so many of them. I think my favorite memory was: we were filming this concert and we were playing "Como La Flor." It was the first time that we all set foot on the stage as Los Dinos with Chris Perez. We were all there on the stage for the first time. We were playing "Como La Flor", there were 100 extras in the crowd, and they all had lighters. And then I hit the first chord of "Como La Flor," the live performance version, and out comes Christian Serratos as Selena. It was the first time we'd seen her as Selena, the one we all know with the long hair and the hoops and the bangs. She came out with the white boosteeyay, and she went up on stage. I remember I got very, very emotional because I never thought in my life that I'd be in that situation where I felt I was in the presence of Selena. She was alive for ten seconds. It was this surreal moment in my life, and it's a moment that I'll never forget. Like I said, the audience is cheering, she comes out. We're all like looking at each other thinking, 'wow, we're making history right now.' I felt like I was actually in Los Dinos at that moment. And that gave me chills, and I was crying. It was incredible.
ANGELIQUE: Wow, insane. What does Selena Quintanilla mean to you? 
CARLOS: She means everything. She's had my heart since I was six or seven. She was my first role model. I remember I grew up in a Mexican restaurant, much like she did, so there's a lot of resemblance between my life and her life. In that Mexican restaurant, we had this jukebox. It was my first introduction to Selena because I remember hearing "Bidi Bidi Bom Bom" for the first time. It's a song that did something to my molecules as a little kid, because it really influenced me. Fast forward, the movie came out. Around that time, I was very, very young. Seeing her life, and how tragic it was, and how beautiful it was. Just a girl that had these big dreams. I really resonated with her. She was my first role model. For my first big project to be "Selena: The Series," to be a musician and to show my acting chops, that was incredible. It was definitely a full circle for me, being a part of this project.
ANGELIQUE: Yeah, I can see what you mean, because growing up Latina, that's the one famous Latina role model that you grow up seeing. You see that representation, and you see the support that people give her, and you think that people can love and support me too. It was definitely something amazing, like you said.
CARLOS: It's incredible. The fact that she still resonates with so many people, so many young people, she's still inspiring. That's cool, that's a cool thing. People from around the world are still inspired by her, and they dress up like her, and they sing her songs. She'll never die. She'll live forever.
ANGELIQUE: Yeah, her legacy will live on. How has acting changed your life?
CARLOS: It made me more comfortable in my own skin. I feel it gave me the opportunity to be able to communicate with people, to inspire people. It's something that I want to continue doing, probably for the rest of my life. It's a beautiful thing. It's hard, it's a hard profession. But once you're in there, even if you're not getting paid, it's a beautiful thing. It's incredible.
ANGELIQUE: That's how you know you really love something. My father's a bus driver, for example, but he tells me, 'always do something that you want to do.' Because if you think about it, growing up in their own country, there might not be as much opportunity and they can't really do what they love to do. That's really, really amazing. 
CARLOS: Props to your dad. Cheers. Cheers, Dad. 
ANGELIQUE: Thank you. Cheers, Papi!
CARLOS: Cheers, Papi. 
ANGELIQUE: Prior to "Selina: The Series," you both produced and starred in a comedy series called "Mutt and Chops." 
CARLOS: Yeah. 
ANGELIQUE: How was that experience, doing both production and acting?
CARLOS: That show came out during a time when no one was giving me opportunities. I was a nobody in the business. Me and my roommate, at the time, we decided to write a show that we could shoot for cheap, and that we could act on. "Let's just do something about it." We wrote about these two characters that are unlikely friends, who are living in a post-apocalyptic world. 
That was easy to shoot, because we just find something that's destroyed, and we just shoot around it. Or we go to the desert. And his mom made these incredible costumes for us. We just go out there and we shoot little gags, which are kind of like "Looney Tunes," live-action Looney Tunes, and people loved it. We put it up, and they got thousands of views. Eventually, we got invited to Spain. So I got to go to Europe for the first time, for a film festival. We got nominated, it was so crazy, we showed up in our costumes in Spain. That came out of that, and I was really, really proud of our work. We're proud of what we did. I think that's for any young, aspiring actor or filmmaker: you can't wait for opportunities. You just have to go out there and make them happen for yourself because no one's gonna give you an opportunity. It doesn't really happen that way. 
ANGELIQUE: Yeah, I visited Spain once, and then I visited Portugal once, and then I left. Then I came back to live forever in Portugal.
CARLOS: Which one do you like better?
ANGELIQUE: To be honest, I think I actually like Portugal better.
CARLOS: Oh, really? 
ANGELIQUE: Yeah, it's easy and the lifestyle is pretty good. But I do love flamenco, and I love Spain and Spanish culture. Switching gears: in your personal opinion, what would you say are the most difficult parts about acting?
CARLOS: Definitely the rejection. I think after a while, it'll build you up, you'll develop a thick outer skin. I think that's the first part for a lot of people. A lot of people quit because of that, unfortunately, the rejection, years and years of rejection. But for me, I learned to respect the rejection, to love it, because it makes me who I am today. And I think the second big one is supporting yourself financially. 
As an actor, a lot of jobs don't really give you the flexibility to do your auditions. A lot of people frown upon you being an actor because they think you're flaky, they think you're unreliable. Sometimes you have to do all sorts of odd jobs. I used to be a landscaper, before I booked "Selina: The Series" I was a dishwasher. And the reason I had those jobs was that they were so flexible. I was able to just leave if I wanted to audition and then come back and work. So, as I said sometimes you have to do odd jobs and it's just a lifestyle and you have to like, love it.
ANGELIQUE: Yes, I can see that being because it's just part of the process, like you said. You get to the point where it's all worth it.
CARLOS: Yeah, exactly.
ANGELIQUE: What is your favorite part about acting?
CARLOS: I think for me is, my favorite part about acting would be probably the collaboration. I love meeting other artists and just collaborating on something. Meeting other actors and seeing their process, seeing their work or film-makers seeing their films. Just the networking. Making friends. You know you meet a lot of really interesting people with stories and on sets or in audition rooms or in acting class, you know? We're all here to do this thing, to serve the same purpose. So I think for me, that's the coolest thing about acting. And on top of that, of course, doing the work. Breaking down a script, creating a character from scratch, or taking on a character that already exists like Joe Ojeda and doing all the work and then finally just being free on stage or being free in front of a camera and just doing all the work that you've done and like letting it all, throwing it all away and just like making a project happen. That's the coolest thing for me, yeah.
ANGELIQUE: Yes, I love storytelling. I can talk to viejitos forever.
CARLOS: Yeah!
ANGELIQUE: Forever, like my mom gets mad at me but like, they just have so much stories.
CARLOS: And a lot of those stories get overlooked.
ANGELIQUE: Yes! I'm like, young people don't appreciate the stories that viejitos have to offer.
CARLOS: Cheers to viejitos!
ANGELIQUE: I love viejitos! I do. I do. So what do you do when you're not working?
CARLOS: I'm sort of a workaholic so I'm always working. By working I think you mean acting, right? I'm usually writing music. I still love playing music. I'm actually in the middle of a music career too. So I'll play my guitar, I'll learn how to play drums, I'll play my keyboards, I'll write songs. But yeah, like I said I'm always working, I'm always edging, I'm always doing something.
ANGELIQUE: So besides acting, you've also pursued music. In fact, he got to play with Maná. How was that experience?
CARLOS: Yeah, Maná, they're considered like the Rolling Stones of Mexico. They're like the biggest Spanish rock band in the world. They're one of my favorite bands. And I had just booked "Selena," like I knew that I was gonna be Joe Ojeda on the series. And then like a week later, they announced this radio contest and they wanted guitar players to send in videos of them playing one of their songs, so I sent in a submission. I didn't think I was gonna win, but I got first place. So they called me to the Forum in Inglewood, and I get there and they hand me a guitar and they take me to the stage. And I'm there backstage watching the concert, like right there in front of me. And then next thing you know, they start playing the song that I auditioned with, and they push me on stage and there I am in front of like 200,000 people, and I'm just jamming with them. Then I start soloing with Sergio, the guitar player, we have like a little guitar battle and then afterwards, I played the songs just like an incredible experience. They gave me the guitar that I was playing. It was one of my dream guitars that I had wanted since I was a kid so that was a dream come true; that was just like the cherry on top to like everything.
ANGELIQUE: Yeah, so since you said that: is that your favorite instrument to play?
CARLOS: Oh yeah, guitar has had my heart since I was like 10. My mom forced me to play the guitar when I was a kid. I hated it, but then I got into rock and that just changed everything and that's all I've done ever since. Playing guitar is like my baby. 
ANGELIQUE: So, between music and acting, which one do you prefer and why?
CARLOS: That's a hard one. I think they both go hand in hand for me. I don't think I like one more than the other. They both shaped me into the person that I am today. Like the first time I got on stage, I was so scared, you know, in high school. But I had my guitar there as my buddy, it was there protecting me. But it was also like a chance for me to perform and be in front of people. And then acting it had to be just raw, like right in front of people with no instrument. So they've both sorts of shaped who I am today, so that is a hard question to answer.
ANGELIQUE: Yeah! I get it because they're like your children, parents never say who's their favorite they're like "I love them equally."
CARLOS: Yeah, exactly! That's a good way to put it.
ANGELIQUE:
So recently you came out with a song titled "Reina de la Luna," about Selena. Can you tell me how the song came to be?
CARLOS: Yeah so for that song, in particular, COVID was a big thing in the world at that time, and we had to return to set to film season two of the series and they put us in a condo. We weren't allowed to leave, we weren't allowed to interact, we were just supposed to stay in the condo and then have a driver pick us up and drive us to the set whenever we had to work, so I had a lot of time to myself. And, one day, I woke up from a dream and Selena, the real Selena, appeared in my dream and she played the song for me and she was like "Carlos, I want you to show this song to the world." And I remember listening to the song and it was, like, the most beautiful song I have ever heard, and I woke up with like tears in my eyes and I couldn't believe that Selena talked to me in my dream. And I didn't remember anything, like, none of the song and I felt so bad, I felt so disrespectful to her. 
So the first thing I did, I ran to my piano and my guitar and I was just jamming, trying to remember whatever I could of the song; and nothing came out, nothing. And then hours passed and then finally on the piano I remembered the melody, you know, the melody of the song that she showed me. And once I had the melody, like I just wrote the entire song in like three hours with the guitar and I had on my piano there was like a little drum, you could pick whatever drum sound you want so I started doing the drums too. Within like three or four hours I had the full song, all the music, and then the lyrics came to me because I started writing the lyrics from the perspective of a fan that really missed her. 
I wrote it for all fans that miss her and love her and that's what came out, "Reina de la Luna"! And the title came from, Selena actually means "Reina de la luna." If you watched season one, there's a scene where Abraham's going through a little baby book and it says "Selena, Reina de la luna," goddess of the moon. So I thought that was beautiful, what a cool way to name my song. And that's what came about. I got really lucky that it resonated with a lot of people, on top of that, my music video involved Joe Ojeda and Chris Perez, their cameos in my music video and it was an incredible experience cause I got to Corpus Christi, San Antonio, I got to visit all the Selena landmarks and of course, meet the real guys so that song has a very special place in my heart forever.  
ANGELIQUE: Oh my gosh that's amazing! Wow. That's amazing, thank you so much for that. So, who inspires you?
CARLOS: You do, Angelique, you do. I get inspired by just, people and their stories. Viejitos. I get inspired by music, I get inspired by people that are out there living their dreams. And of course, I have my heroes, Carlos Santana, Maná, Joe Ojeda, Selena, Metallica, all these people have shaped who I am and continue shaping me and it's my job, I think, to pay it forward and inspire people to do what I do and I think that's what it's all about.
ANGELIQUE: Yeah, yeah, I see what you mean. When I interviewed Maria Hinojosa she also told me the same thing, that seeing me, a Latina, making it happen, I can see how that can be inspiring. To see other Latinos like me, like Selena Quintanilla, who inspired me to be the best I can be. Whether that be feeling bad one day and putting on like, hoops on and lipstick on, or listening to music and dancing and being happy. I think that's very important.
CARLOS: Props to you, honestly, for doing this. Like, you're so good at it and you have a bright career ahead of you. As you said, you're representing all Latinas and that is a beautiful thing 'cause you're going to bring someone up with you and you're just helping our community.
ANGELIQUE: Yes! I hope so! Thank you!
CARLOS: Yay! I start crying, my mascara starts running.
ANGELIQUE: I'm the most emotional person. I cry, I laugh. Elisa knows this, I talk about my mom, I start crying. You've seen the best of me, right now, as I can do today.
CARLOS: Beautiful thing though, express it.
ANGELIQUE: I heard someone, they said, that actors, they don't pretend. They actually feel what is happening to the person as if in real life.
CARLOS: Yeah. I think a good actor will showcase their real emotions. They're not afraid to hide anything. You're supposed to tell the truth, in acting you're supposed to tell the truth. If you see an actor crying you can tell if they're really feeling it or if they're just faking it, and that's a sign of a good actor is just like, if it affects you that means the actor is doing his job and it's affecting him. If you don't feel anything or it's cringy or thin, you can feel it; I think that's what you mean, like, an actor is supposed to tell the truth and to feel the truth.
ANGELIQUE: Yeah 'cause you grow up watching movies you're like, 'how can they cry like that?' But that actually makes sense that they feel it, I believe that. So, one of my favorite questions is, what is your favorite Selena song?
CARLOS: That would be "No Me Queda Mas." When I first heard that song it was like, 'what is this?' Because I love mariachi. I grew up with mariachi because of my mom, she's from Jalisco, Mexico and I listened to a lot of mariachi growing up. So when that song came out it was just like, what the heck? And her voice is so powerful and so unique and it's such a beautiful song.
ANGELIQUE: Yeah, I think that's one of her deepest songs, like a slow song that she had. In Columbia we have baladas, I think that's what they're called. They're kind of like mariachi in a way.
CARLOS: Baladas? That's your version of romantic songs?
ANGELIQUE: Yeah, it's something like that.
CARLOS: Is it baladas? 
ANGELIQUE: Yes!
CARLOS: Oh, is it baladas? Like ballads. Baladas. 
ANGELIQUE: Yes, yes! It's similar so I love that too. I think I would say that that one is my favorite one too. Esque, when I'm doing random stuff, "Chico de Apartamento 512", comes in randomly. I randomly start thinking about that song. So, that's our 20 Questions!
CARLOS: Yay!
ANGELIQUE: Thank you again for taking the time to chat with us today.
CARLOS: This is an honor! Thank you, Angelique, thank you, Elisa.
If you're interested in pursuing a career in media, make sure to visit us at LatinitasMagazine.org for more information – we'd love to hear from you! 
Thank you for tuning in to this episode of Unrepresented! See you next time!