By Angelique Hechavarria
AUSTIN, Tx.— Have you ever passed by a mural and was fascinated by it? Painters strategically pick the colors, shape, and the type of artistry technique to relay the painting's message.
Carmen Rangel is one of the many painters in the world who create eye-catching spaces. Rangel is an Austin-based painter specializing in murals, mosaics, paintings and portraits. Rangel has recently collaborated with a local Austin-based artist, SlokeOne, for a HOPE campaign called, 'Your Vote Is Your Voice' mural. She's also collaborated with Kimie Flores, an Austin-based painter and tattoo artist, for a mural called 'Colores de la Cultura.' You can spot this piece at East 5th St. and San Marcos St., Austin, Texas. Rangel has also painted a mural called 'Be Well,' located on the underpass at Lamar and 5th in Austin.
Rangel began her journey with art while trading between part-time jobs and being a full-time artist. A friend of Rangel's connected her to J Muzacz, an artist based in Austin, who needed help with a mosaic mural project. Despite being an intensely demanding process, the outcome was fulfilling. 
"This project, it was installing a mosaic mural in Georgetown," Rangel said." I didn't really know what I signed myself up for, we were there for about 13 hours, and I was sore for three days after that. And we had to go back another day to finish it up. It was a really intense process. But I loved the outcome. (Muzacz) was like, 'If you like this, then you're welcome to come and help me on other projects.'"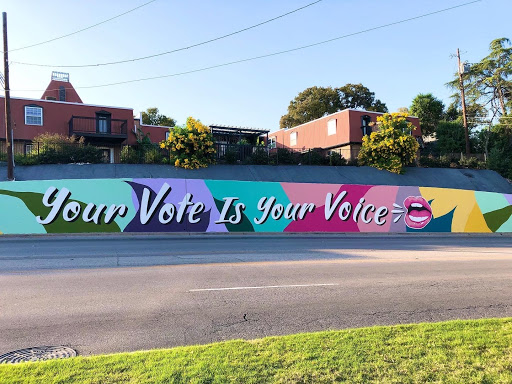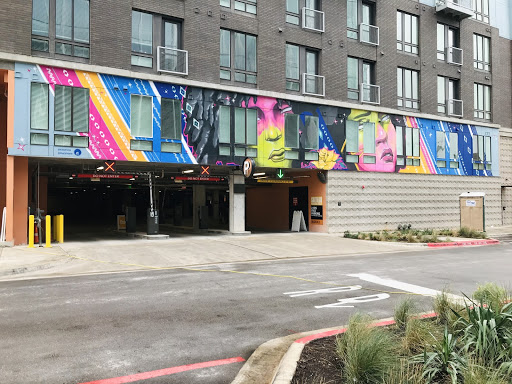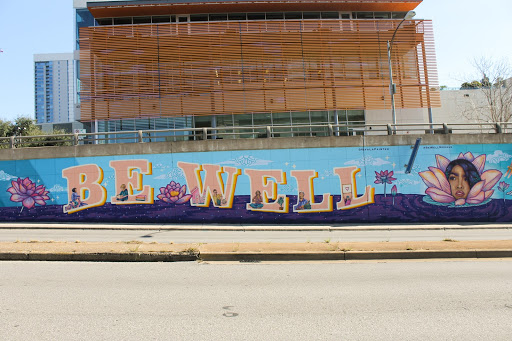 Having an idea of hosting a mosaic workshop, Muzacz invited Rangel to help him. Through a community initiative grant from the city of Austin's Cultural Arts Division, they opened their doors in July 2019, and Rangel became the co-founder of The Mosaic Workshop. The Mosaic Workshop specializes in community-based art projects for schools, Art in Public Places (AIPP), cultural centers, and commercial spaces. Along with mosaic workshops that welcome beginners to professionals, all the materials needed are provided. Muzacz and Rangel's workshops give attendees the chance to gain experience in mural painting and mosaic making in large to small scale projects.
"People came in, and they were able to learn to create mosaics, like starting from the basics, making small coasters, and people really loved making their personal pieces," Rangel said. "Other people liked the tiny coaster but wanted to try something else. So we came up with the idea of doing a community-based mosaic mural. We wanted it to have some sort of historical value. So we found 'Grey Ghost' (Roosevelt Williams) who was a jazz musician and served the Austin community as a bus driver." 
You can spot the 'Grey Ghost' community mosaic at 2400 East Cesar Chavez in Austin; in the parking lot.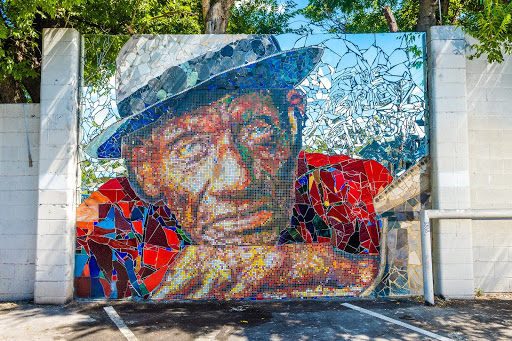 Through The Mosaic Workshop, Rangel hopes to continue inspiring and bringing her community together. She prefers it when those who come in to try their hand at Mosaic are relaxed and are looking to have fun with it. She recommends not to put much stress on the aesthetic appearance of the mosaic but to explore your creative side.
"Telling stories, communicating, connecting with communities, and bringing people together through our mosaic workshop —I like the idea of getting people to create for fun, and not feeling like they need to have some sort of experience or background in art," Rangel said. "If it looks like something cool. If it doesn't, it's fun, you know? I want people to have a little fun and get loose with it."
Career Journey
Although growing up, she wasn't sure which career she wanted to pursue. She specifically remembers "Career Day" in her elementary school, where she dressed up as a painter. 
"I didn't know what degree I wanted to pursue," she said. "But I did have an idea that I wanted to do something creative. When I was in second grade, I did a presentation for Career Day, and I dressed up as an artist. And I said, 'I want to be an artist.' So I knew then. But there were times after that, in high school, when I didn't know what I wanted to do."
Feeling inspired yet undecided, Rangel began majoring in various art and design areas, later switching to a communications degree with a specialization in public relations and advertising. Through her communications degree, Rangel feels that she has gained a new perspective on art that has challenged and helped her grow in her art career.
Once she switched over to a communications major, she started researching how to visually communicate with different audiences to see how people used public art to communicate ideas, advocate, tell stories, and history. She wanted people to have accessible forms of art and media, and the sense of creating art for her community inspired her. 
"I was hearing stories of small towns in random countries who were facing all sorts of problems, in terms of environmental issues. They weren't able to get the attention of their government or to people in power," she said. "Artists were painting murals, telling people what was going on because the people who lived there didn't understand what was going on because the media wasn't telling them and nobody else was talking about it. Art was a way to communicate with people."
Rangel was soon offered a marketing job for the HEYDAY Cold-Brew coffee company based in Austin. Where she embraced her creative skills around the office and told those around her of artistry skills. Soon after, she was offered art gigs in her area.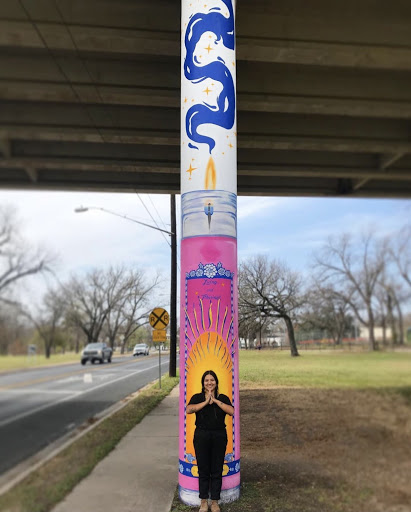 A couple of words of advice Rangel would give to a young girl looking to gain more experience in the field of art is to network. As most of her gigs have come from others recommending her, she feels that she has been able to grow and showcase her skills through networking. 
She hopes to inspire others to keep an open mind on trying out new things and to challenge themselves creatively to allow room for development and growth in their artistry skills. Last but not least, mentorship is a great indicator for the rest of the advice to start. Mentors can motivate you to try out new techniques and recommend you to gigs, she said.
"I don't think that I would have been able to put myself out there alone," Rangel said. "Explore and try not to get stuck on one thing either because you're not really expanding your knowledge, and you're not challenging yourself creatively. I think everyone should have some kind of mentorship. I worked for artists who have really inspired me, and I always admired their work, but meeting them, working with them, seeing their process, I learned a lot."
One of Rangel's favorite projects she has worked on is a pillar design of a prayer candle. This is inspired by East Austin's community who has faced many challenges and hardships in the area. According to the Statistical Atlas, Latinos make up 35 percent of the Central East Austin population. Rangel's design of a prayer candle is dedicated to the Latino community in East Austin.
"The pillar is painted to resemble a Mexican prayer candle to celebrate the rich Latinx history in East Austin," Rangel said. "And for its symbolism as a way to honor and pray for the good and bad in life. This design is interactive and encourages the viewer to stand in front of the candle not only to honor yourself but as a way to share how you're 'Living and Thriving' with your personal stories and experiences in the community."
The Mosaic Workshop is located at 1717 East Cesar Chavez St., Austin, Tx. 78702 at Something Cool Studios. You can sign up for the workshop through The Mosaic Workshop website; materials, tools and guidance are included.
About the writer: 
Angelique Hechavarria resides in Massachusetts, where she is a senior in high school. She is interested in all areas of STEM, biology in particular. Growing up in a Cuban and Colombian household, she loves learning about the history and culture of Latin America. With this, she also loves learning about and conserving artisanal craftsmanship from all over the world. Through her AP Literature and Composition course, she was fascinated by the art of literature. She participated in the poetry out loud competition, where she made it to regionals. Through her new position in Latinitas, she hopes to highlight these interests and more to the Latinx community.
Featured image by Gaby Deimeke.
Want to read more stories like this? Please give us your feedback here!
Latinitas Magazine is a department within Latinitas, a registered nonprofit. Readers like you fund us, so please consider donating today. Thank you!