The United States is home to many historical landmarks that have been preserved and revered for their cultural ties to American history. Among these also exists historical sites that hold deep ties to Latino and Hispanic culture. The following is a list of 5 places to visit that have been deemed culturally significant by federal and state governments for their symbolism and value.  
1.      Chicano Park- San Diego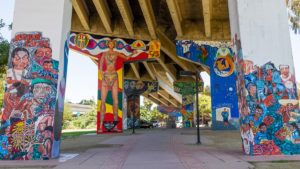 Situated in Barrio Logan, a neighborhood that lies in South Central San Diego near Logan Heights under the San Diego-Coronado Bridge, is Chicano Park. A public park that showcases art, murals, and sculptures highlighting cultural heritage and history from the Mexican-American and Chicano community. The park was officially designated a National Historic Landmark in 2016 and has a rich history of community artists, local politicians, and advocates who have all contributed to the success of the park's upkeep and restoration throughout the years. Established nearly 53 years ago, Chicano Park offers a visual history of struggles, joys, and displays of prominent figures significant to Mexican history such as Pancho Villa and Emiliano Zapata.
During the 1960s, California's Department of Transportation built the I-5 freeway and Coronado Bridge which resulted in the dislocation and disruption of residential homes in the Logan Heights neighborhood. Many local Mexican-Americans left the area due to construction projects, eventually though, locals were able to come to an agreement with the City Council for the installation of a future public park under the bridge. The state of California eventually prepared to build a California Highway Patrol Station in that agreed-upon space which angered local residents. This led to a 12-day occupation of the space in which residents gathered around the bulldozers and protested the state's impeding construction plans. The state eventually rescinded their plans and allowed for the creation of the park. Last year, the Chicano Park Museum was officially created nearby to celebrate the history of Chicano Park by featuring exhibits commemorating Chicano, Latino, and indigenous culture.
2.  Cesar E. Chavez National Monument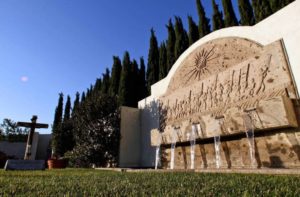 Located in Keene, California, the Cesar E. Chavez Monument was created and designated a National Historic Landmark in 2012. The site is also known as "Nuestra Señora Reina de la La Paz," and was the home of labor leader and civil rights activist Cesar Chavez. Chavez, a Mexican-American, along with labor leader Dolores Huerta went on to form the National Farm Workers Association which merged with the Agricultural Workers Organizing Committee. The merger eventually developed into the United Farm Workers of America labor union. Chavez was an essential and key figure in the development of rights for farm workers and his legacy continues to be celebrated today in the Latino community for his social and community activism. The monument pays homage to Chavez and features a memorial garden. The location was also the headquarters for the United Farms Workers Union. Chavez, along with his wife, is buried on the property. This National Landmark is a must-see if you are visiting the state of California.
3.     Casa Navarro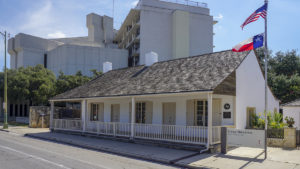 Designated a National Historic Landmark in 2016, Casa Navarro is located in San Antonio, Texas, and is the home to Jose Antonio Navarro. Navarro was a rancher, champion, and social advocate for civil rights for Tejanos and Hispanics. Navarro also played a key role and was a political figure in Texas history as he was one of the first to sign the Texas Declaration of Independence, and also became a writer for the Texas State Constitution. Casa Navarro is open to visitors Tuesday through Saturday and features its original construction from the 1800s.
4.      Chamizal National Memorial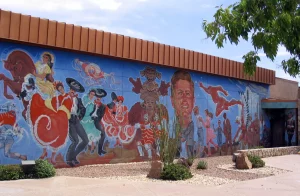 Located in El Paso, Texas, this park is a commemoration of the long-standing dispute between the United States and Mexico. The park features a museum which showcases the historical details pertaining to US-Mexico border relations, along with an art gallery. Also present is an amphitheater that features cultural performances and numerous events throughout the year. The Nuestra Herencia mural is also highly visible when you enter the park which depicts American and Mexican cultural heritage. The park store sells Mexican handcraft items, gifts, books, and other goods for sale. Chamizal National Memorial was added to the National Register of Historic Places in 1974.
5. El Pueblo de Los Angeles Historic Monument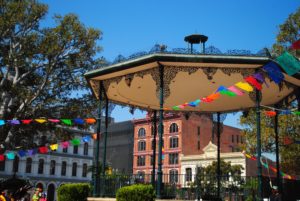 This well-known district in Los Angeles has been listed on the National Register of Historic Places. The Los Angeles Plaza Historic District is home to many historical residences such as the Avila Adobe, Sepulveda House, and Olvera Street which is known for its Mexican marketplace, restaurants, vendors, and history. The district is famous for its ties to early California history and its influence from cultures and people of Native American, Spanish, African, and Mexican descent. Considered the birthplace of Los Angeles, this diverse district is a must-visit for anyone taking a trip to beautiful LA.