San Antonio entrepreneur and music artist David "Davy" Espinoza has been running his streetwear clothing brand 'EternoSteeLo Culture' for the past 10 years, and will commemorate the milestone with an extra special "Summer Nights" event July 15th at The Alamo Beer Company. The brand is based out of San Antonio, and a representation of Chicano culture intertwined with family, faith, and hustle. The business hit it's 10 year-anniversary this year, and Espinoza couldn't be happier with the outcome, "It's been fun, and I'm not saying I underestimated myself, but I didn't think I would be doing this for 10 years. But a big part of why the brand has lasted this long is because we learned how to use the influence we have to bring people together and start throwing events," he said. Initially, Espinoza's flair for business started when he was a teenager where he was involved in a program called "Youth Against Drugs." "I started selling candy at 14," he said. Espinoza's involvement with the program provided a way for him and other teens to make money and gain work experience, something that had a positive influence on him. While a teen, Espinoza would also attend local car shows where he made great networking contacts such as local artists and rappers from around town. This led to Espinoza selling CD's for rappers, and his keen sense of networking has paid off since as he has made valuable connections with other business owners, sponsors, and musicians over the years.
Starting EternoSteeLo Culture in 2013, Espinoza describes his brand, "The brand is keeping the cultura alive through fashion, and doing what I love. I feel like the brand is really niche to a genre, it comes from a specific niche like a first generation Mexican-American like myself," he said. "If you look at the designs, they have Mexican roots. My parents are from Mexico but I was born here in the states. I'm a Chicano but raised with Mexican ways," Espinoza explains. The unique part about EternoSteelo is the integration of Espinoza's love of family and culture. Some of the brand's merchandise features a young boy pushing a paleta cart which was inspired by Espinoza's own son, "To me is represents a Hispanic neighborhood as well, my paleta cart is my emblem, and the first-generation Chicanos I represent. But also the lowriders, my dad came to the states in the mid 70's, and his thing is more cowboy boots, ranchero style, and that's not really my thing.  If you look at the outline of the lowrider on the shirt, I associate it with Chicano and Mexican-American culture. The lowriders and the paleta cart are a good representation of what the brand is. People actually use to tell me when I first started that my brand was "Too Raza", or "Too Mexican," but I told myself I wouldn't ever change my style," he adds. Adding to the brand's authenticity also includes locals who model EternoSteeLo's clothing.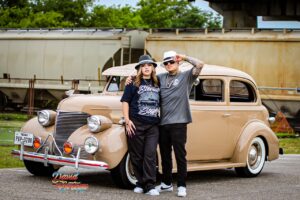 Many of the models showcasing the brand may be in car clubs, tattoo artists, musicians or other business owners. Some notable merch that EternoSteeLo sells includes  hats, jackets, beanies, sunglasses, and tees with the words "Hustle & Pray", "Familia Primero," and "Puro Padelante En Las Buenas Y En Las Malas," or other phrases referencing Latino culture or language. Espinoza has also been able to utilize his people skills and love for the community to get others involved by hosting events throughout the year or collaborating with local businesses such as Jamie's Place in the West Side of town. Just a few years ago, the brand even caught the attention of comedian George Lopez. Espinoza was able to collaborate with Lopez on merchandise, and EternoSteeLo began selling t-shirts phrased with the slogan, 'Mas Chingones," a concept Espinoza came up with due to Lopez's popular 'El Mas Chingon" phrase. "When he was in Texas a few times, he even got us floor seats to a few of his shows and we got to hang out. This was around 2017-2018 and I'm just grateful for the opportunity he gave me with the collaboration," Espinoza shares.
Speaking of the West Side of San Antonio, this particular part of the city is known for it's strong Mexican-American cultural ties and influence. The majority of locals in the area are of Mexican-American descent, and one of the few remaining authentic Chicano barrios around San Antonio that hasn't been gentrified compared to other areas in town. "The Molinos, Taquerias, Paleteros, and the Hispanic culture is celebrated here. It's not looked down upon, people actually celebrate the culture of the West Side, it has a unique flavor" Espinoza adds.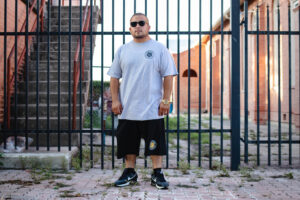 For those looking to get a real-authentic taste of the Chicano culture in San Antonio, the West Side is a recommended area to explore.
When speaking of the lowrider community, Espinoza also wants people to know that lowriding isn't necessarily gang related. Contrary to what many believe, there are many car clubs around the country that have a passion for classic cars or 'lowrider' style cars. It's engraved into the Mexican-American community and Chicano culture in some cities more so than others, and San Antonio has a prominent lowrider scene. Included is also working professionals such as teachers or local politicians who own lowriders or share a love for the scene. "There's a variety of people who own lowriders, and most of them are professionals or family guys and some of these cars are so expensive," Espinoza shares. "The lowrider community even started involving local council members to come out and take pictures and mingle at their events," he adds. Currently, Espinoza is friends with many in the lowrider scene and they frequent events that EternoSteeLo holds.
In terms of speaking of Espinoza's impressive resume, we can add music artist and rapper. He has collaborated with others in the business such as prominent musician and producer D. Salas, who's written for artists such as (MC Magic and Smokey Robinson). Espinoza "Ese Davy" initially started rapping as a teenager while attending Memorial High School on the West Side, and formed his own label 'Varrio Dream Records.' He released an album under his label in 2016 titled "My Kinda Sunday." The album features 15 songs with diverse themes such as love, along with personal genuine experiences. Check out more of Espinoza's music here.
For the past 4 years EternoSteeLo has been hosting an annual event "Barrio Muertos" in San Antonio where vendors, and local artists of all kind come out to celebrate "Dia De Los Muertos." Espinoza initiated the concept in 2019, and has been able to successfully bring the community together for a gathering to celebrate Mexican culture, "This year will be our 5th as an event organizing company. EternoSteeLo is becoming more of a movement, and this year we're celebrating 10 years of that," he said. Last year, Espinoza even performed at the event, and is preparing for this year's Barrio Muertos celebration in early November, a must attend if you are in the San Antonio area.
On July 15th, EternosteeLo will also be hosting a 'Summer Nights' event at the Alamo Beer Company, "The Summer Nights event was born from the Barrio Muertos idea. This will be our 5th year doing a Barrio Muertos party that's all about cultura and 'Day Of The Dead' with an urban twist. We bring out the lowriders, Aztec dancers, graffiti artists, and everyone loves that vibe and environment," Espinoza shares. "Summer Nights is trying out something different, and it's the same vibe and concept, but the theme is white and gold for this year. Not everyone has to wear white and gold, but we always have a bunch of cool photographers and videographers getting content so we thought it would be cool to have a theme that stands out. My friend Joaquin also has a Chicano (Soul) oldies band, so they're going to be performing."
The event will feature over 50 vendors (all hand-picked), lowriders, music, food, and performances. Included are also local sponsors such as The Culebra Meat Market #1. Espinoza feels gratitude towards everyone who has contributed to his success, "It feels good because everything we're doing now, I realized how much of this came from word of mouth, or organic relationships. A lot of the people I'm working with now are those I've met along the way. Whether its music or the car scene, the city respects these events, and it's crazy to see everyone show up.  We have sponsors this year like meat companies, most of these people heard about me through others and wanted to be involved."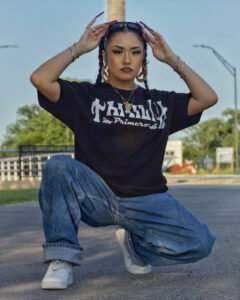 Espinoza also has a passion for credit and finance and encourages others out there to maintain their credit in order to help build generational wealth, "Not everyone has generational wealth especially us Hispanics. I'm not saying that goes for everyone, but not many of us do [not]," he said. "No one started it for me so I want to start it for my kids and credit is huge. You don't need to have a lot of money if you have good credit. With good credit, you can buy a house or car without having cash on hand. Make sure to make payments on time with any credit you have, and it'll just keep building from there."
In giving advice to other Latinos out there, Espinoza shares his thoughts, "Surround yourself with like-minded people and those that have the same drive as you," he said.  "Some of us are dealing with trauma and dealing with issues from growing up and sometimes those things make you lose focus on the bigger picture. You don't want your past to dictate your future, so surround yourself with people that can provide motivation. I learned this last year that you need to speak your ideas to people who really care. I tell people all the time, and thank them for being around. A lot of the stuff I do I throw it out into the universe, and having people around that have something to bring the table is really helpful and motivating."
Espinoza is a great example of where passion and ambition can take you with hard work.  He's proven to be a great inspiration for the Chicano community in San Antonio and in the State of Texas and hopes to keep building on his solidified success.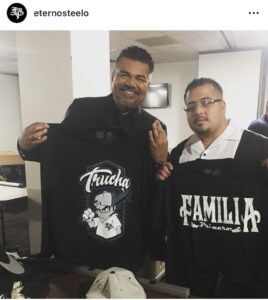 For anyone interested in purchasing clothing from EternoSteelo, visit their website, or clothing store Penner's located at 311 W. Commerce St in San Antonio. EternoSteeLo is also at a variety of events and pop-up's around town and in various cities in Texas.
Side Note: EternoSteelo also provides custom Screen Printing and Embroidery for other businesses or those in need of merch, including out-of-state.  If anyone is in need of custom bulk orders with particular logos for their businesses or other needs, contact EternoSteelo here.
Learn more about the Summer Nights Event at the link: Summer Nights Party | July 15, 2023 @ Alamo Beer | 5pm-12am
Follow Ese Davy and EternoSteeLo Culture on Instagram and Facebook.