Dr. José Hernández is one of few Latinos to ever go to space, a dream he had since childhood. He has managed a successful career due to his ambition, hard work, and strong family values despite challenges such as loss, rejection, and life's uncertainties. Born in California, Hernadez's family originally hails from La Piedad, Michoacán, Mexico. Much of his childhood was spent on the road learning the value of hard work. Along with Hernández, the family spent time traveling throughout Northern and Southern California crossing over into Mexico where they made a living harvesting crops. Reminiscing about that particular time, Hernández offers insight into his family history, "Ever since I could remember we were a family of migrant farm workers," he said. "Even before my dad got married, he started as a 15-year-old and continued through his adult life until he had us as children. But he would spend a total of nine months in California in three different places. He had two months in Southern California, two months in Central California, and five months in Northern California. And then he would hightail it back to his hometown in the state of Michoacán. He meets my mom and starts bringing her along into this journey," he adds. Due to his parent's constant travel on the road, there were chances Hernández could either be born in Mexico or in the States, "I beat the odds, and was a harvest baby born in August. My other brother, I call him my Irish twin because he's 11 months older than me was born in September in Stockton, CA. But then my oldest brother and sister were born in the winter in Mexico."
Living life on the road wasn't always easy for the family, as Hernández along with his siblings attended various schools, "First time I was in kindergarten, I went to 3 different school districts in one school year. And that was our life, and it wasn't until the second grade where I told Ms. Young that I wanted 3 months' worth of homework that things changed," Hernández recalls. Ms. Young ended up playing a vital role in Hernández's life as she convinced his parents to keep him along with his siblings in one place for educational stability. Eventually, Hernández would go on to receive a Bachelor's Degree in Electrical Engineering from Pacific University in Stockton, and a Master's in Electrical and Computer Engineering from the University of California (Santa Barbara). He would go on to work at Lawrence Livermore National Laboratory through the 1990s until he left for NASA in 2001 after being rejected 11 times.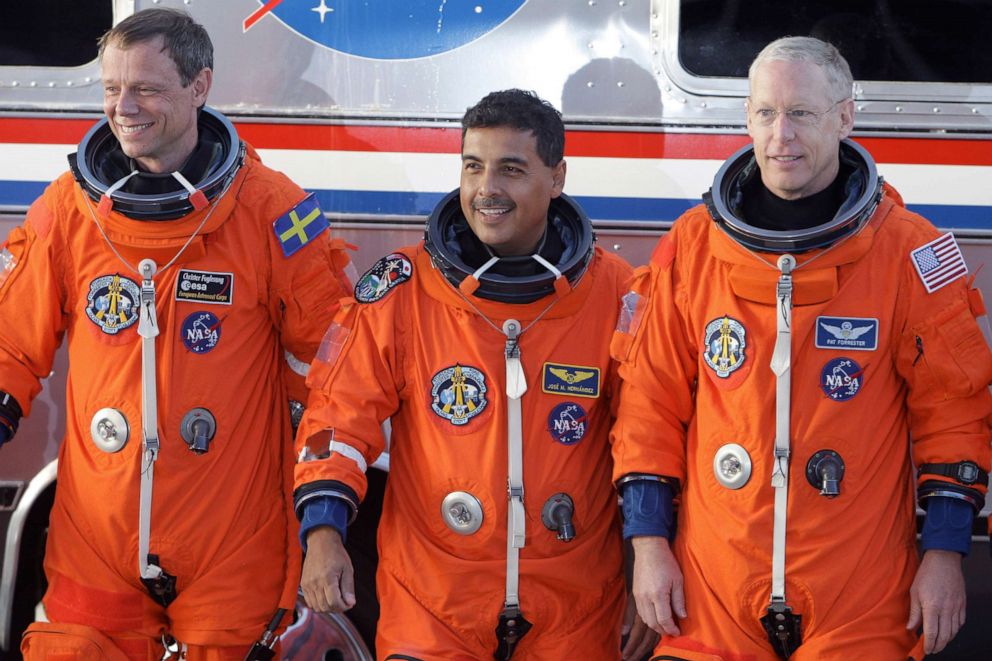 Recently, an original film about Hernández's life and career was released on Amazon Prime Video titled "A Million Miles Away," based on Hernández's autobiographical book "Reaching for the Stars." Directed by Alejandra Márquez Abella, the film was officially released on September 15, 2023, kicking off Hispanic Heritage Month. Starring actor Michael Peña as Hernández, and Rosa Salazar as Adela Hernández (José's Wife), the film explores the struggles of a hard-working Mexican family determined to overcome poverty in pursuit of success. A story of perseverance, the film is relatable to anyone and oozes authenticity. We see Hernández's determination to become an astronaut come to fruition, but not without enduring many obstacles along the way. Throughout, audiences will also enjoy the musical soundtrack as the sounds of Los Tigres Del Norte, Sunny & The Sunliners, and fan favorites from the 80s are showcased. Actress Veronica Falcón and actor Julio Cesar Cedillo portray Hernández's parents, both bringing great depth to the storyline.
Speaking more of the film, Hernández gives us his take, "I watched the very last Apollo mission and said, That's what I want to be, I want to be an astronaut. And you see the story through my dad's recipe and encouragement from everybody. I reached the goal, and when I reached the goal I noticed the attention I got because I'm the first migrant farm worker to get selected (NASA), and so I immediately recognized that and I became a role model," Hernández said. "And I embraced it because I said this is like a superpower in the sense of kids looking up to me. Throughout my 10-year career at NASA, I went out and spoke to schools and students, and when I left NASA I became a motivational speaker and was encouraged to write a book about my life story which is how Reaching for the Stars was born. I'm so glad we did the film because it was about getting the story out and motivating folks," he said.
Originally slated to be a Netflix film, the pandemic stalled the project, and Prime Video took over from there. What makes the film so special is the genuine storytelling and amazing caliber of actors who did a very convincing job in their role portrayals. Michael Peña as Hernández was outstanding, and should be applauded for bringing emotion and seriousness to the role. Actress Rosa Salazar also gave an extraordinary performance. The film offers inspiration to all Latinos out there, and showcases the importance of overcoming life's challenges, (Hernández was initially rejected 11 times from NASA). "The beautiful thing about the journey is that it's not embellished. The recipe (for success) my dad gave me, what my wife told me. All of those things are true, and it's such an inspiring story everybody can relate to. And it's across cultures, too, and then it's across political inclinations as well. I interviewed with Mike Huckabee in Nashville, Tennessee on his TV show and he was very supportive of it and very impressed because it talks about family, it talks about values, it talks about hard work, it talks about achieving the American dream. And I mean, who could argue against all of that? And so we've had a lot of positive responses," Hernández said.
During the film, cousin "Beto," played by Bobby Soto is subsequently killed. Hernández elaborates, "Beto is a combination of three friends from my neighborhood. Two of the three were brothers. One of the brothers died of an overdose, and the other friend committed suicide. So, you have the other brother left and myself and we all grew up together," he said. One of many tear-jerking moments in the film, you witness Hernández and his family grieve the loss of their loved one. 
As a Mexican-American, Hernández also went through moments of struggles related to his heritage in the workplace but offered advice on how to overcome those moments, "The reality of life is that you have to work harder to get the same recognition (as others). That's reality. You can choose to deal with it in two ways. You can have a chip on your shoulder, and you could be combative, argumentative, and complain and you'll be viewed as a controversial person. Or you could do what I did. Understand the rules and realize that perhaps I have to work 1.4 times as hard to get the same recognition. I'm not afraid of hard work so I said, I'm just going to work hard. Why? So, I can change people's perceptions, and hopefully a person of color that comes behind me only has to work 1.1 times as hard. And then the person behind that person is on an even playing field. So that's what I chose to do," Hernández said.
After getting accepted into NASA in 2001, Hernández was left heartbroken as many of his colleagues perished in the 2003 Space Shuttle Columbia accident. The film showcases Hernández's comradery with superior and instructor Kalpana Chawla who was one of the 7 crew members aboard the mission. Speaking more on that particular subject, Hernández discusses more of the incident, "There were several missions before I went (after the incident). (Per the film) It looked like I was on the next mission, but it wasn't because there's a caveat there. But still, you look at it and you know space is not routine. It's not trivial. We've lost space shuttles, Columbia in 2003 where 7 astronauts all perished, and also the Challenger in 1985 with 7 astronauts, who all perished. We also lost Apollo One with 3 astronauts. So, it's not trivial. There are risks associated with it, and that's what I was concerned about because I have five kids. But it's a calling and I wanted to do it, and I'm glad because I put my faith in God and said Hopefully he takes care of me, and he did and I came back to tell about it," Hernández said.
Before fulfilling his dream of going to space, Hernández served as an aquanaut in 2007 during the NEEMO 12 Mission, "That's right. We've done a lot of missions underwater. We've got a training module off of the coast of Key Largo called the Aquarius Habitat. It's run by the University of North Carolina, and it's kind of like a submarine, and it's fixed at around 60 feet underwater. And so, you dive and go into this dry environment lab underwater and pretend you're on the surface of the moon or the surface of Mars. And you do what's called a lunar analog mission so you do experiments. You even do moonwalks or Martian walks. You put on your spacesuit, and the divers come in and they weigh you so that you're 1/3 or 1/6 the gravity of Earth depending on what celestial body you're on. And so, you do that as an aquanaut. And we spent 12 days on that mission. Yeah, it's called the NEEMO Mission: NASA, Extreme Environment Mission Operations," Hernández tells us.
In 2009, Hernández was aboard the STS-128 mission, finally achieving his lifelong dream. The film does a great job of visually showcasing the emotional journey of achievement in this moment. Tapping into his scientific knowledge and experience, we asked Hernández if the earth was round or flat, he gives us his definite answer, "It's round. I went around the earth 217 times in 14 days," he happily said.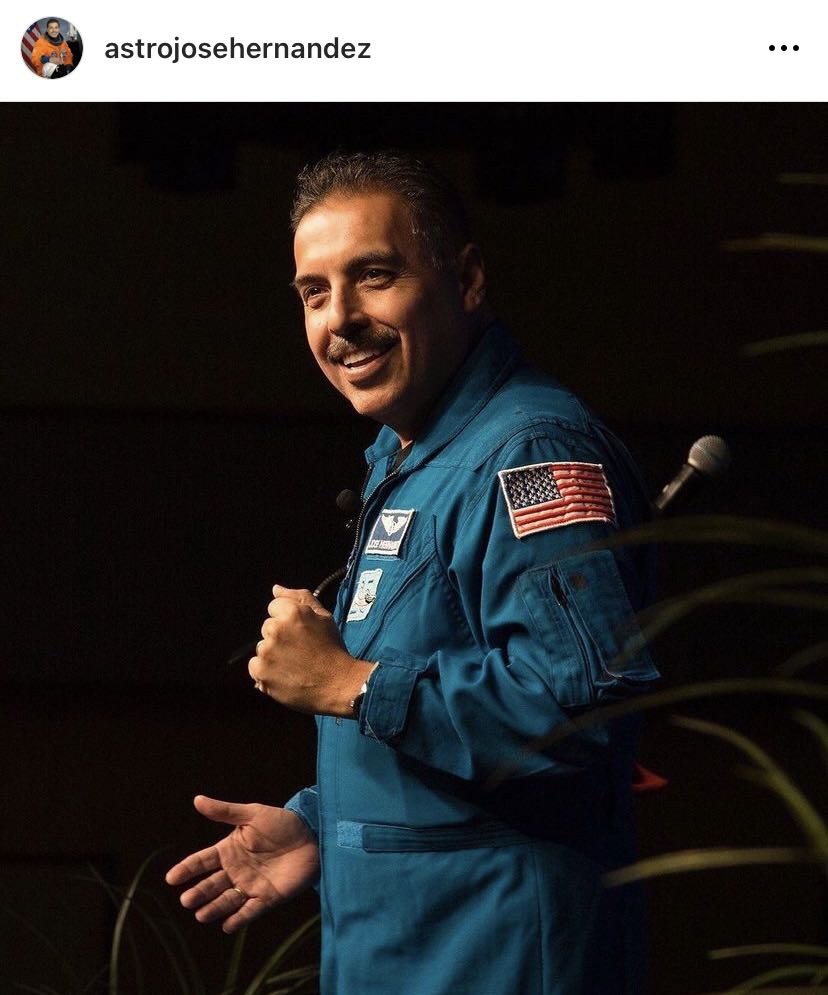 Watch "A Million Miles Away" to learn more about Hernández's journey and launch into space.
Currently, Hernández is a motivational speaker and CEO of his own aerospace consulting company, "Tierra Luna Engineering. He also owns Tierra Luna Cellars, where he produces his own wine with his father, and runs his non-profit organization "Reaching for the Stars Foundation," with emphasis on inspiring youth in STEM. He can also be credited for co-developing the "first full-field digital mammography imaging system used to detect breast cancer." Learn more here. 
In sending a message to others out there, Hernández offers great advice, "I would say follow my dad's recipe," he said. "Simple 5-ingredient recipe. Determine your purpose in life. That's the most important one, and find that before you do anything else. Once you define that, recognize how far you are. Define your road so you know how to get there. Prepare yourself according to the challenge and develop a work ethic second to none. And then I would add my ingredient, which is perseverance. It's believing in yourself. Don't second-guess yourself. If you work hard and prove yourself, you can do it."
One last note from Hernández: "Kudos to all the actors and Michael Peña and Rosa Salazar who did an extraordinary job along with director Alejandra Márquez Abella, they deserve a lot of credit."
Latinitas celebrate's Dr. José M. Hernández's achievements, and inspiring story. Thank you for your service! Happy Hispanic Heritage Month!
Watch the film now on Amazon Prime.
Official Website: Tierra Luna Engineering – Aerospace Consulting – Jose Hernández
Tierra Luna Cellars: About Us – Tierra Luna Cellars – Wines by Astronaut Jose Hernández
Follow Dr. José M. Hernández on Instagram here.