JCPenney launches their 2023 Hope & Wonder Hispanic Heritage Month Collection in partnership with Latinitas, and we have all the details! Since Hispanic Heritage Month begins on September 15th (and is seen through October 15), the collection is expected to hit stores this August, and might even be in your JCPenney by the time you're reading this. This has been a long time coming as the planning for this collection began all the way back in July of 2022 before the original collection had even launched.

At the height of JCPenney's partnership with Latinitas, the Design Coalition was getting inspired, brainstorming new ways to combine cultura and fashion. According to Pamela Velez, Sr. Designer at JCPenney, "Volunteering with Latinitas has shown us at JCPenney just how important it is that young Latina women get the attention they deserve! We feel that collection expresses the love and pride that we have and when customers see our collection they will also see where the proceeds of the collection will have the biggest impact!"
And if you're wondering who makes up the Design Coalition, we have the inside scoop, "The Design Coalition comprises of several Latinos who are either designers by profession or are JCPenney associates who want to influence the collection." Whereas last year's collection centered around the concept of being united with the tagline "Unidos somos más", this year's collection centers around celebrating our diverse cultures, "'Amor para mi cultura' is our theme and it is represented in our family moment where everyone from Abuelito to baby can wear the theme!"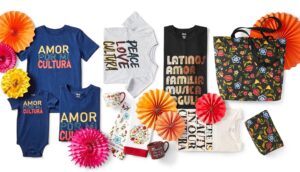 Something JCPenney has always prided themselves on is their ability to dress everyone in the family, as JCPenney doesn't just create womenswear or outfits for children, but outfits for everyone. This was showcased so beautifully in the family of mannequins displaying the collection at last year's launch event. I'm sure this year's will be no different, though the mannequins might be rocking a different tee, Pamela let us in on her favorite design, "Honestly I love the "Beauty in our Cultura" Tee. It has the perfect blend of pride and celebration and is done on purpose in Spanglish." As a third-generation Mexican American who frequently speaks Spanglish she adds, "It is the most relatable for me."
The JCPenney Ingram Park Mall in San Antonio will be celebrating the launch of this nationwide collection on August 26th. If it's anything like last year's launch event, you and your little ones aren't going to want to miss it. 
Join JCPenney in celebrating Hispanic Heritage Month, and check out this year's Hope & Wonder Collection available online and in person at select stores across the US and Puerto Rico here.