It is nothing short of eerie and terrifying to see the snowballing of political unrest occurring simultaneously in two Latin American countries: Peru and Brazil. Together, we can look at the latest happenings in these two countries, how matters became so violent and chaotic, and what these events bode for the future of democracy in Latin America. 
First is the matter of Brazil, a nation that has been dealing with increasingly volatile political polarization since the presidential election of October. On January 8th, 2023, protestors stormed all three main Brazilian government institutions. These protestors are dangerously passionate supporters of former president, Jair Bolsonaro, who is currently residing in Florida. Bolsonaro lost the October election to Lula da Silva. Bolsonaro is at least partially responsible for the protests reaching such a violent, shocking point; "In the months leading up to his election defeat Bolsonaro repeatedly sowed doubt about the legitimacy of the vote, without citing any evidence for his various claims." All of these details may have readers immediately thinking of the January 6th, 2021 storming of the capital in Washington D.C. Indeed, these two insurrections are eerily similar, chaotic stormings of capital buildings fueled by a misguided belief that the presidential election results were somehow unfair or biased. It may not come as a surprise that Bolsonaro also happens to be allies with former U.S. president Donald Trump.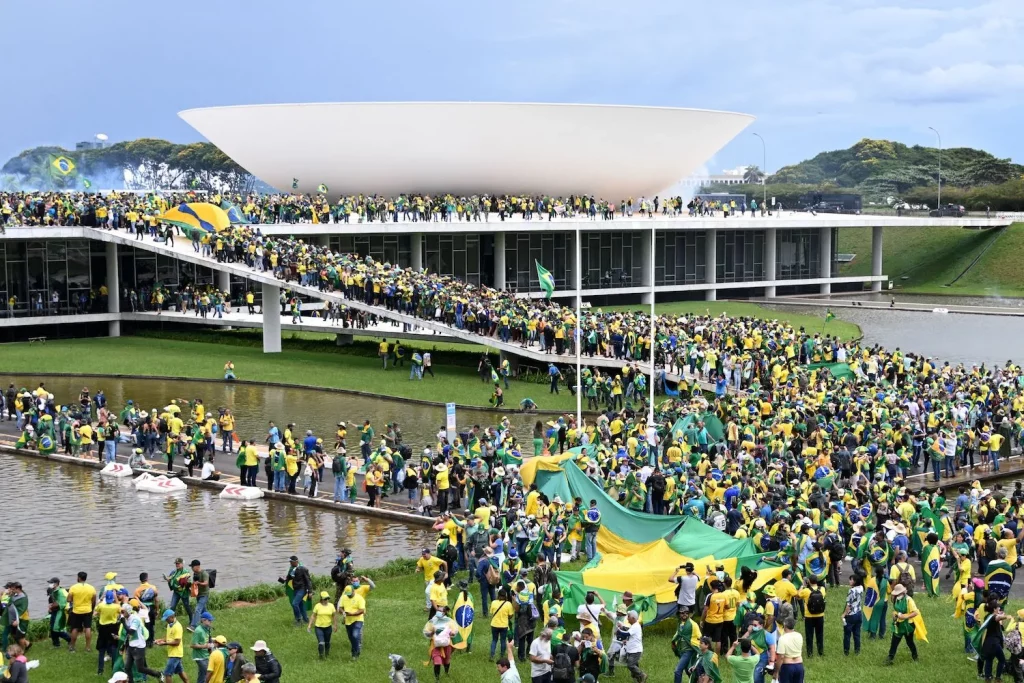 Just as the U.S. was reeling for some time after the shocking events of January 6th, 2021, Brazil is still coping with the riots of January 8th and evaluating the best next steps. Many arrests of the rioters have been made, and president Lula da Silva has vowed that all participants will be punished for their part in threatening Brazil's democracy. 
While January 8th was certainly a tipping point for political unrest, this unrest has been brewing in Brazil for some time. The time leading up to October's presidential election—and the time since then—has been progressively filled with more political unrest given that this presidential election was "one of the most important — and contentious — in the country's democratic history." For example, before the insurrection on January 8th and "for the past 10 weeks, supporters of the ousted far-right President Jair Bolsonaro had camped outside Brazilian Army headquarters, demanding that the military overturn October's presidential election."
Brazil's democracy has been threatened for some time now given that "a skeptical attitude towards Brazilian institutions from partisans of the far-right former president began long before Bolsonaro's loss." A specific point of distrust, fueled by Bolsonaro's unproven claims, is with the digitized formatting of voting in Brazil. An increasingly heightened distrust with the Brazilian government among Bolsonaro's supporters has led to a deepening political divide in Brazil and to democracy-threatening events like January 8th. 
Simultaneously, Peru has also descended into political unrest and violent protests. A differing situation from Brazil, Peru's protests began in December when former president Pedro Castillo was removed from office and impeached on December 7th. Castillo is currently detained for his attempt to disband Peru's Congress. However, Castillo's forced removal from office is not sitting well with many Peruvians, especially Indigenous Peruvians and Peruvians from rural regions of the country. This is because Castillo was "Peru's first president from a rural Andean background." His election brought hope for many Peruvians not living in urban areas like Lima because rural regions and Indigenous people in Peru have long felt that their voices are not equally represented and heard. 
After Castillo's removal from office, his vice president, Dina Boluarte, was sworn into office as president. However, this transfer of power is one factor most angering protestors in Peru. As a result, "protesters want new elections, the resignation of Boluarte, a change to the constitution and the release of Castillo." 
In addition, protestors are fighting "for better living conditions that have gone unfulfilled in the two decades since democratic rule was restored in the country. While Peru's economy has boomed in the last decade, many have not reaped its gains, with experts noting chronic deficiencies in security, justice, education, and other basic services in the country."
Unfortunately, over the course of December and January, protests in Peru have become increasingly more violent and dangerous. As of now, "at least 54 people have been killed amid clashes with security forces since the unrest began, and a further 772, including security officials, have been injured," These deaths and injuries are only further fueling the anger that many Peruvians are feeling towards the government right now. Many are questioning how so many deaths have occurred, and why there hasn't seemed to be any actions taken to stop such violence. 
We can also look to the recent closure of Machu Picchu as a sign of the worsening political unrest in Peru. "Cusco, where Machu Picchu is located, has been the site of some of the most intense clashes between protesters and law enforcement."
Looking at the simultaneous, albeit different, situations in Peru and Brazil, it is certainly alarming to see multiple threats to democracy unfolding in Latin America. And what is the fate for these two countries? It is difficult and unclear to say at the moment. For both Peru and Brazil, there seems to be a dangerous standstill regarding political polarization. For example, in Peru, president Boluarte "'says she's not going anywhere. She's defiant, and she calls the protestors vandals.'" Meanwhile, protestors are not taking no for an answer. This standstill seems to foreshadow more political unrest to come. One can only stay educated on current news regarding the tumultuous situation in these countries, and hope for the prevention of any more deaths or injuries, as well as the preservation of democracy.
Sources:
CNN: https://www.cnn.com/2023/01/19/americas/peru-protests-thursday-intl/index.html
NBC: https://www.nbcnews.com/news/latino/peru-protesters-pour-remote-andean-regions-demand-president-resign-rcna66580
PBS: https://www.pbs.org/newshour/world/peru-shuts-down-machu-picchu-as-political-unrest-spreads-across-country
NPR: https://www.npr.org/2023/01/21/1150548957/deadly-protests-in-peru-call-for-the-resignation-of-president-dina-boluarte
CNN: https://www.cnn.com/2023/01/09/americas/brazil-congress-attack-explained-intl/index.html
CBC: https://www.cbc.ca/news/world/brazil-political-violence-lookback-1.6709387
The New York Times: https://www.nytimes.com/live/2023/01/09/world/brazil-congress-riots-bolsonaro