Anali Martinez Gonzalez is an engineer, Austin Blogger, and digital content creator. She grew up in Del Rio, Texas, and moved to Austin in 2007 when entering her college career at the University of Texas. Anali pursued a degree in civil engineering at UT where she was involved in the Society of Hispanic Professional Engineers, the  Society of Women Engineers, and a Latina Sorority called Kappa Delta Chi. She mentioned that being at UT was one of her favorite parts of being in Austin. While being the Rush Director for her sorority, Anali found her interest in media, writing, videography, and filming. She was able to discover her creative self. 
After graduating from UT, she stayed in Austin and started blogging in 2010. Her first blog was called Confession of a Serial Dater where she wrote about her dating experiences. In 2015, The Nueva Latina was founded. It is a lifestyle blog where she writes about the experiences of a new generation of Latinas in life, food, travel, relationships, career, and everything in between. The blog was named Nueva Latina meaning the "New Latina" because it is a place where she is able to define what it means to be Latina for herself. As a first-generation, she faced turmoil in defining her identity and not being Mexican enough for Mexico while simultaneously not being American enough for the U.S. She enjoys Hip Hop music but also loves Mexican corrido. She mentioned the name was inspired by Selena, "The Queen of Tejano Music" whose 1997 biopic Selena quotes similarly, "We have to be more Mexican than the Mexicans and more American than the Americans, both at the same time!" This speaks to the struggles she faced with intersectionality, yet despite them, she was able to create her own identity: The Nueva Latina.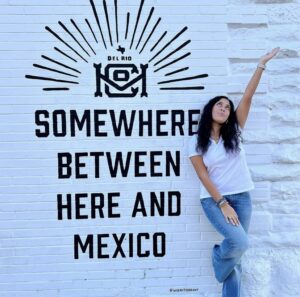 Anali states that even though she enjoys being an engineer, she admires her blog and loves content creation as she is able to express her passion for writing and her creativity in content creation. She greatly focuses on performing product reviews, exploring new restaurants, and going to fun events in Austin in her blog. She wants to also highlight the art of storytelling through telling the stories of New Latinas who are paving their own ways and are inspired to make a change. 
As an inspiring and empowering individual, she likes taking courage from her parents and family. She mentioned how she formulates her motivation from the work her parents have done and in inspiring her siblings, is making a positive impact in the Latina community. Part of her motivation is also driven by showing her parents and family that there are other ways to be fulfilled and make a living. Knowing her parents are watching and trying to inspire the next generation, she wants to break societal norms and encourage others to put great emphasis on their own ability to follow their passion and discover their creative sides.
As she found passion and creativity in content creation and in her blog, she also understands and highlights the struggle of starting a career in social media. She states, "To keep going, keep working on your passion, and even sometimes to accept the low likes and low feedback from the audience. Be willing to learn and change." She gives such warm advice to, "keep learning, keep being curious, social media is changing all the time so be willing to change." 
"If you stay learning, you can really go far with content creation," she states. 
She opened up about her journey as not only a blogger but also as a digital creator. The idea for her first viral video came to her at a nail salon. Through her researching techniques and analysis, she was able to see what her audience enjoyed the most: corporate humor which was her niche at the time. "If you have a thought, do it right away because then you're gonna forget about it." 
Through her writing, she wants to create more content on her home and her family. She considered herself a "home person" and enjoys decorating. She wants to show more about her home life so that her audience, who are going through the same things, can connect with her and her content. Part of her willingness to highlight more about her family is that her mom would always record her when she was growing up. Seeing that, she understood the importance of documenting pieces of her life. "With content creation, it's not just about content for me but it is also documenting my family." She hopes to create more videos of her parents, Tías, and Tíos, for the audience but also for Anali to document the small nuggets of joy and pieces of her life that hold her together. 
Our conversation spiked up a really important topic: taking social media breaks. We as humans all go through a lot. "I think social media is so beautiful and it can be a beautiful thing but people are only posting happy times and pictures they look good in," she states. Everyone's life is not perfect. It is important that we as the audience remember that everyone is going through something. Recognizing and acknowledging your feelings is necessary for treating and caring for ourselves with gentle reminders and taking social media breaks when necessary. 
Interviewing Anali, I recognize how bubbly, beautiful, and confident she is. She is very open and authentic in her way of communication and showcasing that in her socials. She mentions how she learned to own her confidence. She says that "the most beautiful person is a person that is comfortable in their own skin." She touched upon her being called "the weird girl" when she was younger. It was a difficult time for her as a kid and it did affect her. She states that "As I started to accept that. Accept that I am weird. My confidence went up." She has shown great strength and courage in building her own confidence and she hopes to inspire the next generation who can relate to her to use her content to strengthen their confidence. 
One of my favorite things she said was that "You might not be everyone's cup of tea but you're somebody's shot of tequila. Not everyone is going to like you and that is totally ok. Learn to let go. I think I feel the most confident when I am being myself." And that has stuck with me ever since. 
As a positive creator, Anali defines empowerment as "providing tools and opportunities to the next generation of people" by helping and supporting each other. "If more people supported each other and empowered each other, the community could grow as a whole and we could grow together." She believes in supporting women in believing in their goals and being that support system that she didn't have while growing up. 
You could definitely describe Anali as a music lover, as, being that she is extremely outgoing and adventurous, you can probably find her at music events, music festivals, and concerts in Austin. 
One of her favorite quotes lies in the lyrics of a song called "That's Life" by Frank Sinatra. 
"That's life (that's life), that's what all the people say
You're ridin' high in April, shot down in May
But I know I'm gonna change that tune
When I'm back on top, back on top in June"
Anali sheds light on the ups and downs in our lives while remembering to always get back up, "remember that another up is coming." In fact, she even mentioned that "If I ever got a tattoo, it would be of that quote." The song is a unique part of her as it helped her to get through difficult times. It is a beautiful masterpiece and the lyrics lie close to Anali's heart. 
One of the most beautiful, heart-touching, and special moments for Anali was when a 14-year-old girl at the Con Mi Madre Conference came up to her and said, "It was nice to see someone who looks like me on social media." Seeing how others can resonate with her content and seeing young Latina girls look up to her is what keeps her going. Anali's goal is to inspire the next generation so they can say "I can also do that". To be proud in their own skin and own what it means to be a brown Latina: The Nueva Latina. 
"Always remember, the best is yet to come. Better is coming and always look at life that way. Life can be very sweet and very fun. We don't stop living once we achieve a goal. Look forward to living even after we reach our goals." Anali closes. 
To hear more about Anali, don't forget to follow her Instagram, TikTok, and Youtube. And you can check out The Nueva Latina Blog right here.