On June 17th, 2023 country music legend George Strait played to a packed house at Lumen Field in Seattle, Washington. For those unfamiliar, Strait, (a native Texan), changed the landscape of country music when he emerged in the early 1980s, bringing a more modern authentic take on the genre which at the time was experiencing a shift to a pop-oriented country sound. Strait earned his nickname due to his charming good looks, genuine cowboy background, musical ability, and 60 No.1 singles. Strait also has garnered 33 platinum albums, has sold more than 70 million records worldwide earning multiple awards, and was inducted into the Country Music Hall of Fame in 2006. Strait remains one of the most legendary figures in the Country Music scene, and an influential musician in entertainment spanning through the decades. Some notable songs include "Marina Del Rey," "The Chair," "Amarillo By Morning," and "You Look So Good In Love." Strait also appeared in the film "Pure Country," from 1992.
When I first heard George Strait was coming to town, I immediately stopped what I was doing to message my sister. We both have been fans of the legendary country musician for years, as his music embodies Southern hospitality, romance, and Texan culture which we absolutely love.Strait performed to a jam-packed crowd at Lumen Field in Seattle, Washington. Lumen Field is currently home to the Seattle Seahawks football team, and the Seattle Sounders (soccer team). The legendary musician will be playing only 6 shows this year performing specifically only at stadiums across the United States. The Emerald City (Seattle) got fortunate that Mr. Strait decided to stop in for a show. The last time Mr. Strait performed in Washington State was 2014's Cowboy Rides Away Tour in Tacoma, Washington. It had been years since the musician actually performed in Seattle itself so this show was long overdue. 
Initially opening up the show was country band Little Big Town, and 10-time Grammy winner singer/songwriter Chris Stapleton. When I arrived at the venue, Stapleton had taken the stage and belted out a mix of songs, including a medley that featured "Free Bird" by southern rock band Lynyrd Skynyrd (a personal favorite of mine). The crowd took to Stapleton right away. The Kentucky native was highly entertaining throughout the night, and ended his set with fan-favorite "Tennessee Whiskey." I was fortunate enough to land floor seats near the stage, and was highly entertained throughout the night with dancing cowboys and cowgirls romancing each other. There were also large orange and blue draped tapestries with "George Strait's" name pinned up alongside each side of the stage, adding to the character and visual aspect of the show. The night was also not without drama as I anticipated. A few patrons had a bit too much to drink and soon shouting and arguments ensued amongst attendees. There was also some confusion over seating, as some fans had arrived later only to find others sitting in their seats. I give props to the event staff for handling the confusion and chaos professionally. I also say "anticipated," due to my last major country concert with Garth Brooks in 2017 where the crowd was exceedingly wild. I pretty much expected the same. My sister had also texted me saying she got into an argument with a patron who refused to move from her seat, so I was hoping the same did not happen to me, which ultimately didn't happen. 
Finally, when Mr. Strait finally took the stage at about 9:15 p.m. and exclaimed, "Hello….Seattle!!," the crowd erupted into an applause that filled the luminous stadium. Playing to a much enthusiastic and rowdy crowd readily waiting to hear the King's tunes, Strait appeared on stage along with 3 screens filled with the Texas flag colors. Strait wore jeans, a black cowboy hat, and a long-sleeved blue checkered flannel along with a black acoustic-like guitar. Supporting him were his backing musicians mostly all hailing from parts of Texas. The King kicked off the show with a cover tune by (Rodney Crowell) called "Stars On The Water," a song from his 2001 album The Road Less Traveled. After the first initial tune, Strait performed a variety of songs throughout his immense song catalog. I was extremely elated to hear some of my personal favorite songs such as "Nobody In His Right Mind," and "Amarillo By Morning."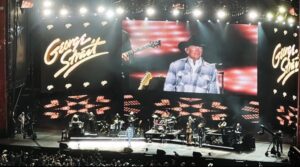 During the latter, the video screen displayed bull riding referencing the city of Amarillo and cowboy Texan culture, it appeared to be footage from the actual music video for the song, which was an added touch to the overall ambiance of the performance. Towards the middle of the show, Strait invited Stapleton out to sing with him where they performed about 3 songs together. Included in the middle of the show was also a veteran who was brought out and honored by Strait as well as given the key to city hall. The veteran received recognition for his service and on top of receiving a key to city hall, also received what I believe to be  a mortgage-free home. It was hard to hear exactly what was said due to the crowd's overlap in noise, but there was definitely an honorable mention to a serviceman or veteran. Over the years, Strait has partnered with Military Warriors Support Foundation to honor veterans and provide them with a home, which is amazing. The song "The Weight of The Badge," was also performed, and on-screen displayed photos of first responders from Seattle such as Firefighters, EMTs, Servicemen, and Policemen. It was certainly a nice added touch to the concert, and the crowd erupted in a chant of "USA….USA…. USA," afterward which was astonishing, to say the least. Strait played a total of 31 songs, which included an encore. The encore consisted of songs "All My Exe's Live In Texas,", "Folsom Prison Blues," a (Johnny Cash cover), "Take Me To Texas," and lastly "The Cowboy Rides Away," which is typically his last song at every show. I was really hoping to hear a few other songs that I loved, but with such an extensive catalog collection there's only so much time allotted. 
During the encore, the stage also lit up with the colors of the Texas flag. In full display, Strait showcased his American patriotism, respect for veterans and first responders with Texas pride. The show was one of the best concerts I have ever attended, and truly quite the magnificent experience in such a grand stadium atmosphere. Strait brought Texas and nostalgic sense to Seattle, and delivered in true cowboy fashion at 71 years of age. After the show, my sister showed a video to my mom (who did not attend), in which I was told it brought tears to her eyes. After all, my parents and family are initial natives of Texas, and I can understand why my mother felt so emotional seeing the footage, as it reminds her of home and nostalgic memories. Nonetheless, The King of Country lit up Seattle and brought out The Pacific Northwest's country music fans from all over the region. George Strait has a few remaining shows left through this year, and if you can attend one, I highly recommended it. Strait initially retired from major touring after his 2014's "Cowboy Rides Away Tour." Since then, he has played a residency in Las Vegas, and sporadic shows throughout the country.
If you're interested in seeing him in concert, click here for more information.