Chilean Actress Manuella Martelli, previously known for her roles in earlier works like 2004's Machuca and Gonzalo Justiniano's B-Happy, is making her directorial debut this August here in Austin. Inspired by her Chilean heritage, her debut film Chile '76 takes place during the early days of Augusto Pinochet's dictatorship. This political thriller centers around a bourgeois woman's political awakening, offering a gritty perspective of the era. To quote the official description, "Chile '76 builds from quiet character study to gripping suspense thriller as it explores one woman's precarious flirtation with political engagement." 
Martelli's film originally debuted last year at the 2022 Cannes Film Festival under the name 1976, but this month she's making it official here in Austin. On August 20th you can catch the premiere of Chile '76 at the renowned Austin Film Society Cinema. The premiere begins at 6:15 PM, and tickets start at just $13.50. 
For ticket inquiries click here, and make sure you're seated for the premiere of Chile '76.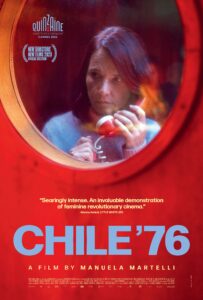 For more information on the film, you can click here, and if you're interested in hearing more about Austin Film Society be sure to check out our previous article highlighting the 6 Theater Alternatives in Austin.