Being a henna artist, I have always enjoyed the beauty of art and making everyone feel beautiful and confident. I was first introduced to henna while I grew up in India. I grew up seeing how henna played a significant role within my community. As a little girl, I always did henna on my friends. As I moved to the United States, I felt distant from my culture. I missed those moments when my friends and I used to do henna on each other and that's when I started practicing henna on myself. As a self-taught artist, it wasn't always easy. Henna requires the art of creativity and freestyling. I grew up seeing the art of henna. While I always enjoyed having it on my skin, I wanted to give that experience to others. Henna is much more than just a design. It is an artwork that becomes part of our body. As the ink leaves a beautiful stain, it brings great pleasure to the roots of the skin as it shines and makes the art seen. 
The art of henna, also called mehndi, has been practiced in India, Pakistan, and the Middle East for many years. Henna is mainly used during special occasions such as weddings,  cultural festivals. It was originally used for its cooling properties. You'd be surprised that henna, a temporary tattoo, is made from leaves. I prefer doing henna in summertime as henna usually brings coolness to the skin. The dye molecule that stains is called Lawsone which leaves an orange color stain. The henna is first applied and then left to dry. Once it dries, it pills off easily which usually takes between 30 minutes to an hour. If it is organic henna, it usually brings out a bright light orange color. It starts darkening within a day or two. It is beautiful to see the color transformation through seeing the colors of henna. 
The smell of henna is strong and while when I first started doing henna, I was constantly reminded of how the smell wasn't pleasant. I am now proud to be spreading my cultural roots by expressing my culture through henna. I loved the smell of henna and I still do. For some, it might not be the same experience and that is ok. However, it is not ok to disrespect and comment harshly on someone who has just started out their journey in the art space. It is important to be mindful in understanding and respecting each other's cultural values. As humans, we deserve to have a space where we can express our talents and interests without having everyone question them.  
For some henna might just be a tattoo, but for others, it is an accessory they wear that gives them confidence. I often get asked if henna is for every skin tone. Henna is a dye that is derived from dried leaves of the henna shrub (Lawsonia inermis). Henna is for everyone as it leaves stains on every skin tone. I try my best to be expressive in my henna designs by asking my clients if they would like to include a specific design or name or initials. Over my experiences, I have come to learn that I work best as a freestyle artist as I get to showcase my creativity while adding the essence of others' expressiveness. One of my favorite parts while I do henna for others is I get to build authentic relationships with them. I enjoy learning their story and educating them about henna and about my culture. And it makes me happy to be getting to meet beautiful individuals and learn about their own cultural history and passion.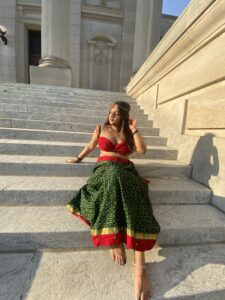 When I do henna on my cousin and relatives, I usually like to give them henna on the last day I see them as I want them to remember me when I am gone. Henna usually fades between 1-2 weeks. As a henna artist, it is important for me to use products that are clean and therefore I always use organic henna that I get from India. It brings out the perfect color and makes my client see what true henna looks like. 
Henna was mainly used in celebration for special occasions. However, I found myself doing henna in my spare time. I enjoyed creating original designs. My signature design is little avocados that I draw on couples or friends in which the avocados are holding hands together. I find that really charming. I have learned that I feel most creative when I get to incorporate my freestyle and try to combine my client's preferences into my art. My henna comes with authenticity and its cultural values make me feel closer to home.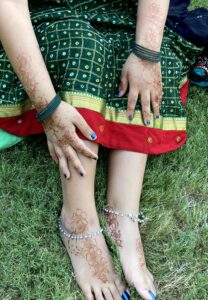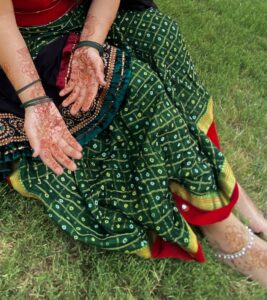 Henna has also taught me the importance of patience. It took me many years to be where I am right now with my henna journey. I still have a long way to go. But I appreciate the times when I got to learn and grow within my creative space. Because I am right-handed, I can only draw henna on my left hand. However, this picture above shows my first time attempting to do henna with my left hand, and let me tell you I have never been more proud. I never knew as a right-handed individual, I have become so close to doing henna that I can also do henna with my left hand as well. If I never tried, I would have never known my ability to see such accomplishment that I get to feel. 
If you have a talent or a desire, don't hesitate. Learn to cherish the small wins and take failures as an opportunity to grow yourself. I encourage you to keep doing what makes you feel the most creative. You will realize that it was never doing it the right way or being appreciated by others but it was simply realizing to love your art for what it brings: love, beauty, and confidence. And how it makes you feel. For me, henna brings me joy. It makes me happy to see my clients feel beautiful and confident being in their own skin. It fills my heart. 
I want to end with a quote that resonates with my experience with doing henna.
"She never looked nice. She looked like art, and art wasn't supposed to look nice; it was supposed to make you feel something." 
Take a look at my latest creations and get in touch to experience henna for yourself on Instagram @hennariyaa.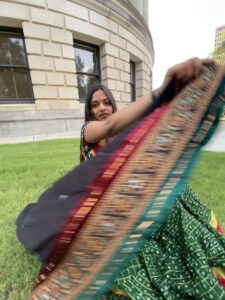 https://www.stu.ca/lnap/henna-its-history-and-cultural-significance/#:~:text=Today%2C%20Henna%20is%20mainly%20used,the%20love%20between%20two%20individuals
https://www.health.state.mn.us/communities/environment/skin/henna.html#:~:text=Henna%20is%20red%20or%20brown,approved%20for%20hair%20dye%20only.