Business owner Dez Ferrell is making a name for herself due to her work in the autobody industry where she owns a custom automotive restoration shop called Nessy's Kustoms in Glendale, Arizona. An uncommon occupation for women in the automotive industry, Ferrell is challenging work norms for women which makes her entrepreneurial journey all the more unique and fascinating. Originally from California, Ferrell re-located to Idaho around 10 years old and spent more of her formative years there with her family. It was her love of customizing cars that led to her involvement with an autobody program at a local college. Initially inspired by a small wreck she had gotten into, Ferrell decided to research ways to fix her car, "I happened to have a Honda accord at the time, and learned that the price of fixing your car up with aftermarket parts, and body kits was actually cheaper than how it was supposed to be. My cousin also had a body shop at the time, and I gave him all these parts and decided I wanted the car pink with sparkles and I fell in love with being able to customize something."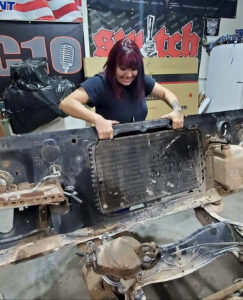 Ferrell then attended a local college where she earned her associate's degree in autobody, "I signed up and had no idea what I was getting myself into, but it was a two-year program where you learned how to do collision work, body work, frame measurements, estimating for insurance purposes, learning to paint, weld, and small mechanical stuff such as basic electrical wiring. When you fall in love with something everything just fits, and every time I paint, I get that feeling and its definitely something I love," she said.  Eventually getting married, Ferrell moved around a bit then settled in Arizona where she is currently located and focused on her children before getting back into the workforce, "At that time the recession started to get better so the shops were starting to finally open up with hiring, and a lot of the time you had to have at least 20 years' experience before you got your foot in the door, and that's when I decided to start working on cars again," she said.
Currently, Ferrell is the owner to Nessy's Kustom's in Glendale, Arizona where she works customizing and restoring vehicles as well as teaching courses to women throughout the year. Speaking of her work, Ferrell explains to us, "It's a custom paint shop and restorations, I can take a car and tear it down to the frame and then build it back up from the frame, and completely re-do everything, I paint, and can do graphics and patterns as well, " she said. "As for collision work, I can do that as well, but don't love it as much. I love customizing more than anything." In terms of collision work, Ferrell has experience in the area just as well, "Collision work is where you get into a car accident or fender-bender and you want it fixed to what it looked like pre-accident. There's a lot of good money in collision work, and the schools will push that, and I did experience the work but as a mother and woman it's a 7 day and 60-hour work week. Having 3 children as well, I got burned out really quick," Ferrell recalls.
Ferrell goes on to elaborate more, "We can do stuff like that here, but we don't do oil changes or tire shop type things. We can do some basic stuff, but building a new engine or a really old 1950's type engine, customizing them and bringing them up to date is more the specialty here," she said. "I'm actually known a lot for the metal flake which is the glitter that's in the paint." Speaking more on vehicle restorations, Ferrell loves the aspect of restoring vehicles and working to bring them back together which entails utilizing old parts to the point of revitalizing them for usage, "You're taking old and refurbishing it to make it better and new or fixing it to get it running and going for driving condition. You're basically restoring the vehicle and using as many old parts as you can, and they don't always last but you can get new ones. There's different terms as well. Options are you can keep it all original, which is trying to get as much non-aftermarkets parts, or there's even restomods, which is what you see a lot on tv shows," Ferrell said.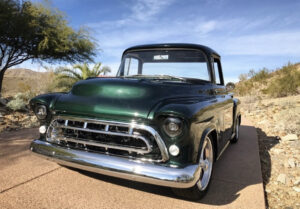 In simple terms, restomods is restoring a classic vehicle with upgraded and modern car parts. The term is derived from "restoration" and "modified." According to Ferrell, restoring takes a lot of hard work and dedication, "It takes a lot to do a vehicle from the beginning till the end, but your blood sweat and tears are in that vehicle, and it's definitely more of an accomplished feeling and fulfilling than just fixing a fender at a collision shop," she said. Ferrell has even instructed  in autobody and taught classes to high school students at a tech school right before the pandemic hit. In addition to her instructing experience, Ferrell currently holds classes and mentors women at her shop while teaching on her expertise and techniques in restoration and paint work, "Mainly it's for women. I struggle with this, and as a woman I'm very active in the trades community and trying to promote it as much as possible and provide a better environment. I actually got to where I'm at because of men that were nice enough to take me under their wing and teach me by giving me work. 80% of what I do is for women only, but possibly have plans to expand, but still offer classes for women only." 
"I post everything on social media for my classes and usually months in advance. I get a lot of out of state girls that come in, and have classes usually about 4-6 times a year." When it comes to women in the industry, Ferrell acknowledges that challenges that come with it, and believes women have to work harder to prove themselves in a male dominated industry, "Women succeed in this industry because there drive is usually more than a man, and they have to prove they can be just as good as a man or better. We aren't as big as most men, and can't lift as heavy so it takes more for a shop owner to employ a woman on their staff," she said. Ferrell also reiterates the fact that women have children, and deal with female health issues which can also be added challenges when it comes to work, but hasn't let that deter her, "I've always had the mentality to work harder and better and it has gotten me to where I am today," she said.
 Coming from a mixed heritage, Ferrell has researched her Mexican background and researched her father's side of the family, whom she grew up without knowing, "My mom is white, and my dad is Mexican, and I didn't know who my dad was and I knew I felt it in my soul. It's the weirdest feeling that I knew I was Hispanic as it felt like home when I was around others. I had finally did a DNA test, and it came back as having heritage in Mexico," Ferrell recalls. She hopes to one day meet her father in person, and has reconnected with her Mexican roots since confirming her heritage which she calls "an exciting and humbling experience."
Nessy's Kustoms has officially been operating for about 5 years, and Ferrell has been in her current location for the past 2.5 years. Currently, she works in her shop while her boyfriend operates in the other half.  Ferrell refers to him as the master mechanic and fabricator while she takes care of the paint and body work for vehicle builds, "It's nice to have some help, and he went to tech school too so he can paint and do a variety of things as well, other than that it's just us in the shop," she said.  
Reflecting back on her journey, Ferrell acknowledges the hurdles she's endured but is grateful for her discovery and love of the automotive industry. She also has potential plans to partner with non-profits in the future to give back to the community as well, "I remember at one time I barely knew how to check for things such as the air in my tires or do oil changes, but learning the basics at first definitely opened my eyes in not having to depend on people for basic needs when it pertains to transportation. My work is definitely fulfilling, and I absolutely love it."
Follow Nessy's Kustoms on Instagram to keep up with Dez's work and future classes.