Get your cheese on with world-renowned cheesemaker Gayo Azul and Chef George Duran! Gayo Azul and Duran have teamed up to create some incredible and delicious recipes for Hispanic Heritage Month. The cheese itself dates back to the 1950s and is known as "Hispanic Cheese with a Dutch Influence," while freshly made from cow's milk, according to the brand. Gayo Azul also comes in a variety of flavors including Cojita, Dutch Edam, European Swiss, Queso Blanco, and Queso Para Freir. Latinitas had the opportunity to talk to Chef Duran about the brand and what makes it so unique, "Gayo Azul is about the quality of cheese. These are renowned Hispanic cheesemakers, and what they have is a Dutch influence, who are known for their quality," Duran said. "So imagine getting the best cheesemakers and pretty much creating this Hispanic line of cheeses. You have Cotija that all the Mexicans know that's just fantastically sharp. It's slightly salty in flavor, and great on top of things like street corn, tacos, and enchiladas. They also have European Swiss, and Dutch Edam, which kind of has a gouda flavor to it. It's rich, and smooth. There's also Queso Blanco, which I love very much. It's a little salty with a mild flavor that a lot of kids actually love, including my own. And perhaps one of my favorite ones is Queso Para Freir which translates to cheese to fry. So you literally can fry this cheese, and use a sauté pan. Add a little bit of oil to it and cut it into cubes and fry it on both sides. It'll caramelize and melt and you can add it to a sandwich or cracker and eat as is. I like to drizzle some spicy honey on top and serve it right away," Duran explained.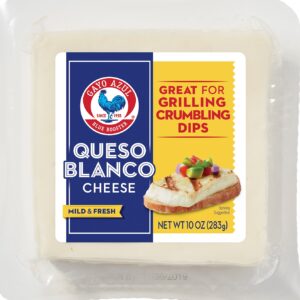 Chef Duran has been cooking for years and attended the culinary school Ecole Superieure de Cuisine Francaise, Groupe Ferrandi in Paris, France. In 2005 he hosted Ham on the Street, on the Food Network, and Cake Off on TLC. Duran is also of Armenian descent but grew up in Caracas, Venezuela. Of a diverse background, Chef Duran tells us more, "I grew up with so many flavors in my life. Both of my parents, being of Armenian descent, moved to Venezuela from Lebanon. My siblings and I were born there and grew up in Venezuela so there's a lot of Hispanic Venezuelan tradition in all of us, and there certainly was plenty of Armenian and Middle Eastern. I'm proud to be multicultural." Duran noted that his mother cooked a lot of Venezuelan foods such as empanadas, arepas, and carne mechada. When Duran moved to the United States, he became highly interested in other Hispanic cuisines including Mexican food.
Speaking more of Mexican food, Duran tells us about the popular birria tacos that are making waves right now with people, "If you don't know birria tacos you're essentially making some sort of beef stew that has a lot of soup and liquid in it. And you take that beef stew that has been cooking for a long time and break up the chuck roast or into cubes, and once it cooks you kind of just melt. It turns into pulled beef, and then you use that to fill in your tacos. And now that extra liquid that is left you can serve it with those tacos and literally dip inside of it."
Another dish that Chef Duran loves making is huevos rancheros, a favorite of his. Incorporating Gayo Azul with the recipe he tells us more," For me, huevos rancheros is the easiest and tastiest eggs to eat in the morning. I use the creamy gouda for it, and if you have a really good salsa take some fresh eggs and use a tortilla as the base. You're essentially cooking the eggs on top of the tortilla adding salsa to that and topping it with some creamy gouda which really adds a lot of depth and flavor."  You can also find Chef Duran on Good Morning America often as a correspondent. To purchase Gayo Azul, there are available at select stores around the U.S. including some Albertson's stores in the El Paso area, Sam's Club in Florida (select stores), and certain Safeway's and Key Foods. I highly recommend trying Chef Duran's following recipes featuring Gayo Azul's Cotija and Gouda, plus trying their various cheese flavors as they are creamy and delicious. See recipes below.
Happy Hispanic Heritage Month, Salud!
Follow Chef George Duran on Instagram.
Official Website: GeorgeDuran.com
Official website:  Gayo Azul.
Birria Tacos with Crumbled Gayo Azul Cotija
by George Duran
 Ingredients:
Gayo Azul Cotija Cheese crumbled
2 tablespoons of achiote paste
1 teaspoon of cumin
1 teaspoon of chili powder
1/2 teaspoon of paprika
1/2 teaspoon of coriander
1/2 teaspoon of oregano
1/2 teaspoon of garlic powder
1/2 teaspoon of onion powder
1/2 teaspoon of salt
1/4 teaspoon of black pepper
1 pound of beef (such as chuck roast), cut into small cubes
1/4 cup of apple cider vinegar
2 cups of beef broth
8 small corn tortillas
Sliced red onions
Chopped cilantro
Radishes, thinly sliced
Lime wedges for serving
Directions:
In a large bowl, combine the first ten ingredients. Add cubed beef to bowl and mix until thoroughly combined.
Add beef in a Dutch oven or large pot and pour in the apple cider vinegar and beef broth. Bring the mixture to a boil, then reduce the heat to low and simmer for 2-3 hours, covered until the beef is tender. Using a slotted spoon, transfer the beef to a plate. Shred the meat using two forks. Season with salt if needed.
Heat a griddle or large nonstick pan over medium-high heat. Place a tortilla in the pan and heat until it becomes soft and pliable. Drizzle some of the birria cooking liquid throughout both sides of the tortilla until it is absorbed and begins to crisp.
Place a small handful of the shredded beef in the center of each tortilla. Top with a spoonful of the birria cooking liquid, Cotija cheese, sliced red onions, cilantro, and sliced radishes. 
Fold the tortilla in half and repeat with the remaining tortillas and filling ingredients.
Serve tacos with lime wedges and extra birria sauce on the side.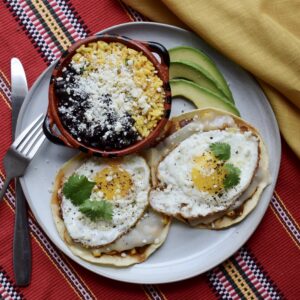 Ingredients:
Gayo Azul Cotija Cheese
Gayo Azul Gouda Slices
1/2 C. salsa
1/4 C. canned corn, drained
Chipotle sauce
4 eggs
Butter or olive oil
4 soft corn tortillas, heated through
Chopped cilantro, for toppings
Directions:
In a small saucepan heat salsa and corn until warm. Drizzle with desired amount of
chipotle sauce. Keep warm on side.
Fry eggs sunny-side-up in butter or olive oil to desired doneness.
Assemble huevos rancheros by placing each tortilla on a dish, topping with warm
salsa, Gouda slice, fried egg and top with crumbled Cotija. Garnish with chopped
cilantro and serve.
Note: Serve with sliced avocados and rice and beans as a main course.