This past weekend I had the absolute delight of attending "Como La Flor: Blossoming Identities Through Trans Latina Cinema", a small film festival featuring local Trans Latina directors curated by art collective The Gallery ATX. The event took place Saturday night, at the Moontower Cider Company, and as soon as I walked through those doors I knew I was in for a treat. Selena's "Coma La Flor" was blaring through the speakers, and I was greeted by the lovely Maria Romero, the founder, Executive Director, and curator of the event. 
Romero gave me the inside scoop on how she came up with the theme for the evening. The Gallery ATX had been wanting to do something special for Hispanic Heritage Month, and though art comes in different forms, Romero had been deeply inspired by Texan directors. For Hispanic Heritage Month though, she decided to narrow down the pool to just Latino Texan directors, but that still left her with a pretty big chunk of people to choose from. While there are very important themes of immigration and cultural appreciation, ultimately The Gallery ATX decided to feature Trans Latina works of cinema. Turning the entire event into a celebration of the Hispanic LGBTQ+ Community, and the nuances that existed amongst Texan Trans Latinas. Romero knew a few of the directors already and was able to scout out the others through her own connections.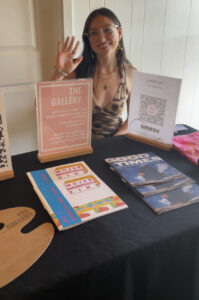 Romero also disclosed that aside from one film, all the other pieces they were showing were available online. The festival had a clear schedule, and true to the agenda the first film began to play at exactly 6:55.  
The Transition by Deandra Gonzalez
The Transition is a five-minute short documentary on Trans Latina Devin Verrette. Through it's bubbly music, unique editing style, and at times honest confessions Deandra takes us through a fun night getting ready to go out with Devin. Devin plays with makeup, gets changed, and does her hair all while commenting on the realities of being a Trans youth, and the ways in which getting ready now is different compared to then. 
Portals by Bev Vega
Through it's seven-minute runtime, Portals managed to convey so much inner acceptance, turmoil, and ultimately peace. Visually, the film is simple in concept. As Bev Vega herself, along with trans dancer Dahlia Qumhiyeh, sway like leaves on a branch in an evocative contemporary dance. However, what really stands out, what made me get quite emotional is the meaningful poem Bev recites throughout. A mantra of sorts, featuring the same melodic phrase in repetition. A prayer, "I am divine. I am blessed. Every inch of me is sacred flesh." 
Incredibly powerful coming from a Trans person of color. The notion that you are sacred, you are correct, and truly perfect as you are. The short continues, symbolically transitioning from day to night with a different "Evening Prayer". It speaks on the sensual nature of the body, expressing true admiration for their physical form. Touching on how they can't resist but admire themselves in the mirror now. Absolutely beautiful piece of work. 
Te Extraño by Bev Vega
In a much shorter, more symbolic piece of work, Bev explores the duality of being a Trans Latina. The difficulty in taking pride in your country and your identity. The film features Dahlia Qumhiyeh once more, swaying enthusiastically to Spanish Music when something happens. There's a disconnect, a feeling of being othered. A pause in the dancing, a moment of silence. Though it's fleeting, the music picks back up again and pans out to reveal Dahlia dancing all by herself, in a house rather than a club. Short but powerful. 
Though this piece has yet to be uploaded online, I would highly recommend subscribing to Bev's YouTube channel or Instagram to be the first to know when it goes live! 
GIRLS LIKE US by P1nkstar and Y2K (Artie Moreno)
Last, but certainly not least, was GIRLS LIKE US, a feature-length concert series recorded during the peak of the pandemic. The film is a trippy introduction into the world of hyperpop with none other than Latina Trans Superstar, P1nkstar at the helm. GIRLS LIKE US takes the viewer through P1nkstar's EP, accompanied by works from seven other Texas-based trans artists (Lorelei K, Belladonna, Quentin Arispe, Gavilán Rayna Russom, Ariel Zetina, Girl6 (Natalie Sanders), Y2K and BabiBoi). I'm going to be frank, this was just a blast to watch. From the iconic Y2K style to the sassy pop dance moves, everything was perfection. While the masks and general vibe are certainly a reflection of the times, the music itself is timeless. 
Some standout moments for me were P1nkstar's performance of the song "Superstar", a bubbly explosion of joy and enthusiasm. Lorelei K's sultry "Stone Cold Bitch Rebellion" in which she was decked out in a gorgeous white corset dress and pearl-draped heels. Lorelei looked and sounded like an angel. The vibes shifted quite a bit throughout the live stream, but one of my absolute favorite moments was the entire time Quentin Arispe was on screen. Her soulful slow jam "Killer" was such a banger made all the better by her killer (pun intended) wardrobe and the theatrical choreography. All in all, this was such a fun video, a perfect encapsulation of queer art and trans joy. I'm sure a welcome relief when it dropped during the pandemic, but watching it today it was still a great time. 
In an amazing turn of events, Maria Romero and the rest of The Gallery ATX crew had a surprise for everyone. After the viewing, P1nkstar herself, along with her longtime collaborator and husband Y2K stood up for a little Q&A. The couple offered some behind-the-scenes knowledge on the project, including the fact that the entire thing was shot, edited, and uploaded in a month. When asked what P1nkstar hoped people would take away from the film without hesitation she stated, "I want people to know that there are trans people in Texas, in the South, killing it right now."