Over the weekend, Texas Tribune held their thirteenth annual political Festival in Downtown Austin. It was a three-day event filled with intellectuals, insights, and lots of intrigue as Texas' greatest minds gathered to discuss the current state of the country. With over 115 events happening throughout the weekend, it's no surprise Texas Tribune Fest is one of the biggest political festivals in the country. Though I wasn't able to get to every panel and conversation, here are some of the most notable from my time at the Texas Tribune Festival. 
1. Recording of the Podcast "Teaching Texas" 
Moderated by Grace Lynch, featuring Austin Texas State Representative Gina Hinojosa and Texas State Board of Education Chair Kevin Ellis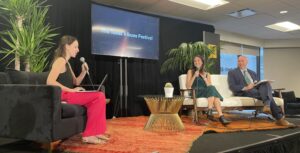 This panel was especially unique as it wasn't just a public conversation, but a recording of the podcast "Teaching Texas" that would later be uploaded online. Despite this, the Moderator went to great lengths to keep the audience engaged, even taking questions from concerned citizens later. "Teaching Texas" is an audio documentary that, "charts how Texas dictated American education over the last sixty years and examines how the fight over our childrens' classroom has only intensified today." True to its description, this particular episode dealt with a new bill that had been passed, and the concerns and potential benefits surrounding it. 
House Bill 1605, the subject of much controversy, was passed on June 13, 2023, with a Republican majority of 29 to 2. While the Bill does many things, and my only true complaint about the panel is that it didn't really delve into them, the Bill's main issue is that it, in layman's terms, allows the State to have the final say in approval of instructional materials. To be quite honest, having gone to the panel and even taking notes all throughout, I'm not fully certain I walked away with more of an understanding of this Bill than I did going into it. Which isn't exactly a good thing when the entire conversation pertains to the Bill. Instead, the panel became a broader discussion about why Ellis, a Republican, supports 1605 and why Hinojosa, a Democrat, opposes it. And while there were some concrete claims made, such as Hinojosa stating the State was using this Bill to dangle money out of the school's reach like "a carrot", or Ellis's claim that the Bill actually forces TEA [Texas Education Agency] and the Stateboard to be more cooperative, like most political conversations, the panel ended without much resolution. 
The only thing Ellis and Hinojosa seemed to agree on was the tragedy facing Houston's own School District after the State took over, "What we have is State takeover of the largest school district in the state of Texas," Hinojosa warns, "We see daily problems with what's occurring there. We see teachers leaving, we see parents up in arms…This is the fundamental problem with 1605, with what we're seeing in the Houston takeover, even what we're seeing when it comes to school safety. Which is a big issue, probably polled as the top issue for Texas voters this last legislative session. Rather than giving the school district money to decide how to keep our kids in schools safe, we gave the money to TEA. 47 full-time employees to TEA, a fleet of cars to TEA to provide school safety–by the way also with threat of takeover." 
This panel was certainly interesting and could be really helpful for educators or concerned parents. Though I don't fall into either of those categories, I do feel as if I learned a little bit about the issues the Texas education system is facing. 
2. One on One with Sylvester Turner
Moderated by Texas Tribune Co-founder Evan Smith, featuring Houston Mayor Sylvester Turner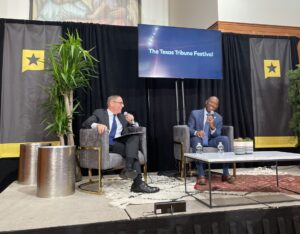 Now, this was by far my favorite panel of the entire Festival, though as a born-and-raised Houstonian, I may be biased. Still, I was sat front-row for this conversation, and before I even begin I want to give a major shoutout to Evan Smith. Moderators have a hard job, tasked with asking the talent unique and engaging questions to keep the conversation going, they set the stage for the panel. Not a main player by any means. Even still, Smith was a standout, asking Mayor Turner these thought-provoking questions that led to beautiful stories, or often times prodding the Mayor to give a more substantial response to the hard-hitting questions. As an example look no further than Smith's boyish "Oh c'mon Mayor" as an attempt to get the Mayor to offer a true response to how he felt about Dallas Mayor Eric Johnson's announcement to switch political parties. And he succeeded, with Mayor Turner expanding with a response I can only describe as newsworthy. 
All this praise aside, the One on One with Sylvester Turner was impeccable. Engaging, funny, but also incredibly human and touching. Marketed as an exit interview, since Mayor Turner's term will be up once the year ends, this conversation was an overview of his time as Mayor of the City of Houston. The successes, as well as the lowlights. With themes touching on inclusion, the horrors happening in Houston's school districts, as well as Mayor Turner's own childhood growing up in the city, it was a well-rounded conversation. Perhaps my favorite moment was the story Mayor Turner told in response to Smith asking why he decided to hire only Board Chairs and Commission Leaders ages 30 and younger. This came to light upon the revelation that the City of Houston has a much younger median age than any other in the country, at just 34. 
"My daddy taught me something I never forgot. There were nine of us in the family, okay? A kitchen that would only hold about 5 to 6 at the table. Nine kids, mom, and dad. And my dad wanted everybody in the house at dinner time. So he would say to all of us, look five of you go to the table and eat, your mom has cooked, food is ready. And then when my dad thought you had been there for a reasonable period of time, my daddy would walk into the kitchen, he would tap you on your shoulder. And say you've been sitting at this table long enough, there's some others who are now ready to eat. So please get up, and the rest of you come to the table.
"What I learned from that even as Mayor is that when you serve the most diverse city in the country. As long as people feel as though they will have an opportunity to sit at the table, you don't have any problems. You have problems when people see people who have been at the table forever, and they do not want to move. So there comes a point in time as Mayor, I have to tap people on their shoulder, thank them for their service, and now invite others to come to the table. It's their turn to serve. As long as that's happening and people feel as though they will have an opportunity, then not only have you built a diverse society, but you've built an inclusive society. And young people need to be a part of that, as well as every other group that exists within our city."  
This led directly to a question I later had the opportunity to ask Mayor Turner. Toward the end of the conversation, Smith announced the Mayor would now be taking public questions. So, I marched towards the microphones and stated that having lived in New York City, a place thought to be so diverse, I was amazed to find out it somehow felt less inclusive than my hometown of Houston. What advice did he have for other Mayors on how to keep your city fully inclusive? He took his time answering my question and spoke directly at me. As he started he explained that technically any city can be diverse, it's a fact based on demographics. What makes a city inclusive is action. Actually having those diverse people in positions of power, and making room for them in your community. Referencing back to his father, Mayor Turner explained to me how everyone deserves a seat at the table. It was his main goal as Mayor and something he encourages other City Leaders to do. He expressed the importance in people of all groups being able to see themselves in their City Leaders. Having an inclusive city isn't just about having a diverse one, but truly being open to every type of person, making space for them so everyone belongs. So everyone gets a seat.  
3. Ms. Presents: One on One with Dolores Huerta
Moderated by Presidential Historian Douglas Brinkley, featuring Labor Leader and Civil Rights Activist Dolores Huerta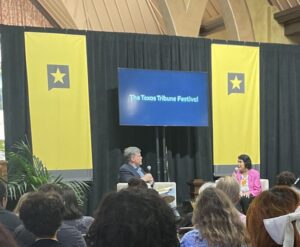 So, on the topic of moderators, I was really excited about this conversation going into it. Latinitas is always uplifting voices in our community, and I was certain it would be inspiring to hear such a renowned activist speak on the fight for feminism, her well-documented years in activism, and her advice for women going forward. Unfortunately, that wasn't exactly the conversation I got. While Dolores Huerta has an exceptional background, one I would have loved to hear about in more depth, the Moderator seemed more concerned with the people she'd known throughout her lifetime. Asking what her relationship was with the likes of Obama, Hilary Clinton, Cesar Chavez, what she thought when Cesar Chavez fasted, what a woman should do if she needs an abortion, how she felt about George Floyd's horrific murder. The list truly goes on, and what could have been another momentous conversation was overshadowed by these rather disrespectful questions. While Huerta was generous, offering surface-level expansions on the topics, I found myself watching her fight to bring the conversation back to feminism, Ms. Magazine, and the interesting aspects of her life. While there were some amazing quotes, including a resurgence of her legendary political rallying cry "Sí Se Puede", it seems like a missed opportunity. 
The saving grace came when Huerta recalled what the Moderator referenced as an "odd moment" at a protest back in San Francisco, "It happened because Cesar had just done the 36-day water-only fast that I mentioned earlier to bring the attention of pesticides to the American public. And the first Bush had a press conference saying there was nothing wrong with pesticides. That our government protects people. And so, he was having a fundraiser at the St. Francis Hotel in San Fransico so I went there with other people to bring the truth to people and say no pesticides are harmful. And this is why Cesar just did this 36-day water-only fast. And so I was beaten up by the police in front of the St. Francis Hotel.  
"[The Police] beat me up, they beat other people up too, but they actually broke my ribs. And they beat me so hard that my spleen was pulverized so to speak. But I lost so much blood internally, that I was very close to death. But as a result of that beating, they had to now give me $2,000 a month til I died." She said, smiling innocently as the crowd erupted into cheers. I mean wow, what an icon. The conversation seemed to get back on track after this, with Huerta delving into what her life looks like now. As a mother of 11 children, Huerta's fairly busy. She and her entire family moved to California years back, and she's now settled in Bakersfield. A predominantly Republican area, Huerta noted the substantial amount of racism in the town. However, she encouraged people to move outward if they could. To places where Democratic votes are needed. Her whole point being, that if change can happen the way it has in California, it can happen nationwide.