By Anna Martinez
At least 178 wildfires have burned more than 108,000 acres across Texas this week, according to the Earth observatory. 
Throughout March, Texas has also been experiencing severe wildfires that have only increased due to the dry grass and arid weather. Cities ranging from Corpus Christi to Carbon have been affected. One person has died, and 45,000 acres have burned due to the wildfires. Firefighters are still working tirelessly and risking their lives to control wildfires that have not been put out. 
Texas natural disasters do not stop here, on Monday, March 21, severe weather struck the Lone Star State, including a tornado in East Texas that claimed the life of a woman in her 70s. There were aggressive rains hitting Texas and neighboring states. There were weather warnings, flash flood warnings and tornado warnings all throughout the state. Many people had to abruptly seek shelter as they waited for the storm to pass. Severe damage was seen in major cities such as Austin and Dallas and suburban communities like Round Rock and surrounding cities experienced extensive turmoil. The damage may approach that of Hurricane Harvey in 2017 which resulted in $19 billion worth of damage.
Though times have been trying, Texans are coming together to lend a helping hand. Firefighters have put their lives on the line to put down and contain wildfires and community members have put their lives on hold to help those affected. 
1. Mayor Corey Hull aids in obtaining resources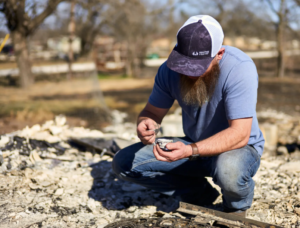 Carbon was one of the towns hit hardest by the recent wildfires. As of 2019, the town has a population of 348. The wildfires burned 86 homes, many of which were completely destroyed, and caused the death of one deputy officer. Eastland County Sheriff's Deputy Sergeant Barbara Fenley, age 51, died while trying to help people evacuate a wildfire. Mayor Hull helped manage the distribution of resources to his community. Resources ranged from water to diapers.
2. The Agape Fellowship and Training Center of Ingleside is Taking Donations
In Corpus Christi, the Agape Fellowship and Training Center of Ingleside is taking donations to help people affected by wildfires. They have reported that resources most needed right now include pillows, bedding and cleaning supplies. Both organizations are relying on information through their respective Facebook pages linked above. 
3. A Georgetown Church gathered 100 volunteers to help in disaster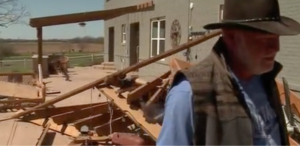 In Williamson County, Celebration Church has gathered over 100 volunteers to help people whose homes were destroyed during Monday's tornadoes. Volunteers are even taking off work to come and help the community. Mostly, people are clearing up debris around the affected homes.
Bobbi McClain, a retired nurse, was in her home on Monday when the storm hit. Her home of 30 years was completely destroyed by the storm. She and her family were in their home when the tornado struck. She has just been diagnosed with end-stage cancer and was in a hospital bed when her home began to collapse. In the midst of destruction, Round Rock friends and neighbors have rallied behind McClain and her family. By Thursday they had raised $24,284 through their GoFundMe page. 
In neighboring Travis County, home to Austin, a school nurse at charter school IDEA Rundberg, started a GoFundMe page for Riley Leon, a teen who was caught on video getting tossed by a tornado while inside his red truck.
4. Firefighters are not backing down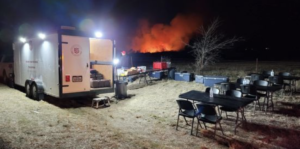 Of course, during all of the destruction, firefighters have been the first to respond and the ones with the most work cut out for them. In every single city affected there is a team of firefighters helping the community such as the team in Corpus Christi who have been working to contain wildfires. The Corpus Christi firefighters are working to contain the wildfire that killed Deputy Fenley. They are working tirelessly against the fire, that is being fueled by the dry and windy environment. 
The fires are growing exponentially all over Texas and more help is needed. Firefighters from Stafford have been deployed to help with the wildfires in San Angelo and they will be there for seven days. Their team is battling a brush fire that could affect at least 50 homes.
5. Texas Baptist Men organization answering the call for help in Gilmer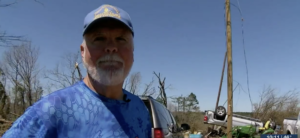 In Gilmer, members of the Texas Baptist Men organization is coming together to help people affected by the storm. The group has helped cut down trees, flip cars upright and they are helping collect the survivors' belongings.
Need help in these tough times?
To report damages made to your home you can go to iSTAT for Texas

here

.

If you are in need of shelter visit Austin Disaster Relief

here

.

For more resources you can also visit the Texas Red Cross

here

.  
To check for power outages visit PowerOutage US here.