Currently signed to GT Digital Distribution, 22-year-old Gabriella is one of music's hottest rising stars. Originally from Tampa Bay Florida, Gabriella made the move to Texas within the last few years and is quickly catching the attention of music lovers everywhere with her beautiful voice, confidence, and charisma. Speaking of living in Texas now, Gabriella gives us insight regarding her big move from Florida, "I was alone…and it was hard I'm not going to lie. It was very hard for me mentally to keep up with everything because I didn't have the motivation I thought I would have in the beginning. But once things got moving, I reminded myself that I'm here for a reason. You just have to have that mindset," she recalls. Although the transition was initially difficult, Gabriella has a strong love for her new home state, "I've always been very strong and passionate and I think there's a lot of that here in Texas, which is why the art is so strong in all forms. Whether it's photography, fashion, music, sports, it's very prevalent here," she added.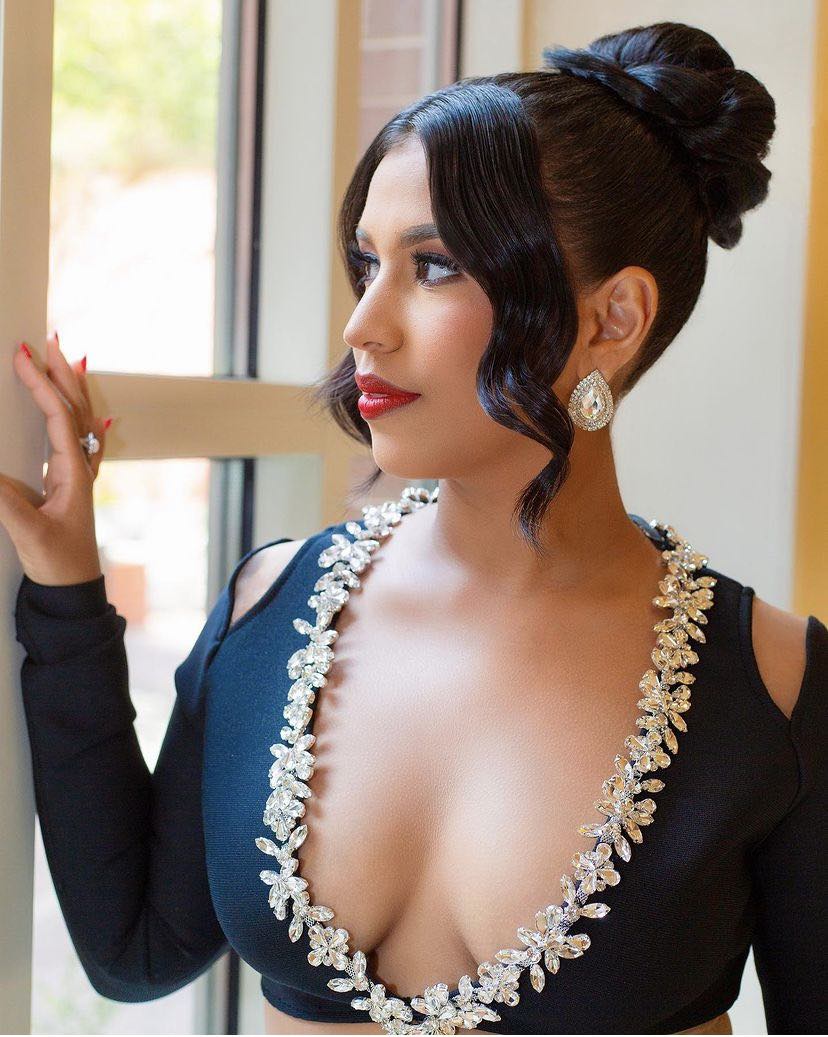 Tapping into the music industry in Texas, Gabriella has found herself in the Tejano scene but has explored various music styles just as well. Speaking of her recently released EP titled Siempre   Gabriella, it features 6 songs, "There's so many different things in there, there's cumbia, there's  ranchera, a mariachi bolero, and a corrido which I was a little timid on at first only because it wasn't the style I was used to. So, I think one of the main things I really wanted to do was to push myself and see how far I could get and see what I could do and not just stay in one box," Gabriella said. The EP's lead single "Ay Amor " was initially released last year and has a danceable cumbia-styled rhythm which has been a favorite with fans. The music video also features Gabriella dancing with natural ability while dawning fun and stylish feminine wear throughout. Speaking of the song, it's a favorite of Gabriella's as well, "I really love 'Ay Amor' that's my jam. It's fun, but my favorite to sing is "Amores Como Tu" she adds. This particular song is a lovely ballad and showcases more of Gabriella's outstanding vocal abilities. Gabriella also released another single titled "Con La Mirada," also featured on her new EP. 
Coming from a multicultural family, Gabriella is proud of her Colombian, Puerto Rican, and Korean heritage. Her diverse background has motivated her to explore cultures and is crucial to her musical identity. Typically, artists in Tejano music are of Mexican American heritage, but Gabriella has proved she has no limitations and continues to progress as an artist breaking outside of the cultural norms in music who loves all styles ranging from country to pop & R&B, "People put a lot of labels on music. There's no boundaries in music, there shouldn't be. The second people start to do that, you're stuck and can't develop," she said. "Honestly, I got adopted, is the best way to say it, into Tejano. I was just making music at the time and wasn't really thinking of a genre. I think the biggest challenge for me hasn't been the genre at all. It was just getting adjusted to a new life without anyone that I knew when I moved. None of my family and friends were here."
In 2021, Gabriella's curiosity of the world and passion for knowledge and culture took her across the ocean to Spain, in hopes of learning more Spanish, "I was nannying at the time, so I was saving up a lot of my money and my mom and sister came with me. In the beginning, they were there for two days and then I was solo.  I wish everybody could take a solo trip at least once in their lifetime. I learned so much about myself and about the culture and met so many cool people, Spaniards are so kind," she said. Acknowledging self-discovery, Gabriella reflects fondly, "You really get to see yourself and how you react to certain things when you're alone." Gabriella's trip included visiting the cities of Madrid and Vicar and staying throughout the country in the summer of 2021.
When it comes to musical inspirations, Gabriella mentions a variety of artists who have inspired her over the years including Tejano superstar Selena who made a huge impact on her, "I've always loved her from day one. She's just been a huge influence. She was played in the house all the time. So, Selena definitely. Amy Winehouse definitely. I love Amy. Etta James is my girl. Freddie Mercury. Bruno Mars. People like that I really like. The thing they all have in common is every time they sing I feel it and love the emotion that comes with it," she adds. Speaking more of Selena, Gabriella is sometimes compared to the icon vocal wise and offers her take on the comparisons, "Honestly, it's a huge compliment," Gabriella said. "I'm not even going to shy away from it. At first, I didn't really speak on it, but it's a huge compliment. I'd much rather be compared to Selena than other people. I just think what people need to remember is that I still am my own person. I'm an artist and I have my own style. Honestly, when it comes to Selena people request her songs for me, and that's not my fault. I've gotten hired twice for parties just to sing Selena songs. There's only ever going to be one Selena, and there's only ever going to be one Gabriella and that's just how it is."
Throughout this past year Gabriella had the unique opportunity to visit the Selena Museum in Corpus Christi, Texas and even had a personal tour with Mr. Quintanilla. "He ended up giving us the tour and I met Selena's sound engineer 'Red' (Brian Moore) that was with her from the beginning. And then this part really got me, Mr. Quintanilla started playing cassette tapes of Selena from when she was like 6 and it made me so emotional." A truly special experience for the young singer, Gabriella expresses gratitude for a memorable visit.
Currently, Gabriella is working on her next musical project which will differ from her EP as the focus will be on singing songs in English in the style of "oldies" from the 1950s and 1960s, something surely worth waiting for! She is also currently collaborating with artist Baby Bash.  Grateful for the support thus far, Gabriella tells us to watch for her full-length album, "I definitely want to say thank you to everyone and to my fans in general who have just been here. I've already teased on social media what's to come, and I'm really excited. Get ready. We're about to get poppin' and things are about to really take off" she said. When it comes to confidence, Gabriella also has advice for other ladies out there, "It sounds so cliche, but it comes from within yourself," she said. Speaking positive affirmations, Gabriella reminds herself of her worth and think's it vital for others to do the same, "I will tell myself; I'm going to get the show because I deserve it. I'm going to wear this because I look good in it and stuff like that. You have to, it's like a mind game essentially. As women, I think we are hard on ourselves, that's just the reality of it. But you have to invest in yourself and really find that confidence within." 
It should be noted that along with her musical career, Gabriella currently works as a waitress and also holds a Bachelor's Degree in Psychology from The University of South Florida. The songstress also previously tried out for American Idol as a teen, and performed at the Tejano Music Awards last year. She also frequently performs around the state of Texas and various other cities around the country. Hardworking, talented, and ambitious, Gabriella is one to watch out for! 
Follow Gabriella on social media.