This past weekend the streets surrounding the Texas Capitol were filled to the brim with enthusiastic readers, well-known authors, and long-established news outlets, all determined to celebrate their love and appreciation for the art of literature as the 28th annual Texas Book Festival was underway. Originally founded in 1995 by Former First Lady and Librarian Laura Bush, the Texas Book Festival was established to help connect authors and readers as well as nurture Texans' love of books. Now, the entirely free event is the home to patrons from all over the world. This year's festivities highlighted over 300 authors across hundreds of different categories, from YA to children's to cooking to self-help, it was all on full display at the Texas Book Festival. 
One of the more notable panels I attended was titled, "Stranger Worlds: Tales of Teen Discovery". The panel featured two authors promoting their latest Young Adult Graphic Novels, Huda Fahmy's hilariously titled Huda F Cares, and Ashley Robin Franklin's beautiful The Hills of Estrella Roja. Huda F Cares follows Huda F, a young Muslim girl growing up post 9/11 in the United States who's coming to terms with her religion, identity, and owning it all in public. Because–who the F cares, right? All of which sounds wildly heavy, but the real Huda F assures us, the graphic novel is chock-full of laughs, "Any time I've come across difficulty or fear, I have to laugh." Fahmy says jokingly.
"That's my go-to response and reaction, it's very much like hahaha…where's the exit, you know? Like that's my trauma response," she laughs, explaining that when it came to creating the fictitious Huda F, she couldn't help but implement that same "response." While the Huda F in the novels isn't a literal version of the author, she is essentially who Fahmy would be if she were a kid right now. With the lessons she needed to learn back then. 
Ashley Franklin's queer and Texan identity is on full display in The Hills of Estrella Roja, as the story follows girls Kat and Mari, who meet in the mysterious Texas town of Estrella Roja and start unraveling the spooky truth that lies beyond, all the while maybe, just maybe, developing feelings for each other. Though the stories are wildly different, they have a common theme. Their both written for a Young Adult audience. While Fahmy's influence came more from teaching middle and high school English for years, Franklin's came from the story itself.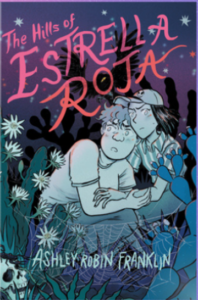 "So I have two main characters, I have Mari and Kat. Mari is in her last year of high school and Kat is a college freshman. I really wanted to give [the book] a sense of you're about to leap into what feels like adulthood. It's such an emotional and exciting time, and my book is kind of spooky. It's horror but also adventure, I wanted to give it that sense of like, you're going off on your own. You don't know what the future has in store for you. And there is literal mystery, but also it's mystery of where is the situation taking me. I feel like that age is so right for that." 
Though, unfortunately, you can't visit the town of Estrella Roja, as it's not real, Franklin was inspired by real towns in the state of Texas, "I really love the trope of a town with a secret. And so, from here to where I'm from, which is The Valley, I have to pass so many kind of run-down-looking small towns. It's really interesting, I've always thought it would be a cool place to set something, but I'm not from there, or I don't really know what's going on but using that as inspiration. There's a couple towns I pass that have really cool old movie theaters that are closed and really great buildings, and I've stopped and taken pictures. And all of that came together to make Estrella Roja." 
Meanwhile, Fahmy's "Stranger Worlds" came in the form of Disney World. That's right, in the second book of the Huda F series, Huda and her family take an hours-long road trip to Disney World. The road trip, and subsequent reality of having to go pray in public in front of strangers at Disney, were big catalysts in the book. And, surprisingly, are inspired by Fahmy's real life, "So growing up we took a lot of road trips. This book was based on many many many road trips we used to take. We didn't have a lot of money to fly anywhere, if my parents were gonna take us there it was gonna be a road trip. We were gonna drive, and if we had to sleep in the car, we would sleep in the car, and there were many many memories, fun and traumatic at the same time," she jokes.
"Yes, I've had to use the bathroom on the side of the highway because we should have gone before we left, and I didn't…Our biggest road trip was to Disney World from Michigan, and it was a 24-hour road trip. And so that was a fun…you know read the book." she laughs. Adding that despite the maybe, disconnect between her Muslim heritage and the norm at Disney World, her parents always encouraged their children to see the good in all things. Take the good, and leave the bad, and so that's what she aimed to do with this storyline.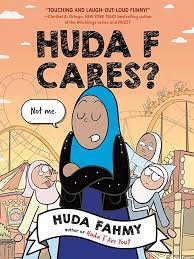 Towards the end of the panel, they allowed audience questions, and I couldn't help but get up and ask if there was a specific scene or aspect of the plot they struggled to nail down. I always find it inspiring to hear how people push past different forms of writer's block, "For me, it was a lot of these family scenes are loosely inspired by my memories and struggles with feeling like an outcast in my own home." Fahmy responds, "And so, writing some of those emotional scenes between Huda and her mom–I would often be very angry in the beginning. And I would have to step away and be like I can't write this, my mom is reading this." She laughs, "We'll save that for therapy." Franklin added that they struggled most in trying to make Estrella Roja feel like a real town. Having to research how would you solve a mystery in a small town? Go to a library? What sorts of tech would be available? 
So what's next for the authors? Fahmy is currently working on her next book in the Huda series, Huda F Wants To Know? "It's about Huda's parents getting a divorce." Gasps from the audience ensue, "I know…It's funny cause this one is all about family bonding, and the strength of family, and her parents are like you're so strong in family. And the next one is like we're getting a divorce." The room erupts in laughter, "It's a pretty big jump, stick with me guys!" Meanwhile, Franklin is busy promoting Estrella Roja but always leaves room for new comics and pieces of art which you can check out on Instagram. You can catch them at San Antonio's Zine Fest on December 9th!
Click here to check out Huda Fahmy's latest book Huda F Cares? 
And click here to check out Ashley Robin Franklin's latest book The Hills of Estrella Roja.