If you've picked up a magazine, scrolled through TikTok, or turned on Netflix in the past year, chances are you've heard of Jenna Ortega. Born in 2002, Jenna Marie Ortega is the Gen Z It Girl. Her roles are current, moving, and always intentional. Her acting skills are supreme, and given her heritage as the daughter of Mexican and Puerto Rican parents, her characters offer a level of representation not usually bestowed onto young female protagonists. The young actress has been making headlines since Netflix's "Addams Family" adaptation "Wednesday" dropped this past November. Though a closer look will show you Jenna's rise to fame has been at a steady increase for years. Now, at just 20 years old Jenna has become the next Hollywood It Girl, and perhaps one of the first to be Latina. In order to understand how Jenna fully cemented herself in the public consciousness, we have to go back.
Jenna expressed an interest in acting at the early age of six, but her first formative gig didn't come until she landed a role on The CW's "Jane The Virgin". The show premiered in 2014 and was made by Latinos for Latinos. Starring Gina Rodriguez and Ivonne Coll, the series marketed itself as an Americanized Telenovela.. A second-generation immigrant, living in a multigenerational home with her Venezuelan grandmother, and her carefree mom. Jenna scored a role portraying the younger version of Jane in flashbacks. The show ran for five seasons, from 2014 to 2019, and in that time Jenna made multiple appearances.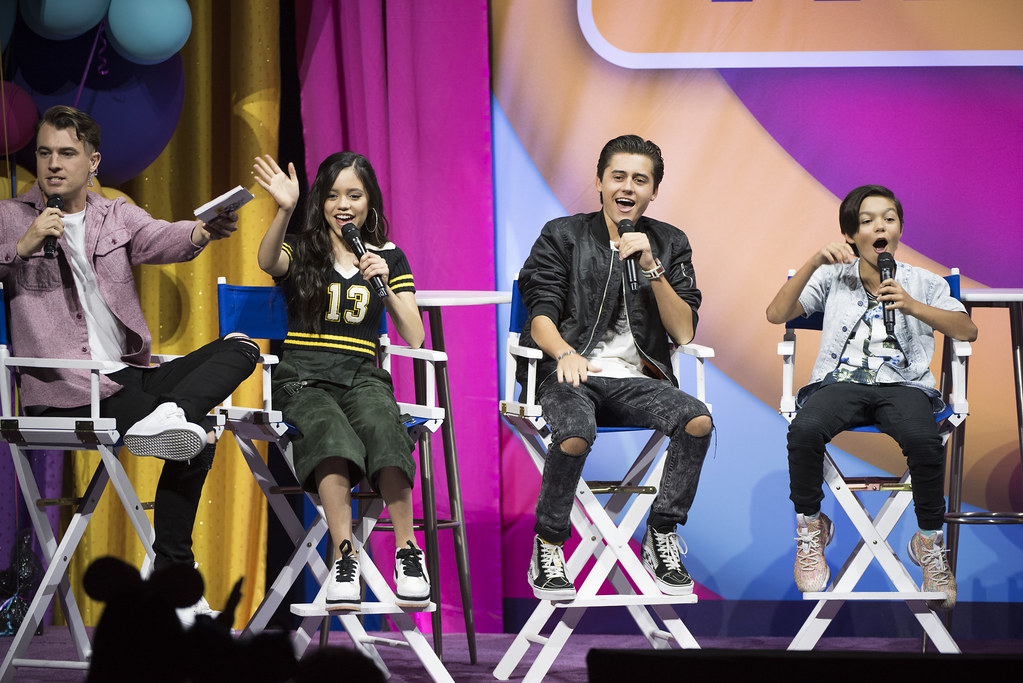 The role not only solidified Jenna's talents but was also directly tied to her own Latino roots. A trend that would continue throughout the majority of her roles. From here on out, every major role Jenna took up propelled her career forward in one way or another. For instance, in 2016 Jenna scored the lead role in her own Disney Channel Original series "Stuck In The Middle". A children's sitcom where the whole plot is there's a large family, The Diaz', and Harley Diaz, Jenna's character, is the middle of seven children. Despite the lackluster plot, the show ran for three seasons, enough time for casting directors to see Jenna's undeniable star quality. 
It wasn't until Jenna Ortega's next role, as Ellie Alves in the hit Netflix series "You" that she started gaining real notoriety in the acting world. Ellie is the "Precocious unsupervised kid who thinks she's not a kid", as our anti-hero or villain Joe Goldberg says in her introduction. Ellie is tough but caring, she can call out bs from a mile away, but she's also only 15. This is the role that would set the tone for the next phase of Jenna's career. It's in the series "You" as Ellie that certain defining traits of a Jenna Ortega character become apparent. Jenna's most notable roles have a level of weight to them. They touch on a current issue, and often have more significance than what's on the surface. 
Jenna only ever appears in Season 2 of "You", but she plays an integral role in the plot. This season also tackles the MeToo movement, especially as it pertains to grooming in Hollywood. Ellie is a wannabe film director, who idolizes a standup comedian named Henderson, who may or may not be a child predator. Despite playing a side character in a much bigger world that was already set in motion a season ago, Jenna manages to be the standout this season. Her scenes are emotional, evocative, nuanced. It's in this role that for the first time audiences get the real scope of her acting abilities. And only being featured in this season freed her up to do other, more important, projects. 
Enter 2021's feature film "The Fallout". The first film Jenna Ortega has ever been the lead of, and it's rated R. This film without a doubt changed the trajectory of Jenna's career. "The Fallout" follows our protagonist, Vada Cavell, as she grapples with the trauma of surviving a school shooting. The movie is excellently written, it's emotional, it's vulnerable, but it's not exploitative. 
Jenna shines in this film, which is no easy feat given the severity of the topic. If her role in "You" gave the audience an indication of what she can do with text, her role in "The Fallout" expands upon it even more. She was even nominated for Best Actress by the Hollywood Critics Association in 2022 for her portrayal in this movie. There's really not much else to say about it. Jenna Ortega is phenomenal, the film is phenomenal, and you should watch it. 
2022 was without a doubt Jenna Ortega's year. She was in four feature films, lent her voice to two animated series, and also led the Netflix record-breaking series "Wednesday". The year began with her role in the feature film "Scream", which is, chronologically speaking, the fifth installment in the iconic series. Jenna portrays Tara Carpenter, an 18-year-old high school student who is targeted by Ghostface. Notable in that as far as "Scream" is concerned, being able to portray the character Ghostface goes after in the opening is an honor, bestowed onto the likes of Drew Barrymore, Jada Pickett Smith, and now Jenna Ortega. This is a pretty small role, though Jenna, pun intended, absolutely kills it. However, the sequel, which is slated to release on March 10th, promises a bigger role for Tara.
Namely, Jenna's role in "Scream" signals her dipping her toes back into horror. A trend that definitely continued throughout the year, especially with her next huge installment, her role as Lorraine in the A24 horror movie "X". Rated R, this film takes the "sexual teenagers in the woods" slasher movie trope and goes to town. The film is about a group of wannabe actors who rent out a farm in the middle-of-nowhere-Texas to shoot a pornographic movie in the hopes of getting famous. Jenna portrays Lorraine, the mousy but daring girlfriend of the filmmaker RJ. It's a relatively small, but important role in an otherwise amazing horror flick. 
The year ended, of course, with Jenna Ortega's now iconic role as Wednesday Addams in the Netflix series "Wednesday". The show is record breaking, as it is currently the third most streamed series on Netflix globally with a watch time of over 1.24 billion hours. The series, which I'm sure you've already seen by now, follows the titular character Wednesday Addams as she navigates teenagedom in the otherworldly high school Nevermore, all the while trying to solve the mysterious disappearances and deaths occurring throughout the town. This role really had everything, it's Gen Z, it's current, it's horror, and, at times, can be serious. It combines all the roles Jenna's previously taken on and has fully catapulted her into A-level stardom. 
On top of that, the role, like many Jenna's held previously, is also noticeably Latina. Something Jenna notes she wishes she had as a child in the interview below.
Somehow over the years, Jenna Ortega has become the very representation she craved as a child. Putting Latina's front and center, and doing so effortlessly. Outside of representation though, Jenna Ortega is a standout actor, and a phenomenal fashion and Gen Z icon. The characters she's portrayed show how much of a true master she is at the art of acting, and her future projects, like her career, promise to be spectacular. 
Sources: 
Jane The Virgin: https://www.imdb.com/title/tt3566726/
Stuck In The Middle: https://www.imdb.com/title/tt4488724/?ref_=nv_sr_srsg_0
You: https://www.imdb.com/title/tt7335184/?ref_=nv_sr_srsg_4
The Fallout: https://www.imdb.com/title/tt11847410/?ref_=nv_sr_srsg_0
Wednesday: https://www.imdb.com/title/tt13443470/?ref_=nv_sr_srsg_0
Scream: https://www.imdb.com/title/tt11245972/?ref_=nv_sr_srsg_2
X: https://www.imdb.com/title/tt11245972/?ref_=nv_sr_srsg_2
CNET Netflix Streaming: https://www.cnet.com/tech/services-and-software/netflixs-biggest-hit-movies-and-shows-ranked-from-you-to-you-people/
Wednesday Interview: https://www.youtube.com/watch?v=w2-3BKO8198&t=130s&ab_channel=StillWatchingNetflix
Wired Interview: https://www.youtube.com/watch?v=xXvgT-AgLAo&ab_channel=WIRED