For Dia De Los Muertos, Mattel has released two Barbies coinciding with the holiday for this year's collection. Celebrated primarily throughout Mexico and amongst Mexican-American communities during the first week of November, Dia De Los Muertos is a tradition associated with honoring those who have passed. During this time, many take time to create their ofrendas (altar) to honor their loved ones typically with photo displays, candles, and flowers. Some ofrendas may be visually elaborate and striking with other décor such as colorful fruits, painted calaveras (skulls), and art. Dating back to about 3,000 years ago or so, the indigenous Aztecs started celebrating the changing of the seasons by holding a ceremony called "Miccaihuitl" which honored their loved ones who had passed before them.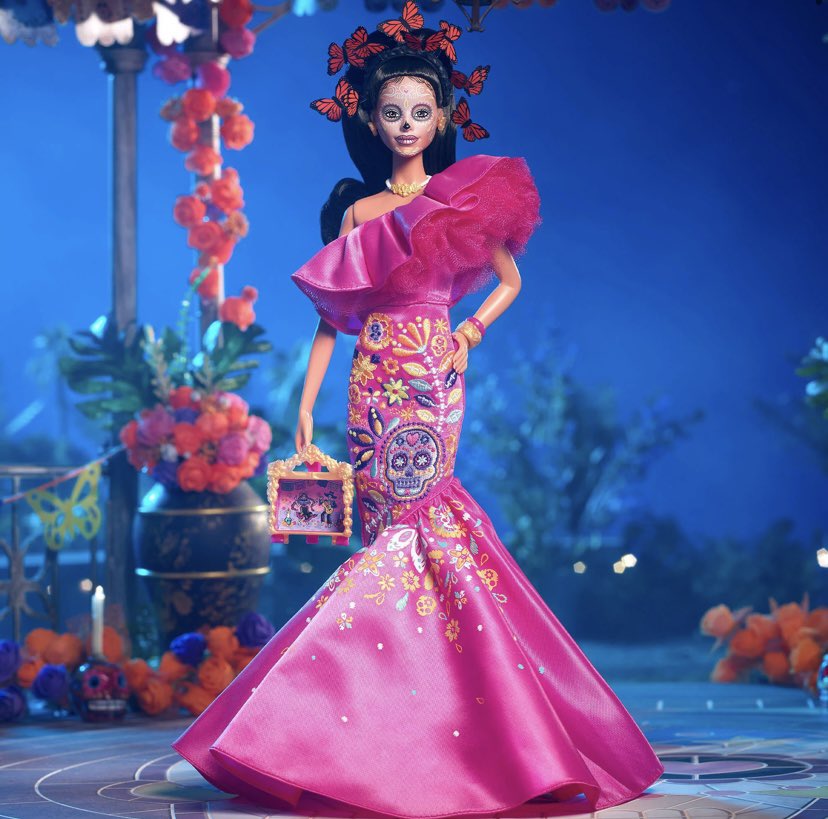 Over the years, Dia De Los Muertos has evolved and is widely celebrated with many activities and events at local community centers and churches, catching the attention of mainstream pop culture outside of the Mexican community such as Mattel. With its first Dia De Los Muertos doll in 2019, Mattel has continued to release a limited edition doll every year to commemorate the holiday. This year, Mattel has released two dolls, one from Mexican-American lead designer Javier Meabe and the other from a collaboration with Pink Magnolia, a fashion brand based out of Mexico and led by designer Paola Wong. Meabe's design features a doll wearing an off-the-shoulder magenta dress with a sugar skull and flower embroidery on the front. The doll is also accessorized with a cute purse to match and with red butterflies decorated over her pinned-up hair, adding to its visually stunning look.
The doll by Pink Magnolia is equally as stunning and differs as she is featured wearing an exquisite light pink dress with sugar skull and heart embroidery. The dress also features puffy sleeves, gold ribbons, and is reminiscent of a cantrina crowned with gold, blue, and pink flowers. Both dolls are absolutely gorgeous and are limited edition. Pink Magnolia also has released Barbie themed clothing, perfectly complimenting their doll design with Mattel. Also featured in Mattel's collection is a Dia De Los Muertos Ken Doll, also designed by Meabe, who is dawning a blueish Mexican-styled blazer with skull designs, along with a black hat and black pants, a perfect complement to Barbie. Purchase yours while you still can! So far, the Barbie in collaboration with Pink Magnolia is sold out on the Mattel website, but you might be able to find it elsewhere online in places such as eBay.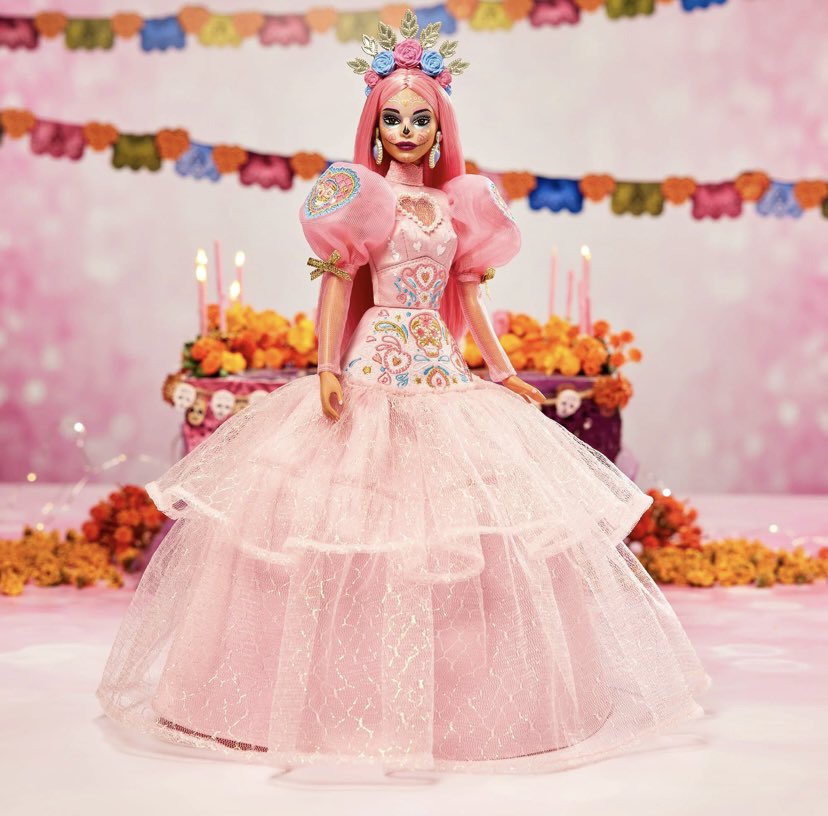 Currently, Javier Meabe's design is still available to purchase at $75.00 here, along with this year's Dia De Los Muertos Ken Doll.
Shop the Barbie clothing collection by Pink Magnolia.