When you think of Desi Arnaz, you can't help but think of his iconic and beloved character "Ricky Ricardo" in the famous I Love Lucy series which aired from 1951 – 1957, and the Lucy-Desi Comedy Hour from 1957-1960. The Latino community has every reason to celebrate the legend and brilliance of Arnaz's contributions to the entertainment industry as he became an international household name due to his affiliation with the show, along with his marriage to Lucille Ball who played the show's namesake character "Lucy." Arnaz is also known for his dashing good looks and savviness as a businessman, multi-talented musicianship, comedic skills, keen eye for detail, a producer, and an innovator in television who paved the way for many Latinos who came after him. In simple terms, Arnaz became a powerhouse for our community as he became the first Latino to host and be featured on a prime-time television show in the United States during the 1950s, (a rarity at the time) along with becoming an influential executive producer while defying the odds of racism and prejudice in a segregated America. 
Before the show, both Arnaz and Ball had been actors in the Hollywood studio system and met while filming the 1940 RKO film Too Many Girls. Both actors fell fast in love and got married soon after, but before Arnaz's Hollywood career and marriage to Ball came to fruition he held a completely different life in his native home country of Cuba. Born in 1917 in Santiago de Cuba, Cuba, Arnaz came from a wealthy and prominent lineage with family members in occupations such as politicians, businessmen, and doctors. Arnaz's own politician father Desiderio Alberto Arnaz y Alberni II was Mayor of Santiago de Cuba from 1923-1932, and Arnaz's mother Dolores "Lolita" de Acha y de Socias had been the daughter to Alberto de Acha, an executive and founding member of the Bacardi Rum Company in Cuba. Due to the revolt against President Gerardo Machado, the prominent Arnaz family subsequently lost everything as The Cuban Revolution of 1933 began to take fold. The Revolution sparked protests against President Machado who initially had no inclinations in seeking a second term. Many Cubans felt Machado forced his way into a second Presidential term, by changing Cuba's constitution which would allow him to seek re-election.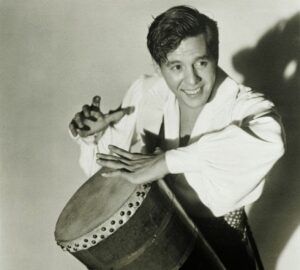 At the time, The United States was hit with an economic depression which also affected Cuba and the once-booming sugar industry. Other parallels included looming unemployment within the country due to losses in the sugar industry and the rise in unions and student groups who opposed Machado's regime. The country was essentially shaken up by changing societal ideals and an uprising of social and political narratives that affected the landscape of the country. Machado and his administration became increasingly unpopular and viewed as a dictatorship. Angry university students began publicly opposing his views, which led to the expulsion of certain students, some of who were communist-affiliated. The President's regime also began utilizing the police and military to inflict violence upon anyone who opposed him, which further added to Machado's downfall. 
In 1933, Gerardo Machado's Presidency would come to an end as power would be taken from him backed by US Ambassador Sumner Welles and various rebel and opposition groups in Cuba. The change in Presidency would ultimately force Arnaz's politically affiliated family to flee Cuba, with Arnaz Sr even spending time jailed after he lost his position as mayor. As Cuba began to change course, Arnaz and his family fled to Miami, Florida where Arnaz attended high school. It was during this time Arnaz began playing music which caught the eye of famed Spanish bandleader Xavier Cugat, a popular band leader of Latin-infused orchestra music at the time. Arnaz began crafting his musicianship under Cugat as a performer, singer, and conga drum player which led Arnaz to form The Desi Arnaz Orchestra. After marrying Lucille Ball in 1940, Arnaz charismatic appeal, musical talent,  and sophistication soon landed him more roles in Hollywood films where he was featured in pictures such as Bataan, (1943) and Holiday in Havana, (1949). Arnaz eventually enlisted in the military where he entertained troops for over two years. Once he completed his service Arnaz went back out on the road with his orchestra. It was during this time Arnaz and Ball experienced turbulent times in their marriage due to conflicting schedules, although both found success on radio shows including Arnaz's frequent appearance with his orchestra on Bob Hope's The Pepsodent Show. Arnaz had also brought the Conga Line dance to New York City nightclubs where it would soon become popular nationwide, even being featured in Hollywood films and cartoons.
In 1948, Lucille Ball began performing on a radio program titled My Favorite Husband which became widely popular. The show became the catalyst for I Love Lucy. At the time CBS was hesitant in considering Arnaz for the role of Lucy's husband for the new show due to his Cuban heritage, afraid of public backlash at showcasing an interracial marriage on-screen. Initially, the network wanted her radio husband played by Richard Denning to continue the role. Lucille Ball had been determined to save her troubled marriage and felt working alongside Arnaz would help salve their relationship. The couple eventually convinced CBS executives to agree to their roles for the new I Love Lucy show, where Ball plays housewife (Lucy Ricardo) who never fails to get into mischief while being determined to enter into show business alongside her musician husband, (Ricky Ricardo). The show's themes varied throughout the iconic series' run in the 1950s and adopted storylines that challenged societal norms and expanded cultural lines. Ironically, Arnaz's role on the show mirrored his real-life persona, characterized by his musicianship, and Latin characterization traits. I Love Lucy eventually went on to become an international hit when it premiered in October of 1951.
The show was groundbreaking in that it featured an interracial couple which had not been seen before the show's inception. The writers of the series utilized Lucy's comedic skills against Arnaz's talent. Both Ball and Arnaz had perfect comedic timing and wonderfully orchestrated chemistry alongside co-stars Vivian Vance and William Frawley. The show was also unique in that Arnaz's Cuban heritage had been utilized for scripts and the use of speaking Spanish became the norm on the show between Latino characters, and at times when character Ricky Ricardo became agitated with Lucy. I Love Lucy also tastefully allowed for the occasional jab at Arnaz's accent on the show, and it added warm light-hearted banter between the couple. In multiple episodes, the show also displays Arnaz's musical talent notably for his conga playing and singing of Cuban folk songs "Babalu," and, "Similau." What makes I Love Lucy so special is not only the fact that Lucy and Desi are a real-life interracial couple but the innovative process of filming the show. The show had been filmed in front of a live audience, and was shot using high-quality film versus the less costly kinescope film. The production process also utilized a 3-camera filming process, another rarity at the time, along with other innovative technological uses to bring the best quality show on television.
 Arnaz and Ball also established their own production company in Desilu Productions which took 100% ownership of I Love Lucy after Arnaz negotiated with the CBS network in exchange for a salary cut for himself and Ball.  Arnaz also became the company's President handling most business deals. Behind the scenes, Arnaz became a savvy business negotiator and producer. He became the brain and the drive behind the production of many shows that were either produced or filmed at Desilu Studios. Some notable shows produced by the company overall include The Original Star Trek Series, Mission Impossible, That Girl, The Dick Van Dyke Show, The Jack Benny Program,  My Three Son's, and Hogan's Heroes. Arnaz would become producer to other shows such as The Untouchables, Those Whiting Girls, and The Ann Sothern Show. Desilu Productions is significantly notable for helping establish some of pop culture's major television shows in entertainment history. 
For I Love Lucy, itself, the show came out at a time when television became a staple in American households in the 1950s and helped break barriers for Latinos in entertainment. I Love Lucy is considered one of the best shows in history and was nominated multiple times as well as winning 5 Emmy Awards. Arnaz's legacy is also forever cemented in American pop culture and internationally. Although he and Lucille Ball later divorced in 1960, they remained friends throughout the remainder of their lives while taking care of their children, Lucie Arnaz and Desi Arnaz Jr. Arnaz would eventually sell his share of the company in 1962 to Ball, establishing Lucy in becoming the first woman as the head of a production company. In examining Arnaz's history, his major contributions to the entertainment industry have been somewhat underappreciated. It could be due to the show's immense success as a whole, and the popularity of "Lucy" herself, that overshadowed Arnaz's genius or maybe it could be due to his Latino heritage and an overall combination of factors. Whatever the reason may be, we acknowledge and credit Arnaz for becoming an inspiration to Latinos all over the world, and a major pioneer in television, business, music, and entertainment. We can credit Arnaz for also helping establish re-runs on television as he brokered a deal with CBS that allowed the showing of previously aired I Love Lucy episodes which aided Desilu Productions with profit while establishing the way for other TV programs to air re-runs in the future. Since the show completely ended with The Lucy-Desi Comedy Hour in 1960, it has been featured on reruns on multiple networks and languages across the world introducing "The Ricardos" to newer generations. This has kept the legacy of both Ball and Arnaz alive, while bringing joy and laughter to audiences everywhere. Both Ball and Arnaz are once-in-a-lifetime talents, and brand-new films have recently been released about the couple.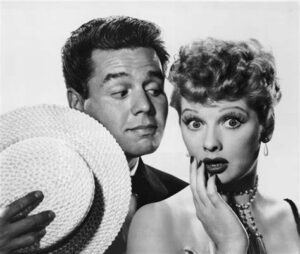 In December of 2021, the film, Being the Ricardos was released in theaters starring Nicole Kidman and Javier Bardem in the lead roles in which they were both nominated for Academy Awards. The film does a good job of portraying the behind-the-scenes events that took place while filming the I Love Lucy show. To learn more about Arnaz's business expertise, the film is a recommended watch. Last March, a documentary by Amy Poehler was also released on Amazon Prime called Lucy and Desi, which gives an inside look into the couple's marriage, business deals, love story, and Arnaz's love for Cuba. Throughout Arnaz's life, he also credits the United States for the opportunities allotted to him.  Initially coming to the U.S. as a refugee, Arnaz embodies the true sentient of The American Dream. In terms of speaking of both  Arnaz and Ball, their love for each other was extraordinary genuine. The two are intertwined in pop-culture history indefinitely, and you cannot talk about one without mentioning the other. 
For those who have yet to see the documentary by Poehler, it is also an absolute must watch, and fascinating as it displays more of the genius and brilliance of Arnaz along with commentary provided by daughter Lucie Arnaz. For fans of Lucy and Desi, visit the Lucille Ball and Desi Arnaz Museum in Lucy's hometown of Jamestown, New York, and check out Desi Arnaz's music discography here. 
Side Note: In 2020, Latina owned vintage makeup luxury brand Besame Cosmetics launched a limited edition "I Love Lucy" makeup collection.The collection contained Lucy inspired lipsticks, eyelashes, eyeliners, keychain, face powder, and a Lucy Desi inspired eyeshadow palette called "Club Babalu." I purchased a few items from the makeup collection, and absolutely loved them. Let's hope Besame Cosmetics releases more of the collection sometime in the future. In the meantime check them out here.