By Raven Garza
In all honesty, I wasn't sure that I was up for ACL Fest this year. 
The news has been suffocating. Our state continues to get away with infringing on the rights of women and communities of color, Austin is considering an unnecessary expansion of our police department, and there's still a whole pandemic going on out there.
But live shows are something that I've missed dearly, and I can't think of a better way for me to heal while also expressing my frustrations than by listening to music. Here's a rundown of my ACL weekend 2 experience with a specific focus on women, people of color, and queer folks.
Before I start, it's important to remember that the modern concept of music festivals was actually born from activism. Think Monterey Pop in 1967 and Woodstock in 1969. These came about during a time of major civil unrest. 
Woodstock, for example, was a protest against the Vietnam War, discrimination, conformity, and over-bearing authority. The counterculture had spoken, and older generations couldn't avoid their loud, collective voice. Although many of today's music festivals have strayed away from their activist predecessors, you can still find that spirit alive and kicking.
So, what was ACL like in 2021?
It's hard to explain the exhilarating feeling you get when you finally cross the gates into Zilker Park. The sun is out, the sky is blue, and the world is your oyster. 
This year's lineup was full of talented artists, and most had something to say about the current state of the world.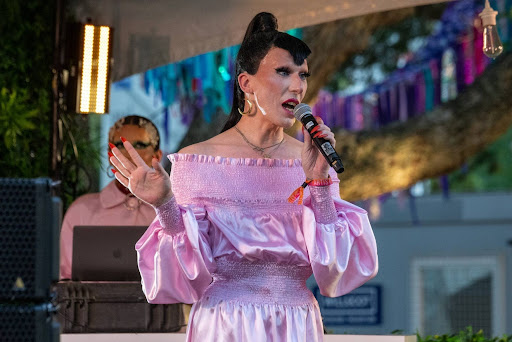 Did you know? ACL 2021 marks the very first time that a drag show was featured in their lineup! We had the privilege of watching some of Austin's best drag performers on Friday including Louisianna Purchase, Noodles, and Gothess Jasmine. It was such a special honor to witness history in the making, and I think we can count this as a win for creating more queer-focused spaces at the fest.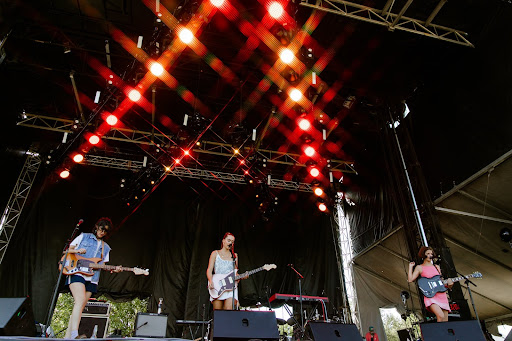 Spanish indie-rock band Hinds made their presence known with an energetic, thought-provoking set. They played some old favorites (including a sweet cover of The Clash) and tunes from their newest album The Prettiest Curse, which was released last year in the midst of the pandemic. Their sound has that classic garage-rock buzz and lead singers Carlotta Cosials and Ana García Perrote often shout their lyrics with a gripping passion.
At one point during their show, they asked if any girls in the audience could help them play their song "Garden." Sure enough, a fan jumped onto the stage, grabbed a guitar, and absolutely nailed those chords. Carlotta commented that the band does this because girls should be on stage with mics— it's a scene that should be normalized. Women should absolutely be given the mic more often (literally and figuratively).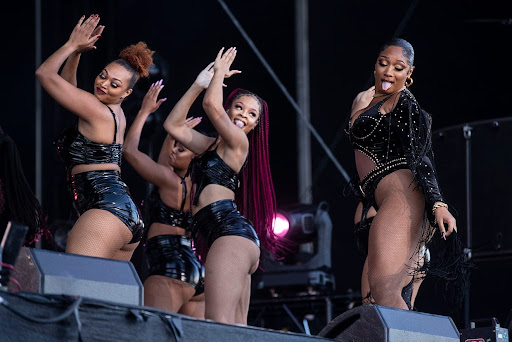 About an hour before Megan Thee Stallion took the Honda stage, there were already hoards of anxious fans getting ready to experience some real hot girl shi-. She came out onto the stage in full force, rapping hit after hit including "WAP," "Captain Hook," and "Body."
Megan makes it abundantly clear that she wants her fans to acknowledge just how valuable they are, and she's more than willing to hype them up. She paused to ask, "Do you love your body?" and "Do you love yourself?" Part of Megan's set is even dedicated to bringing a group of hotties (aka her fanbase) up on stage with her to dance and spread some love.
Another key moment during Megan's show was when she asked the crowd to "give a middle finger to all the men that wanna tell us what to do with our bodies!" To which the majority responded with equal enthusiasm (and fingers held high in the air).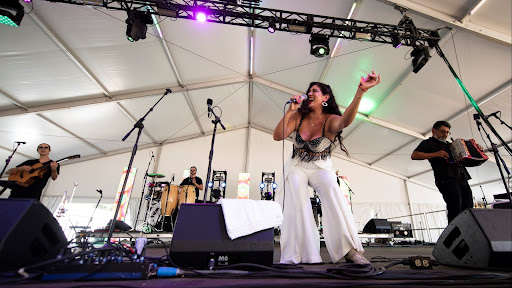 On Saturday, California artist La Doña stood out with her blend of Bay area hip hop, musica ranchera, and reggaeton. In case some folks in the crowd were unfamiliar with her style, La Doña shared that she "likes to play music that she likes to play"— which means not being limited to any genre in particular.
Her new song "Mi Nuevo Amor" was full of enchanting Latin beats that inspired plenty of people to break out dancing. You could see fans swinging their hips and twirling around with their neighbors. The scene reminded me of lively bailes back home in the Rio Grande Valley. La Doña actually has family in Brownsville, so she said coming to Texas "feels like I'm coming home."
Although most of her set highlighted her band's journey, intimate introspections, and the joys of live music's return, she did make a few weighty comments against the recent Texas abortion ban before presenting her last song.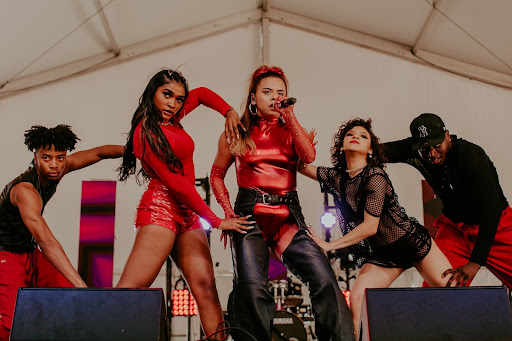 As the fest came to a close on Sunday, Austin local Shiela brought her Mexican and Nicaraguan roots to the Tito's Handmade Vodka stage. Shiela is an up-and-coming indie-R&B singer-songwriter with a whole lot of heart (and some 90s vibes, too). She played tracks off her debut album Chilita alongside her talented group of dancers, all of whom wore eye-catching red and black outfits. 
Her set had a soothing mix of dreamy, reflective tunes like "La Di Da" and upbeat, bright rhythms like "OZ." The energy stayed consistent throughout, and you could feel the audience in a collective sense of awe at Shiela's performance and choreography.
ACL Fest came at a unique moment in our community when many are just getting back into the swing of live music and large social gatherings in general. Traces of the COVID-19 pandemic and the risks it poses could be seen through the occasional KN95 mask, vaccine tents, health checks, and "mask zones" looming at every stage. 
Music festivals like ACL show us just how important music is to our healing process, and they also act as a space for us to express our anger, frustrations, and every other emotion running through us these days.
It felt good to step back into the live music scene and be inspired by the amazing women at ACL. I'm looking forward to seeing which artists I'll discover next year.
Featured image courtesy of Gaby Deimeke.
Want to read more stories like this? Please give us your feedback here!
Latinitas Magazine is a department within Latinitas, a registered nonprofit. Readers like you fund us, so please consider donating today. Thank you!