The Golden Age- of Hollywood is responsible for some of the most powerful and influential films that are still highly regarded today. Many of them are lauded by the United States Library of Congress as historically significant and preserved in the National Film Registry. Many classic films were directed and created by innovative figures such as Vincente Minnelli, Howard Hawks, George Cukor, John Ford, and Billy Wilder.  Along with such monumental films came some of Hollywood history's most respected and accomplished actors and actresses who continue to influence today's society and pop-culture. Although many were typecasted and limited in film roles, actors and actresses of Latino descent were able to break into the industry and work alongside many iconic film stars in classic cinema, while landing some prominent roles themselves. The few that were able to break the mold, and play larger roles include the Academy Award winning actors such as Anthony Quinn, Jose Ferrer, and Rita Moreno. In the 1940s, technicolor musicals and romance comedies became popular, and often used "Latin" themes with music, most notably with Portuguese-Brazilian actress-singer Carmen Miranda.  Studios capitalized off the growing trend of Latin orchestra music, and also featured Spaniard band leaders in films including both the renowned  Xavier Cugat and Jose Iturbi. Although not of Latino descent, but that of Spanish descent from Spain, they both became instrumental in the spread of Latin-styled music. Many Latino actors also changed their names to appear more anglicized, which was also a trend with many foreign actors of Italian and other European descent for easier name pronunciation. When the 1960s came around, films in black and white became less, as studios started transitioning toward more productions in color using more advanced filming techniques. Color television played a huge role in the decline of black and white films, and by the late 1960's black and white films were extremely scarce. To learn more about classic films in color from Hollywood's Golden Age featuring Latino and Latina actors, check out the following list. 
1. Latin Lovers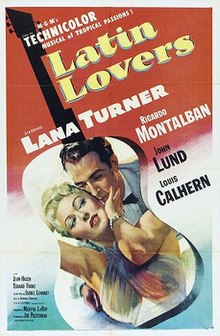 Starring Mexican actor Ricardo Montalban and the beautiful Lana Turner, this Metro-Goldwyn-Mayer classic film from 1953 is a romantic musical centered around two characters played by Montalbon and Turner. Turner plays Nora Taylor a wealthy and glamorous woman who is dating an also wealthy man. When her man takes a visit to Brazil she worries he will fall in love with a Brazilian woman while there, so she decides to travel to the country herself. While there, she meets and falls for local Roberto Santos played by Montalban. Convinced men only want her for her fortune, Taylor questions the men in her life which creates indecisiveness when choosing love. Will she choose her already wealthy boyfriend or newfound love in Brazil? Side Notes: Puerto Rican actress Rita Moreno also plays a small role in the film as a dancer, and lead actress Lana Turner was originally to act opposite of Argentinean actor Fernando Lamas whom she was dating. Due to a fiery fallout between the couple, Turner asked for Lamas to be replaced and the Mexican Montalbon was cast instead. 
2. Springtime in the Rockies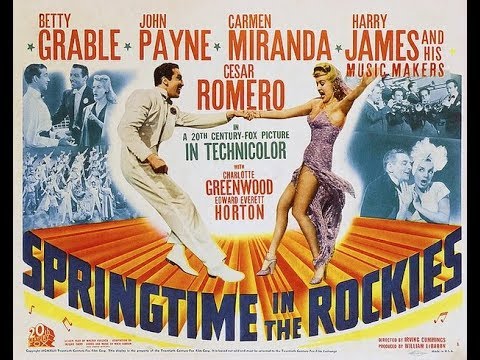 A technicolor musical from 1942, the film stars Cuban-American actor Cesar Romero, and Portuguese- Brazilian actress-singer Carmen Miranda, along with John Payne, and the legendary Betty Grable, known for her million-dollar legs and World War II pin-up posters. In the film, Grable pays Vicky Lane who is dating dance partner Dan Christy played by John Payne. When she discovers Christy has been flirting with other women, she decides to leave him and dance with her old partner, the handsome Victor Prince (Romero) at the dismay of Christy. She decides to keep dancing with Victor Prince to make her old flame jealous. Carmen Miranda plays Rosita Murphy and offers a fun Latin flair to the film. With some comedic banter, beautiful gowns, and dance numbers, this film is perfect to watch to catch a glimpse of 1940s glamor and romance. 
3. Weekend in Havana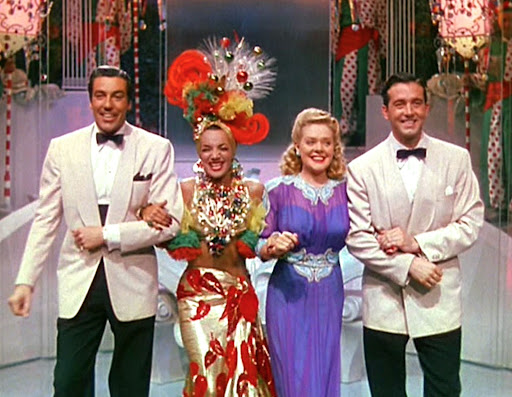 From 1941, this technicolor musical features actor John Payne, actress Alice Faye, and Portuguese-Brazilian actress Carmen Miranda with Cuban- American actor Cesar Romero once again. 20th Century Fox was known for their colorful musicals in the 1940's, which often featured Latin themes. In this film, John Payne plays Jay Williams who is sent by his boss to Florida for damage control due to one of their company ships being stuck off the coast. Williams tries to obtain waivers from the cruise ship passengers in order for them to take a future cruise ship, but Nan Spencer (Faye) declines and insists on going to Havana, Cuba for vacation anyway. Once she arrives in Cuba, she meets Rosita Rivas (Miranda) and Monte Blanca (Romero) who eventually get entangled in romantic drama due to scheming on Blanca's behalf who owes gambling debts. The film also features white actors dressed in Cuban attire in dance numbers, which also reflects the lack of Latino representation in American Hollywood. Other than that, it's a fun romantic musical film with comedic entanglements and Cuban flair. 
4. 3 Godfathers
From 1948 and starring John Wayne, this western film also features popular Mexican actor Pedro Armendariz, and directed by the renowned John Ford. The film is centered on three men played by Wayne, Armendariz, and Henry Carey Jr, who go to Arizona and along the way cause destruction by robbing a bank, which then causes them to be pursued by the local town sheriff. After some twists and turns, the men find themselves in a peculiar position in saving the life of a newborn baby, who turns out to be the sheriff's niece-in-law. Will the sheriff forgive them for robbing the bank as they save the baby's life? Or will he seek revenge? A must watch for those who are fans of adventure or western films. Armendariz is also one of the few Mexican-born actors who was able to successfully cross over into American films during the Golden Age of Hollywood.
5. Bathing Beauty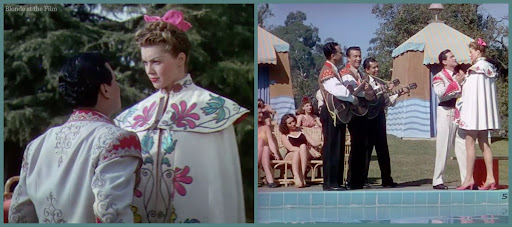 A 1944 MGM technicolor musical, this film features the beautiful Esther Williams, who was well known for her synchronized swimming, which was capitalized on in many of her films. It also features comedian Red Skelton, big band leader Harry James, and scenes with Colombian baritone singer Carlos Ramirez, Mexican-American actress-singer Lina Romay, and Spanish orchestra leader Xavier Cugat. The film is centered around Caroline Brooks (Esther Williams) and Steve Elliot (Red Skelton) who plan to marry, but after some sabotage things get complicated with their relationship. Featuring elaborate swimming sequences, music, and dancing, this film added to the collection of Latin themed musicals that were popular during the World War II era. Side Note: Esther Williams went on to marry Argentinean heartthrob and actor Fernando Lamas. 
6. Fun in Alcapulco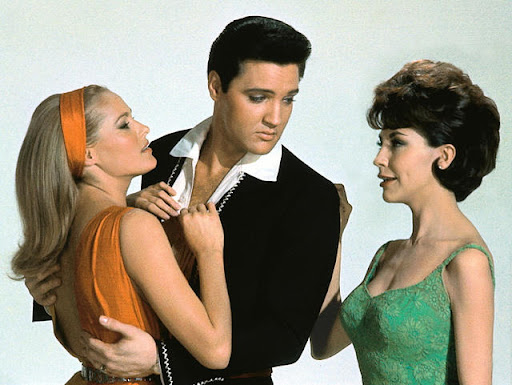 Starring Elvis Presley, Swiss actress Ursula Andress, and Mexican actress Elsa Cardenas, the film was released in 1963, and the last of Presley's films to be released before the British Invasion popularized in the United States. In the film Presley plays Mike Windgren, who works on a boat for a wealthy family in Acapulco. After he gets fired he finds work elsewhere with the help of a young Mexican boy. Along the way he comes into contact with Margarita Dauphin (Andress) and Dolores Gomez (Cardenas), and flirts and romances both women. Also featured in the film is Argentine-American actor Alejandro Rey who plays a lifeguard and Presley's rival. The film was met with some controversy and a double was used for Presley to film some scenes while in Acapulco. Previously, there had been riots in Mexico over a printed newspaper article depicting Presley as a racist towards Mexicans, which turned out to be false and revenge on the part of a powerful politician who conspired with a columnist to spread the lie. Presley had initially turned down an offer to perform at a birthday party for the teenage daughter of a Mexican politician, which garnered anger and revenge from the unnamed politician. The film features Presley singing and dancing with mariachi's, singing in Spanish, and swinging his hips to hit song "Bossa Nova Baby." The film was the number one musical of 1963, and according to Mexican actress Elsa Cardenas, she and Presley had an affair while filming. 
7. Rio Bravo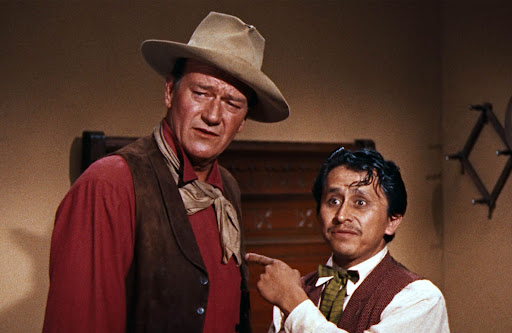 A Howard Hawks film from 1959, and deemed culturally significant by the Library of Congress, this western film features the iconic "The Duke" John Wayne, singer Dean Martin, teen idol Ricky Nelson, Angie Dickinson, character actor Walter Brennan, Mexican-American actor Pedro Gonzalez Gonzalez, and Cuban actress Estelita Rodriguez. John Wayne plays a Texan sheriff John T. Chance who along with the help of Dude, an alcoholic, (Martin), Colorado (Nelson), and Stumpy who's crippled, (Brennan) band together to keep Joe Burdette in jail, who shot and killed an innocent man. Burdette's brother is a powerful rebel and local rancher who comes into town to try to free his brother along with his gang. Gonzalez plays the supporting character Carlos Robante friend and ally to the sheriff. His wife Consuela plays by Estelita Rodriguez is kidnapped by Burdette's men in hopes of using her to trap the sheriff. Actor Pedro Gonzalez Gonzalez was utilized by John Wayne in a number of his films, and loved for his comedic and charming abilities, but received some backlash for playing roles that stereotype Mexicans. One of the best western films made in Hollywood history, this is a must-watch as it contains small storylines within each character that adds to the complexity of the film. Will Burdette get released from jail or will a gun battle prove to be deadly for all? Side Note: John Wayne was married 3 times and to women of Hispanic and Latino descent. 
8. Imitation of Life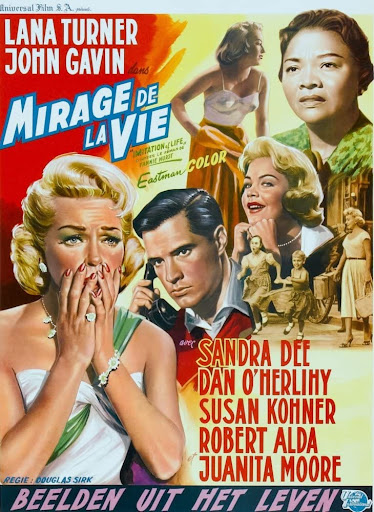 Another culturally significant film, and preserved by the Library of Congress in the National Film Registry, this 1959 drama touches on the issues of race, class, and gender. Featuring Lana Turner, teen idol Sandra Dee, Juanita Moore, and Mexican-Jewish actress Susan Kohner (daughter of Mexican-Irish actress Lupita Tovar), and Mexican-Chilean American actor John Gavin, (former US ambassador to Mexico & President of Screen Actors Guild), the film takes from Fannie Hurst's 1933 novel "Imitation of Life," but with some additional plots that slightly differ from the novel. In the film, Lana Turner plays Lora Meredith, a single mother who has dreams of becoming an actress. During a trip to the beach, she loses sight of her daughter and meets Steve Archer (Gavin) who helps in search of her. After finding her with a woman named Annie Johnson (Juanita Moore), a black woman, Lora decides to take her in to reward her for her kindness, along with her daughter Sarah Jane, who has a light-skinned complexion unlike her mother. After Annie convinces Lora to let her stay with her permanently to look after the household, Lora becomes a famous Broadway actress, and falls in love with Steve. Annie's daughter Sarah Jane eventually becomes disillusioned with her racial identity and skin color, and passes herself off as white. The film in itself is a good example of the way race was viewed in society, in associating dark skin with inferiority. The film explores Lora Meredith's career ambitions and love life,  as well as  Sarah Jane's complex character who is unable to accept her black identity, therefore rejecting her mother. Heartthrob Troy Donohue has a small role in the film as well, which is significant due to his later popularity. With some added romance, and depiction of difficult mother-daughter relationships, the film showcases reality blended in with Hollywood stardom and glamour. Will Sarah Jane accept herself in the end and make amends with her mother? How does Lora Meredith's character come into play in all this? 
  9. West Side Story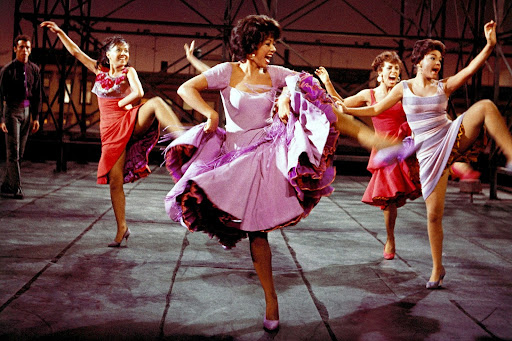 Originally a New York Broadway musical and influenced by Shakespeare's Romeo and Juliet, West Side Story from 1961 won Best Picture of the year at the Academy Awards and was nominated in multiple categories. The plot focuses on the bitter rivalry between two New York gangs who compete for territory in the city. The Jets, an all-white gang, and The Sharks a Puerto Rican gang, who each are led by their respective gang leaders.  Natalie Wood plays Puerto Rican Maria, who's brother Bernando (George Chakiris) happens to be the leader of The Puerto Rican "Sharks". She falls in love with Tony who is in rival gang "The Jets". Puerto Rican actress Rita Moreno plays Anita, Maria's best friend and girlfriend to Bernando. Although the film was highly successful, it failed to cast ethnic Puerto Ricans in roles in which they could have played. Instead, lead roles are played by Russian-American Natalie Wood, and Greek-American George Chakiris who play Maria and Bernarndo. Actors and actresses were also painted darker to appear more ethnic. Wood and Chakiris are both amazing actors, but unfortunately during that time, lead roles were scarcely given to Latinos. Rita Moreno on the other hand was the only Puerto Rican featured in a lead role, but as a supportive actress. Moreno was the first Latina to win an Oscar at the Academy Awards in 1962 for her role as Anita, for Best Supporting Actress, and was also featured in the Steven Spielberg directed remake from 2021, where she also worked as an executive producer. The new film also raises questions in casting as leads were neither ethnically Puerto Rican, but were of Latino descent, and "The Sharks" in the new film adaption were all of Latino descent, which is a huge contrast to the original film. Viewers will all have their own opinions as to appropriate casting for such roles, but now we have two separate films that we can appreciate and analyze no matter how negative or positive we may view them. 
10. Lust for Life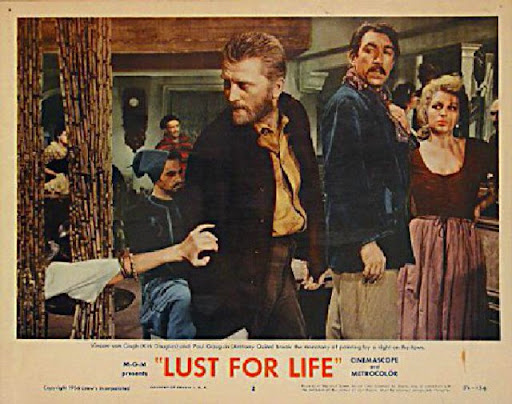 Directed by Vincente Minnelli, "Lust for Life" stars acting legend Kirk Douglas as the iconic and revered Dutch painter Vincent Van Gogh. The film is an adaptation from the 1934 novel "Lust for Life" by author Irving Stone, and also features Mexican actor Anthony Quinn as painter and friend of Van Gogh's Paul Gauguin. The film showcases the troubled life of Van Gogh and his struggle to cope with life, often dealing with depression and psychotic episodes and mental instability. In the film, Van Gogh, poor but talented, struggles to paint what he feels he sees which adds to his inability to cope with his talent. This pushes those he loves away, therefore creating more isolation for him. Anthony Quinn wins an Oscar for best supporting actor for his portrayal of French painter and friend Paul Gauguin. Quinn was able to break through stereotypes and play notable roles that were not necessarily confined to his Mexican heritage. A tragic but intriguing story, the film is highly riveting, emotional, and a must watch to witness Douglas and Quinn portray such legendary artists and icons in the world of art.