With the fall season now upon us and the holidays soon approaching, there are many delicious recipes that are a must-try in your kitchen! Tap into your creativity and get out your baking supplies and cookware for some appetizing delights. The 5 following recipes are easy makes and will make your holiday season truly fun, festive, and special!
 1.    Peanut Butter Blossom Cookies
Peanut butter blossom cookies are quite delicious, especially for you lovers of peanut butter out there. You will need butter, sugar, baking soda, flour, brown sugar, a full jar of peanut butter, vanilla extract, a bag of Hershey's kisses, and some eggs on hand. Most of these ingredients are quite affordable and are necessities when baking just about any dessert. Having a mixer on hand is especially helpful when combining all ingredients. A hand-held mixer will work just as well for the same outcome. These cookies will make a festive touch to any Thanksgiving or Christmas dessert try. To be extra festive dip your cookies into green and red sprinkles for extra holiday cheer. I recommended following Preppy Kitchen's recipe, as it's my favorite.
(1978) Easy Peanut Butter Blossom Cookies – You
2.   S'more Board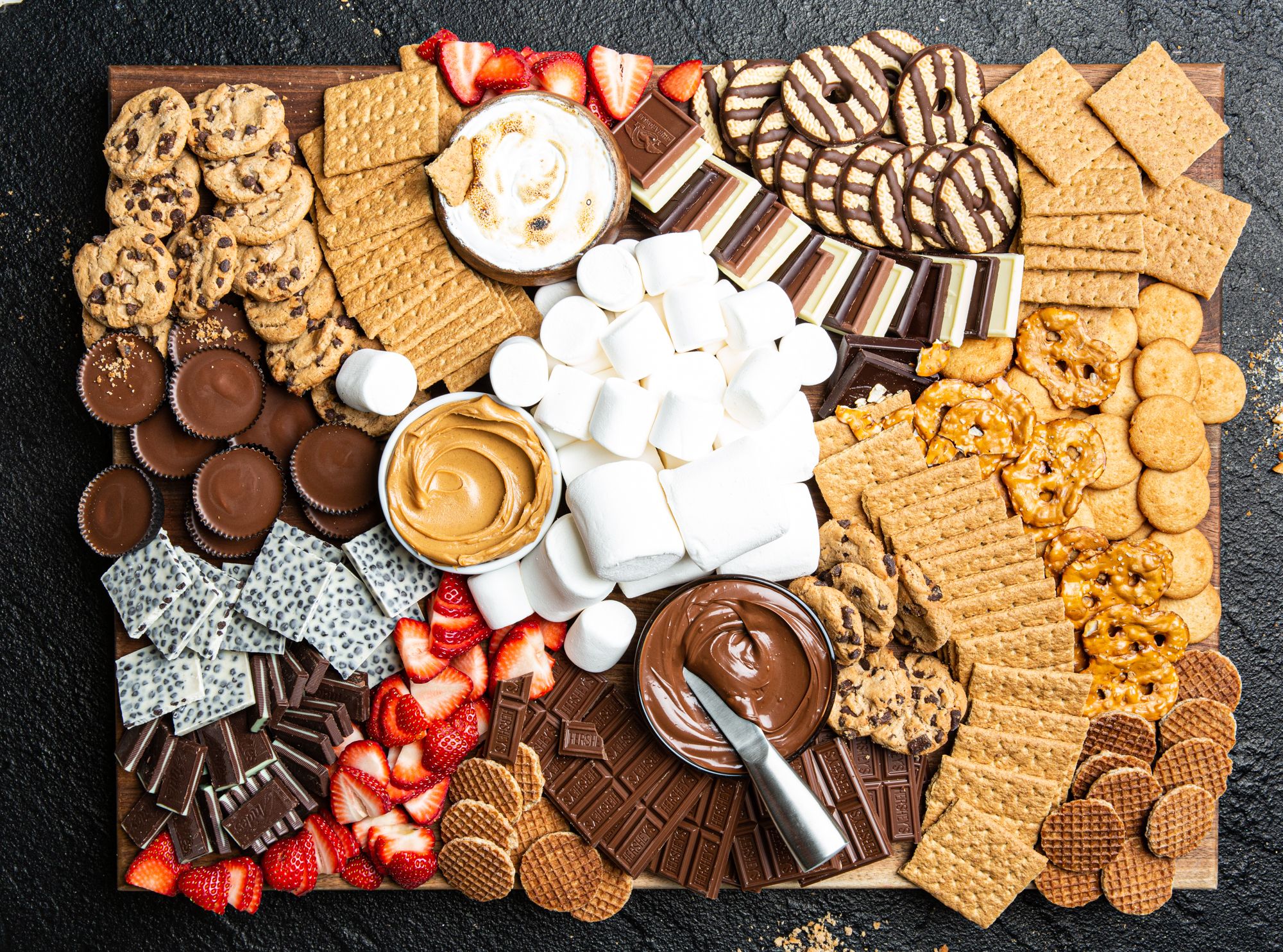 So not exactly a recipe, but a great option for a family gathering, party, or girls' night. A charcuterie tray is perfect for a s'more board or s'more tray. All you need is marshmallows, Hershey's chocolate bars (separated into pieces), graham crackers,  strawberries, pretzels, gingerbread cookies, ginger snaps, and chocolate hazelnut dip or Nutella (whatever you prefer). The fun thing about making a s'mores board is you can add anything you want. Add any kind of chocolate, fruit, or crackers, and get creative! If you don't exactly have a charcuterie board on hand, you can use any appropriate tray and start decorating your sweets accordingly.
 For more ideas, learn more here.
3. Christmas (Holiday) Fruit Salad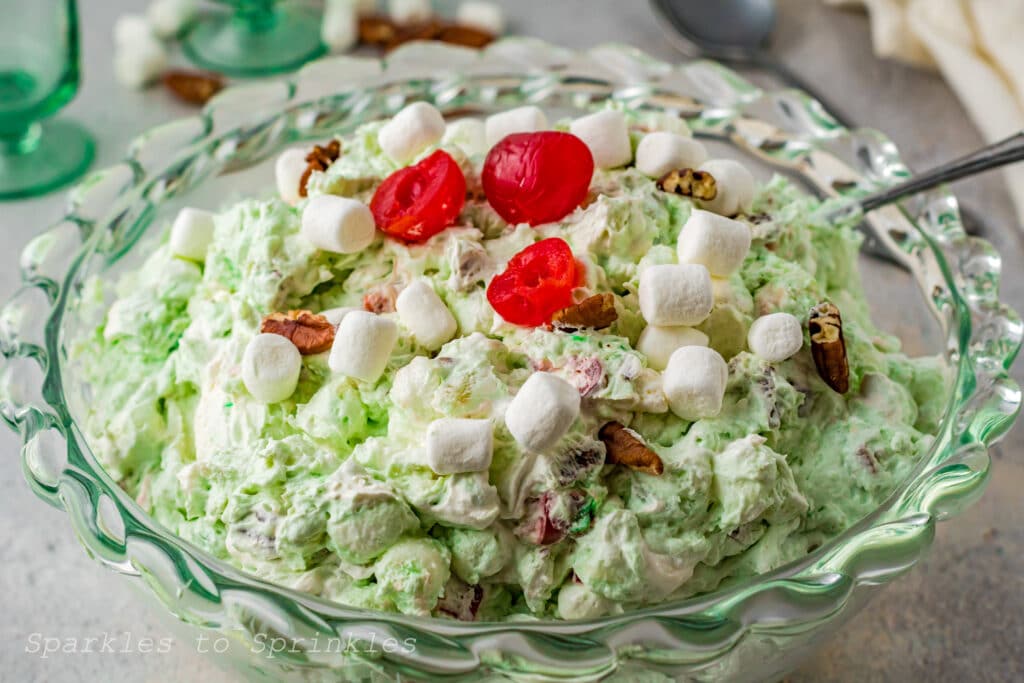 This is one of my favorite fruit salads to make, also referred to as a "Watergate Salad." Ingredients include canned crushed pineapples, mini marshmallows, Cool Whip, at least two chopped-up bananas, instant pistachio Jello pudding mix, and chopped-up cherries and nuts to garnish. I typically make mine without any nuts. Combine all ingredients and mix, serve with whipped cream on top and one full cherry. Simple, delicious, and refreshing to taste!
Watergate Salad Recipe (southernliving.com)
4.    Hot Cocoa Dip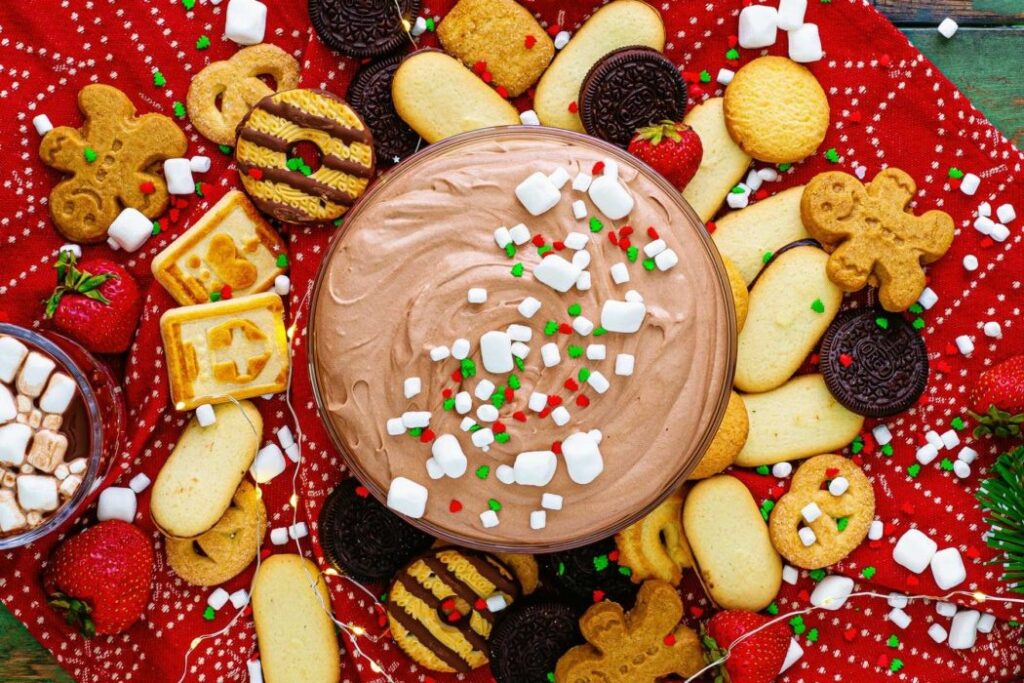 A favorite and easy dessert option of mine includes this hot cocoa dip. You will need one jar of marshmallow crème (any brand is fine). This will typically be sold in any store including Target, Walmart, and your local grocery store. You will also need one container of cool whipped cream, some hot cocoa (I usually use Hershey's), and use about 1/3 cup. First, you will combine the marshmallow crème and whipped cream in a bowl. Mix together by hand or with an electric mixer. Once fully combined add the hot cocoa powder until well blended. Serve in a bowl and with a side of gingerbread cookies or crackers. Refrigerate any leftover dip, it's only good for about one more day. This easy and fast recipe is perfect for any holiday party or movie night.        
3 Ingredient Creamy Hot Chocolate Dip Recipe | YellowBlissRoad.com
5.  Christmas Punch 
Every holiday gathering needs a fun drink, whether it's a non-alcoholic sangria or eggnog. My go-to simple-made drink is a Christmas punch. All you need is some 100% cranberry juice, 1 can of pineapple juice, one orange, cranberries (fresh or frozen), and one lime. Pour the cranberry juice and pineapple juice into a punch bowl or pitcher. Add some cranberries and slices of orange and lime, and the drink is complete. Fresh, fruity, and perfect for Christmas.