This past weekend the streets surrounding the Texas Capitol were filled to the brim with enthusiastic readers, well-known authors, and long-established news outlets, all determined to celebrate their love and appreciation for the art of literature as the 28th annual Texas Book Festival was underway. Originally founded in 1995 by Former First Lady and Librarian Laura Bush, the Texas Book Festival was established to help connect authors and readers as well as nurture Texans' love of books. Now, the entirely free event is the home to patrons from all over the world. This year's festivities highlighted over 300 authors across hundreds of different categories, from YA to children's to cooking to self-help, it was all on full display at the Texas Book Festival. 
My favorite panel I attended this year highlighted the diversity that exists in modern romance. "Love Interest: YA Rom Coms for Every Reader" featured three authors, four if you count the moderator, This Is Why They Hate Us author Aaron Aceves. The panel details the unique diversity that exists in all their stories. Starting with nonbinary Mexican-American author, and Texas native, Johnny Garza Villa, "My book is Ander & Santi Were Here. It is about a nonbinary muralist named Ander who has taken a gap year before going off to art school in Chicago. They fall sort of into the lusty," Johnny jokes, "for a new waiter at their families San Antonio taqueria, and romance and chaos ensue. I like to describe it as a love letter in general, romantic, familial, platonic, love of yourself, the gifts that you give the world, and to San Antonio."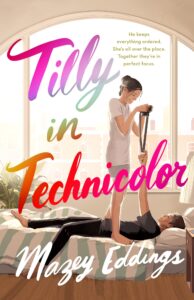 Next up to introduce themselves is Tilly in Technicolor author Mazey Eddings, "Tilly in Technicolor follows two neurodivergent teens who spend a summer interning for a company traveling across Europe. Tilly, the main character, has ADHD, she just graduated high school, it's very unmanaged and she doesn't know what she wants out of life, but she just wants to have a time where she doesn't have a plan or anything like that. Oliver has autism, and he knows exactly what he wants down to the minute of his life. These two meet on a flight from Ohio to London. It's a meet-disaster," The audience can't help but laugh as Eddings emphatically continues, "a very prolonged meet-disaster of like ten hours, and I will say the very closest I've ever gotten to a self-insert was the things that happened on that international flight happened to me." The room erupts into laughter, "And so they leave from that flight hoping to never see each other again. And…in comes the romance! They end up being co-interns for the same company. And these opposites butt heads at every corner, but along the way, they realize that they have a lot more in common, especially being neurodivergent and navigating the world not necessarily built for them."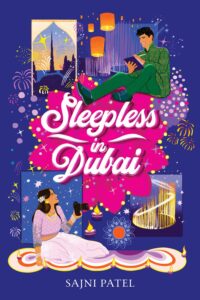 Last, but certainly not least, is author Sanji Patel's latest novel, Sleepless in Dubai, "My book Sleepless in Dubai is about two teenagers who are former best friends, they are neighbors and their families are very close to each other. They have a rift because one of them is super petty," Patel laughs, "So they are going to Dubai to celebrate Diwali, which is one of India's biggest festivals…and these former best friends', their family decides well this is the last Diwali before they go off to college, so let's make it big, let's go to Dubai, and by the way we invited the neighbors and the guy that you're not talking too. During this trip their learning to become friends again, and probably more because it's a Rom-Com, it's a romance. And during this time they're also reevaluating what Diwali means, which is a festival of lights–pushing away the darkness, the dark things inside of you to let your light shine." 
When asked what inspired the setting, Patel explained that her sister recently got married. A huge Indian wedding, with a days-long ceremony that took place in Dubai. The setting and the vibrancy of the city felt ripe for romance. For Eddings, inspiration struck when she finally got to travel on her own. Having recently taken a trip all over Europe herself, Eddings noticed the stark difference between traveling alone and in a group. By herself in Europe, she was able to follow her own heart. What did she want to do on any given day, what did she want to see? That sense of independence inspired her character Tilly's own journey of self-discovery.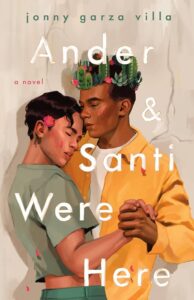 Villa was inspired, as many greats are, by the state of Texas, "I fully embrace the fact that I am a Texan who is proud to be from Texas, that's just kind of like part of our manual whenever we come out," Villa teases, "I additionally see that, but reflecting on that sort of appreciation and love that I have for Texas, specifically South Texas…Specifically getting to spend time with the Mexican-Tejana Community in South Texas. I think that there's just power in writing about Queer brown people falling in love in a state that doesn't necessarily love them back all the time." 
When it comes to characters, it's safe to say Eddings put the most of herself into hers, "So I have ADHD and Autism, and so that very much influenced the perspective and the lived experience of my characters. Tilly in particular, the way that she manifests her ADHD, where she's very hyper and inattentive and things like that is actually very different than how I experience it. But I think we so often associate that kind of frenetic energy and that ADHD energy with male-centric focus, and young adolescent boys. So I wanted to show how it does manifest in women and young women too, because it's not one we see very often. So that was important to me." Meanwhile, Villa liked to imagine the loud and proud Ander as who they would have been, had they not had to tamp down their Queerness. If they could have just existed proudly from the beginning. 
When it comes to spicing up their stories, Patel opens up about the irony of her even writing in the romance genre, "So I was actually talking to my editor about the book that I am currently working on, and she was trying to get me to write more romance to it, and I'm like no. She's like 'No, you're so good at it', and I was like 'Well, because I'm the least romantic person ever.' I'm just like…romantically dead." Patel jokes, "So, when I create my characters it's always the character first. Like, who are they as a person, what are their personal goals, what are their relationships? And I rely heavily, I think, according to my editor, on building those relationships. Whether it's with parents, or siblings, or friends, or romantic partners. And as these interactions happen, I feel like a romance organically comes or it doesn't come. So I don't really know if I set up to write a romance until we get to that part of the journey, and I'm like Oh, there's a romance, that's great." Patel deadpans.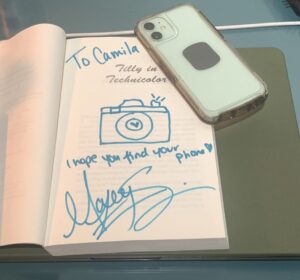 Though absolutely all of these books ended up sounding incredible, in an effort to restrain myself I only went home with one; Tilly in Technicolor! Right after the panel I stood in a panic realizing I'd just lost my phone. When scouring the festival floor led to nothing but empty hands, I decided I might as well go get my book signed before the authors left (because…priorities, ammi right?). It was here that the lovely Mazey Eddings signed my book, and after hearing my plight wrote a sweet message, a simple but permanent reminder of the day I lost my phone; I hope you find your phone <3. Well Mazey, I just wanted to tell you that I DID find my phone! Only 30 minutes later, I'd left it in the cash register when I purchased your book (which, BTW I am nearly done with and highly obsessed over)!
All three novels, four if you count Moderator Aceves, are out now and available wherever books are sold!
You can click here to purchase Johnny Garza Villa's book Ander & Santi Were Here.
Click here to purchase Tilly in Technicolor by author Mazey Eddings.
Or click here to purchase Sanji Patel's latest novel, Sleepless in Dubai.
And click here for This Is Why They Hate Us by author Aaron Aceves.
For more information on the Texas Book Festival, you can click here to visit their website.