This past weekend the streets surrounding the Texas Capitol were filled to the brim with enthusiastic readers, well-known authors, and long-established news outlets, all determined to celebrate their love and appreciation for the art of literature as the 28th annual Texas Book Festival was underway. Originally founded in 1995 by Former First Lady and Librarian Laura Bush, the Texas Book Festival was established to help connect authors and readers as well as nurture Texans' love of books. Now, the entirely free event is the home to patrons from all over the world. This year's festivities highlighted over 300 authors across hundreds of different categories, from YA to children's to cooking to self-help, it was all on full display at the Texas Book Festival. 
Since the festival takes place in the heart of Austin, I was delighted to discover a section of panels actually occur in the State Capitol. Down a series of stairs, through glistening hallways unbeknownst to the general public, stood a row of intimidating entrances, each home to a unique venue. The panel I attended "Around The World: Stories of Latine Diaspora" was held in the catacombs of the Capitol, in a courtroom arranged like a makeshift trial. The authors in question, the well-known Patricia Engel and Ana Castillo, sat behind the Judges' Bench, alongside the moderator, Kirk Walsh. 
Both Latina authors were here promoting their books, both collections of fictitious short stories that deal with themes of home, migration, and longing for a sense of belonging. Colombian author Patricia Engel moved frequently throughout her lifetime. She was from Colombia, raised in New Jersey, lived in New York City, and has spent the last 20 years teaching in the city of Miami. This collection took about 10 years to create, as she wrote on such topics as displacement, nostalgia, and a deep desire to find a home. All of which culminated in her book The Faraway World.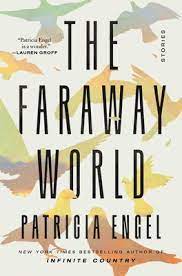 When asked about what inspired the title, Engel shared this beautiful story, "It wasn't the original title. It's not the title of any of the short stories…I had a different working title all the way through. And I thought, Oh, I'll settle on a title at some point, closer to the end. During that period, I was rediscovering some papers that had belonged to my grandparents. My father's father is actually Austrian, and he took a job in Colombia when WWII started, so he could never return home. So he was kind of an accidental immigrant. He had met my grandmother and had nine Colombian children, and all the sudden his whole selfhood was erased and replaced by this other culture, language, and children who were very different.
"So, in his papers, I found a photograph… And it was a photograph of–his mother had died as a child, so it was a photograph of her grave, and she was buried with his grandparents. And on the back, he'd sort of written to them, and it said 'This is goodbye from your beloved son, and grandson, who will leave tonight for the faraway world.' So, that just kind of sat with me over the years. Obviously, knowing what happened after that. He never returned to his country, he never saw his father again, or much of his family. At that time he just knew he was taking a job in another country. And very often, that's how our lives change, isn't it? Without us realizing when that big moment is. So it's a little tribute to my grandfather, but also our own private migrations."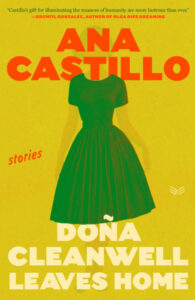 Mexican-American author Ana Castillo's latest project, Doña Cleanwell Leaves Home, is affectionately called a book of long short stories, as there are only a few tales, but all longer than a typical short story, with some spanning over 40 pages. The cover of the collection features a striking silhouette of a green dress, with only the hint of faded arms peaking from underneath. When asked about the meaning behind the cover, Castillo had this to say, "There's a story in this collection called 'The Girl In The Green Dress', completely unplanned. I woke up at dawn one morning, and the whole story was in my head, with the title, and the setting…It takes place in Chicago maybe 80s, late 80s. So the young librarian, it's her first library job, and it's a neighborhood library. And her first week at the library, a patron says Has anybody told you about the girl in the green dress? And she says no, and then she tells her they have this apparition around the library, a headless girl in a green dress. And so after that, she's terrified…
"Although my attempt at writing a scary ghost story. Again, I foiled it with my real interest which is to explore women's lives. So, it's about her life, decisions she has to make in her life. There's a woman who doesn't have any place to live, and of course, like many cold cities, she comes in there. So it's about her. And the head librarian, there's another young woman working part-time, married and pregnant, and so you get a sense of her life. So really that's what it ended up being. When I woke up that morning I had a scary ghost story in my head–which is kind of creepy. But for me, what interested me in developing it was really about the choices that we make as women, and what happens to women. I didn't ever in the story come out and talk about violence against women, so much as suggest it. Through all the characters, something is always there. Whether it's just being jumpy, or arguments, or the guys who come in to do the maintenance." A fascinating twist on a traditional ghost story. 
Click here to read Ana Castillo's latest project, Doña Cleanwell Leaves Home.
Click here to read Patricia Engel's latest project, The Faraway World.
And for more information on the Texas Book Festival, you can click here to visit their website.