As we celebrate Black History Month, we take a look at some classic cinema featuring Black actors and actresses who have made a significant contribution to film history. Throughout the years, and especially during the Golden-Age of Hollywood, roles for Black actors and actresses were scarce, and often lacked proper representation, but the following list contains films featuring Black actors and actresses who broke barriers and paved the way for future generations in the film industry and entertainment. Many of the films in this particular list feature prominent and legendary figures of the 20th century, and should be noted and celebrated for their historic achievements and contributions to the arts and field of entertainment. 
1. Stormy Weather
Released in 1943, this musical by 20th Century Fox captured the essence of talent by Black-Americans during that particular time. The 1940's was an era filled with many musicals, and many Americans were on edge due to World War II. Musicals such as "Stormy Weather" were popular during this time and provided entertainment for Americans during the outbreak of World War II. "Stormy Weather" features an all-Black cast,a rarity at the time, and also features the beautiful Lena Horne, legendary tap dancer Bill "Bojangles" Robinson, legendary scat-singer and band leader Cab Calloway, and The Nicholas Brothers. The film has many musical numbers, and showcases the talented singing, dancing, and acting by all featured in this fun one-of-a-kind musical. The dance sequence at the end of the film is also highly considered to be one of the greatest ever featured on-screen by The Nicholas Brothers, and they are also considered to be some of the best tap dancers of all time.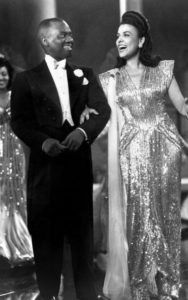 2. Cabin In The Sky
Featuring an historic all-Black cast from 1943, this musical film was adopted from the original Broadway version in 1940. Multi-talented actress Lena Horne is featured in this film where she plays the role of "Georgia Brown". Not only was Horne an actress, singer, and dancer, but she was also highly involved in civil rights causes and was one of the top Black actresses during the Golden-Age of Hollywood. In this particular film, the plot is centered around character "Little Joe" Jackson played by Eddie Rochester Anderson who is initially killed in the beginning over gambling debts. He is subsequently given a chance to redeem himself while on his deathbed by angels, and is given months to change and fix his marriage to his wife as well or he will not make it into heaven. Legendary jazz singer and actress Ethel Waters plays wife "Petunia Jackson". Waters was one of the first black actresses to ever be nominated for an Academy Award, Emmy, and the first black actress featured in her own TV show. 
The film touches on subjects of infidelity, gambling, and spirituality and audiences get to witness "Little Joe" struggling between good and evil. The film also features legendary jazz musicians Louis Armstrong and Duke Ellington. Armstrong is one of the most influential jazz musicians of all time, and Ellington a highly revered and one of the greatest jazz composers in music history. Lena Horne also went on to win Grammy awards, and became a popular nightclub act and guest on multiple variety shows from the 1950s through the 1970s. Horne even hosted her own TV specials during this time period as well.  An all around classic feature, "Cabin In The Sky" will keep you on the edge of your seat with great musical numbers, and a riveting message. As of 2020, the film was selected as culturally significant by the Library of Congress, and chosen for preservation for the US National Film Registry.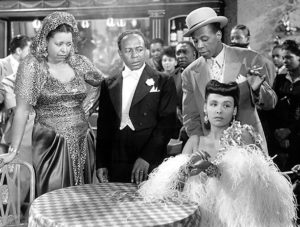 3. St. Louis Blues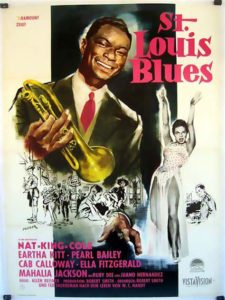 From 1958, "St. Louis Blues" tells the story of influential blues musician W.C. Handy, who was an essential figure in the evolution of blues style music. Handy was an educated and classically trained musician who composed, and arranged his own music, and one of the first blues musicians to have his music published. He was a proficient trumpeter, band leader, singer, and has been credited for bringing blues music to the forefront of popular culture. Handy has been an influence for jazz, blues, and rock musicians through the decades, and is portrayed by legendary crooner and musician Nat King Cole in the film. Cole is also a very prominent and highly influential figure in music in the 20th century, and gets to showcase his talent throughout the film. "St. Louis Blues" itself premiered after Handy's passing in 1958, and also features other historic and gifted actors and musicians such as Cab Calloway, Eartha Kitt, Ruby Dee, Ella Fitzgerald, Mahalia Jackson, Billy Preston, and more. The film touches on the strained relationship Handy had with his strict minister father. Handy is often tormented with his own thoughts at playing blues music as his father disapproves of such music. A must watch-film, Nat King Cole and the cast give amazing and memorable performances throughout, and the film does a great job in celebrating the music and life of W.C. Handy.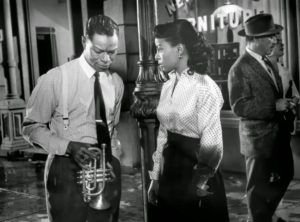 4. Lilies Of The Field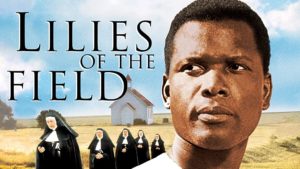 From 1963, "Lilies Of the Field" features accomplished and prominent actor Sidney Poitier. The film is significant due to Poitier winning the Oscar for Best Actor at the  1963 Academy Awards, becoming the first Black man to do so. The film is centered around Poitier's character "Homer Smith" an ex-GI who encounters five German, Austrian, and Hungarian nuns while on a stop in Arizona. While there he decides to help them with a small roofing repair, and intends to go on his way after he is paid. The Mother Nun however eventually persuades him to stay, and to help them build a chapel. Smith also takes up a job for a local contractor and helps the nuns by bringing them food and by teaching them English. Soon the local townspeople join in to help build the structure of the chapel. With his Oscar win, Poitier solidified himself in the film industry, and will forever be known for his breakthrough and influence in the film industry. 
5. To Sir With Love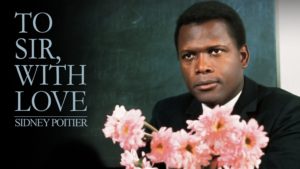 Released in 1967, "To Sir With Love" is a classic British film that is still loved and revered today. Once again featuring legendary actor Sidney Poitier, the film focuses on Poitier's character "Mark Thackeray" from British Guiana, who takes a teaching job in London while waiting for a position in engineering. The alternative school he begins teaching at is filled with difficult and unruly students. In the film, he is referred to as "Sir" by the students, who constantly challenge him. "Sir" ultimately decides to teach his students valuable lessons about life and respect, much to their aggravation. Filmed in London with a 1960's ambiance and charm, aspects of "Sir's" race is touched upon in the film as he is a black teacher in a mostly all-white school and classroom. This charming film is filled with life lessons, and adolescent youth struggles anyone can identify with. Poitier had also previously won and became the first Black-male actor to win an Academy Award in 1963 for the film "Lilies of the Field." Along with "To Sir With Love," 1967 was a successful year for Poitier as he made two other films that were all top box offices draws that year including "In The Heat Of The Night", and "Guess Who's Coming To Dinner." One of the most respected actors of his generation and last remaining actors from the Golden-Age-Of Hollywood, Poitier passed away a year ago at the age of 94, but lives on as a fixture in classic film for his notable roles, inspiration, and the barriers he broke for Black actors.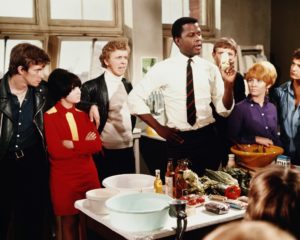 6. Carmen Jones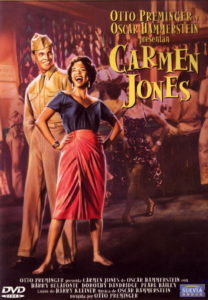 From 1954, "Carmen Jones" is a musical film featuring an all-Black cast with Dorothy Dandridge, and popular singer Harry Belafonte in lead roles.  The film is considered culturally significant and has been preserved in the United States National Film Registry.  Set during World War II, Carmen is portrayed by Dandridge, who uses her beauty and charm for her own benefit. The film takes many twists and turns, and ultimately Carmen seals her fate at the end by rejecting the one man who has given everything up for her. For her role as Carmen, Dandrige became the first Black woman to be nominated for an Academy Award. Today, Dandridge's legacy remains intact and she is remembered for her beauty, acting abilities, and also being the first Black woman to be on the cover of "Life Magazine." "Carmen Jones" showcases Dandridge's acting versatility and solidifies her significance in film history.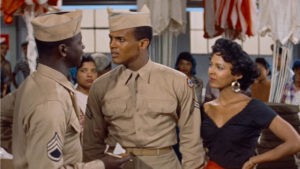 7.
Lady Sings the Blues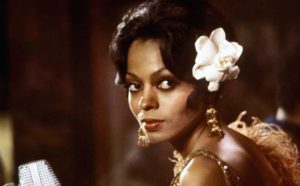 Starring Motown singing legend Diana Ross, "Lady Sings the Blues" is a biographical film from 1972 depicting the life of jazz singer Billie Holiday. Holiday is one of the most influential singers in jazz music history, and Ross does a great job in her portrayal. The film highlights Holiday's life, struggles, and relationships. Ross convincingly plays her character with passion and intensity, which led her to an Academy Award nomination. The film also features other prominent Black actors such as Billy Dee Williams, Richard Pryor, and musician Scatman Crothers. A must watch film, Ross shows off her versatility as an actress and singer, and cements herself as a Motown legend capable of diverse work in entertainment.