Last Saturday, Latinitas packed their gear and headed toward San Antonio for their exciting Future Chica Conference. The one-day-only event took place at the Capital Factory in the city's very own Tech Port last Saturday, October 21st from 9 to 5 PM. Future Chica introduces young students to various forms of technology like robotics, coding, and even engineering through different workshops and experts. This year's conference was emceed by the hilarious Michelle Cantu and her very own twelve-year-old daughter Lola Rodriguez, who participated in the rest of the activities! 
On the importance of Latinitas conference coming to San Antonio, Michelle had this to say, "I have three Latinas of my own that I'm raising, and I think it's just so important for them to be exposed to different career paths. Different industries. To have an organization like Latinitas that brings them technology, innovation, creativity. My daughter went to your Cine Chica camp in Austin, we drove to Austin, that's how impactful this program is. So I'm really excited that you guys are really planting roots here in San Antonio."
The Capital doors opened at 9 AM, and the girls began pouring in, receiving swag bags and breakfast burritos courtesy of Taco Cabana. As they got settled in, they were invited to take photos at the amazing photobooth Succulent had volunteered for the morning. After getting to know each other, and listening to some of our Multi-Gen Program Coordinator Aliyah Zavala's lovely jokes, the students were separated into two teams, Purple and Yellow. The girls had a field day competing with each other to see who could cheer for their team the loudest, if memory serves I'm fairly certain Yellow won out (sorry Purple).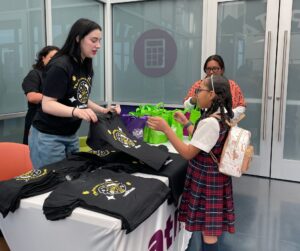 Once organized, it was time for the real fun to begin, as the students walked across the hall toward the Capital Factory's SAMSAT Area 21 Museum and Exploration Center. There is no way to explain just how cool this space is. A massive warehouse, filled to the brim with tech, both ancient and new. From telegraphs to massive surgical robots, 3D printers, self-driving cars, a full studio, recording center, and pushed way in the back a massive Command Center, packed with rows and rows of desktop computers all lined up at massive screens. This place was high-tech, making it the perfect backdrop for Future Chicas festivities. 
The teams split off for the first workshop, and for the next hour and a half the girls were immersed in the world of technology. With one team heading towards the Command Center where they got to break into smaller teams, come up with ideas for robots, and then, using Lego's ev3 Classroom app, figure out how to code commands for said robots. And these ideas were complex. I mean this wasn't coding rumbas here people, these girls had big dreams*. One team aimed to create a robot that could function as a lab assistant, cleaning up messes and assisting with experiments. While another team dreamed of coding a robot that could venture ahead of soldiers on military missions, scanning the area to make sure it was secure to pass. The students learned all about the vast array of jobs available to people in STEM from SAMSAT's incredible instructors.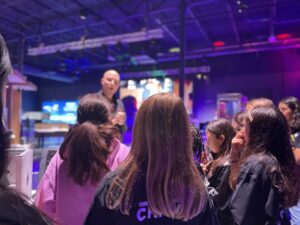 Meanwhile, the other team got an entire tour of the Museum and Exploration Center. Following a SAMSAT guide, who gave them the inside scoop on every cool thing they saw, from cars to games, to philosophical ideas of living on the moon. Afterward, the team was invited to participate in a scavenger hunt, using the entire museum as their playground as they ran around discovering something new at every turn. Before we knew it, the students had worked up an appetite, and it was time to head back for lunch. 
While the girls ate, they enjoyed a panel with technology experts moderated by none other than Co-Emcee, Lola Rodriguez, "I was pretty nervous," she admits on what it was like interviewing the panelists, "Being an emcee with my mom is obviously really fun. It's just a really awesome experience and I get to meet so many people that will really help with my future and career."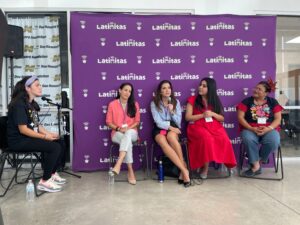 The panelists consisted of Erika Prosper Nirenberg Senior Director of Customer Insights at HEB, Councilwoman Marina Alderete Gavito, HEB Product Manager Vanessa Romero, and Co-founder and Chief Operating Officer of Active Capital Cat Dizon. The women shared their wealth of knowledge with our students, offering intel on how to be successful in the world of STEM. When asked why it was important that she speak to the students today, HEB's Erika had this to say, "I know that Latinitas commitment is specifically to help girls of color understand their role in the future of Technology, Science, Engineering, and Math. And I think that if they can't see themselves, they won't know what's able to happen to their future. So I am glad that I came and I was able to represent sciences, and research facilities to them so they can see a woman of color who isn't just working in Tech and Science, but also succeeding in STEM."
After lunch, the teams switched workshops, getting to tour the space, if they hadn't before, or mess with robotics and coding. While they ran around, learning and enjoying the day, I spoke with some of our Programs Team to see what they had to say about Future, "I'm over-the-moon excited about Future Chica San Antonio." Flagship Coordinator Mia Gomez-Reyez shares, "[Watching them] design robots, that's an activity that we've gotten to partner with the SAMSAT in order to have them do. Watching them try to figure out what they want their robot to do, and put it on paper, and come up within their wildest dreams what would their robot do. I think my favorite thing is watching how innately they want their robot to help people. They want the robot to help pick things up for other people, if they can't see they want that robot to lead them. It's nice to see that they're really trying to use the skills to help the community. In their dreams and in their mind, and hopefully, they can do something with it one day."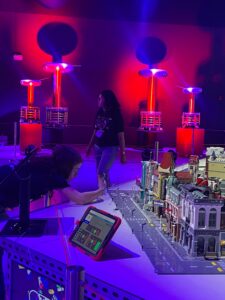 "Future Chica, really all we wanted was for students to explore different types of Tech." Explains Program Manager Beatriz Castillo, "That was really our goal, is to have fun but also learn something. So we wanted to create really unique and really fun workshops for them to learn. Especially for San Antonio, we've been doing other conferences, StartUp Chica for example, and wanted to bring it here in this awesome space and be able for the students to learn and explore and share a little bit about what we do." 
With the conference being held in Tech Port, San Antonio's very own Tech Hub, Mia had this to say about its significance, "I think it's important for the students to know that while [this tech hub] is being built, it is being built so that they can be a part of it. Not so that they can observe it from the outside and watch it happen and see other people do it. But so that they can continue to build within it. And know that they have all the opportunities to do all those kinds of things…it might not be real now what you want out of a robot or out of Tech or what you can do in the community, but someone is gonna have to invent it at some point, and why shouldn't it be you?" 
"It's so awesome because it's places where not a lot of young students get to be, especially not a lot of Latino students." Beatriz adds, "So we really want to bring them into spaces where they get to know where they could be in ten–fifteen years, be in spaces that maybe past generations weren't able to do so and let them know what they belong here." As the conversations came to a close I, of course, had to ask them if their feelings could be described as a Taylor Swift song, which song would it be? "I guess 'Long Live', I think that one feels like it embodies all of our programs," Mia says, with Beatriz concurring enthusiastically.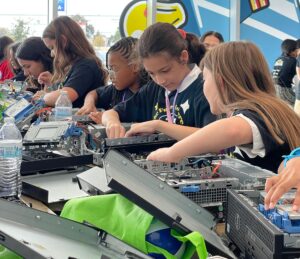 As the girls finished up their second workshop, they said goodbye to SAMSAT's Area 21 and headed back to base for their last activity of the day, and boy was it jam-packed. Robert Maldonado and his team from CaptureRX came in full force carrying large containers filled with Tech! Split now into 3 groups, the students were tasked with finishing three Tech Labs; a Lego communication lab, an RJ45 ethernet cable-making lab, and a build-your-own PC lab. After they found success in one workshop, they switched off to the next, and on it went. The entire thing was a huge hit, and while some tasks (such as the PC one) were more challenging than others, our students proved to be fearless. 
Robert Maldonado had this to say about bringing their workshops to Future Chica, "I think it's awesome, especially in Technology. I'm in my fourteenth year in IT and there is a big gender gap within the community, and being able to develop Chicas or Latinas at such a young age is super awesome, and me being able to give back at that level I think is awesome as well."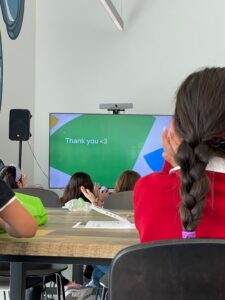 The day ended with an encouraging speech from Future Chica's Closing Speaker, Technical Operations Program Manager at Google Fiber, Danielle Lopez. Who shared her non-linear journey into the world of Technology. She spoke on the ups in her career, as well as the downs, stating that even though her path wasn't always clear she was able to find success, and that they could as well. 
With the girls exhausted from a day's worth of activities, and fully empowered by Danielle's words, all that was left to do was round out the Conference with some karaoke. The students joined together, screaming Taylor Swift lyrics from the top of their lungs, and when all was said and done, Latinitas rewarded them with an exciting raffle. Giving away a $50 gift card to one lucky student. After the winning student clamored to claim their prize, Latinitas Interim Executive Director Gabriela Kane Guardia closed out the day with a resounding speech, "Thank you to all of our partners, all of our volunteers, thank you to each of you. All of you Chicas make this so special. We're here for you, and I want to support you. We're really grateful you were able to come and spend the day with us at Future Chica, thank you for joining Latinitas and we hope to see you again soon!"
*Note, I am aware coding a rumba would also be difficult