Before the album re-recordings and era reinventions, before clubs began throwing Taylor-themed parties, and way before Taylor was ever synonymous with a snake or a man or a random award show in 2009, there were Swifties. A die-hard all-or-nothing fanbase that prided themselves on their ability to break records, and find easter eggs. Nearly two decades after Taylor Alison Swift's debut album was released, the Swiftie fandom is more active than ever. According to Billboard, before Taylor's most recent venture, The Eras Tour even began she'd already surpassed Madonna as the highest-grossing female touring artist of all time with an estimated $591 million in ticket sales. And Taylor would be the first to admit her steadfast fanbase, and her relationship with them, has a lot to do with it. But being a hardcore Swiftie, as incredible as it is, is not an equal experience for everyone, and there are reasons for this. 
Though Taylor Swift was born in Pennsylvania, by the time she was 14 her family had moved to Nashville, to support her dreams of becoming a musician. She spoke in an adorably fake country accent and stood out due to her willingness to hustle and write her own lyrics. Her first taste of success was in the country music scene, with a sweet-like-Apple-Pie girl-next-door persona. As an incredible article titled The Unbearable Whiteness of Taylor Swift's Fandom explains, "In many ways, this era of Taylor Swift's music and fanbase belonged almost exclusively to what could be called 'white culture'." For the majority of Taylor Swift's early career, she was assumed to be Right-leaning. This was largely due to her country roots, cautionary tales on promiscuity (à la "Better Than Revenge" and "Fifteen"), and her refusal to alienate a certain group by speaking out on political issues. 
While this worked to her benefit initially, never speaking out on the things you believe in has its downsides. If you don't stand for anything, people can project their beliefs onto you, and that's exactly what happened to Taylor Swift. In 2016 Neo-Nazis heralded Swift as their very own "Aryan Goddess". Throughout her career, various Right-leaning publications claimed her as one of their own, and none of this was helped by the way she avoided giving insight into her own political beliefs. Dodging questions when it came to politics until her political "Coming Out" in 2018 when she made an Instagram post expressing her staunch Left-leaning and progressive values. 
While she's come a long way from her country days, and grown a more diverse and inclusive fanbase throughout, that core audience will always be there. As Jenna Mahale puts it, "For non-white fans of Swift's music, this journey hasn't been comfortable. The typical Taylor Swift fan is unquestionably a straight, cis, white girl — the type of Swiftie that the predominantly white fandom is still most accepting of." This has proven true time and time again. This past week while staying at a hotel for the Eras Tour show in Arlington, TX TikTok user @jackierami24 and her family were harassed by a white woman in Eras Tour merch who, according to the caption of the video, "approached our children while yelling racist slurs". The family is Hispanic and had only been in the hotel for a short time when Jackie's, "brother-in-law was asked if he was 'from the United States'". 
Latinitas Programs Coordinator Mia Gomez-Reyes has been a longtime Swiftie and her experiences in the community haven't always been easy, "Tumblr is the space where I started my Swiftie journey, and it's very white-dominated. It was really bad during 2016 when Trump was being elected because lots of accounts I followed were coming out of the woodwork saying they supported him…It was really weird to see these people who knew what Taylor stands for siding with someone so horrible and ignoring Swifties who were calling them out for it."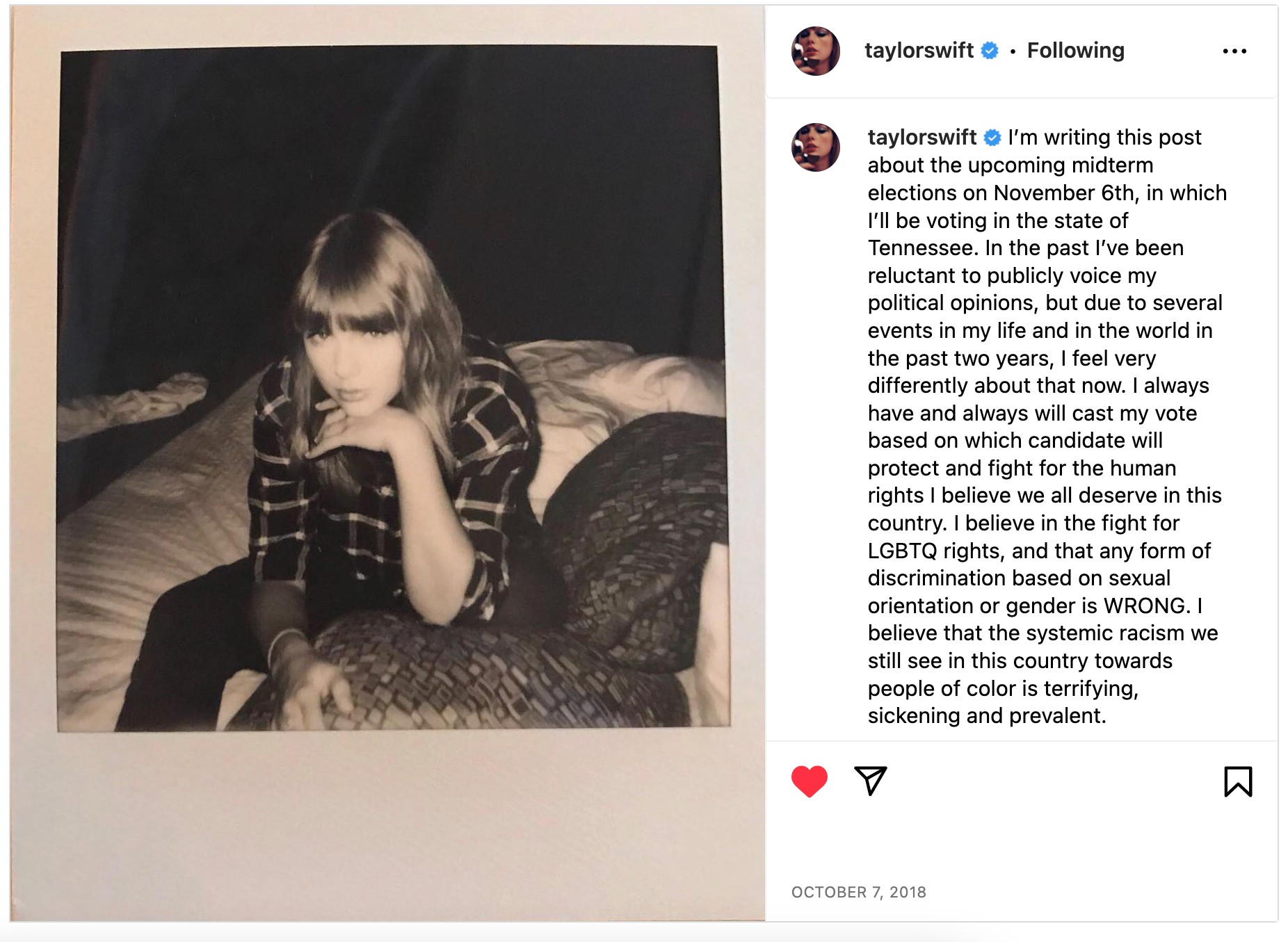 Even though people, myself included, love Taylor for her honesty, kindness, and art, it can be frustrating to be a fan of someone who doesn't understand your life experiences and therefore isn't fighting the same fights you are. As Mia explains, "There are just emotions and cultural understandings of things like responsibility and family that she will never know the way we do. And it can be hard to have this feeling of how she knows my brain like no other artists, but she will never know my culture and write that feeling."
"Blondie and I lived two completely different lives," Latina Swiftie Nathalie Nava teases, "I was thinking about this while listening to 'mirrorball' the other day & I was like 'hmm.. my girl is a nepotism bby & I am a first gen girlie taking out loans to scrape by a first year of grad school & dodge discrimination in a predominantly white program..' and for the first time, I felt the disconnect!" And while it's a seemingly everpresent feeling, Latina Swiftie Stacey Ramirez points out the ways in which Taylor gets it right, "What I admire about Taylor is that she acknowledges [the disconnect]. She's not trying to give you a sob story about how hard it was, she's not showing off financial wealth, she's self-aware." 
After Taylor's political announcement, I was expecting a lot more activism when it came to the issues she claims to care most about, and I'm not the only one. Whenever POC fans express this, though, or try to tell Taylor better ways to be an ally to their community, it's often met with disdain from the larger, predominately white, fanbase. As Rolling Stone article For Black Pop Stans, the Bare Minimum Is No Longer Enough interviewee Ajhée Nolen explains, "There's just always been this disconnect between black and white stans, because when we address a problem, the white stans think we're attacking Taylor which means we're automatically attacking them." 
Fellow Latino Swftie Mark Rodriguez explained this situation exactly, "I can't say that I've seen racism like upfront within the fandom, but I can say that when it comes to discussions about race it can get a little dicey. There was a discussion within the fandom about how Taylor usually only features white women on her music (HAIM, Phoebe Bridgers, Lana Del Rey, etc.) While POC Swifties would bring this up, some parts of the fandom would attack and bash any indication that there was even an idea that Taylor was racist. I don't think anyone was calling her a racist at all, but just pointing out that she doesn't collaborate with POC artists. It's just that there is a part of the fandom that will defend Taylor no matter what instead of realizing that she can be a flawed individual." And the judgment doesn't just come from within the fanbase. Sometimes it comes from our own communities.
When doing research for this article I came across multiple Reddit threads from different POC Swifties who felt ostracized or judged for liking Taylor from within their communities. One thread called "Experience as a Swiftie of Color" was posted three years ago and came from a black Swiftie who felt as if those in her community were devaluing Swift, "I know a lot of Swifties of color feel the same way – feeling like an outcast within the community and being labeled "white" because of our choices." Unfortunately, there were seemingly hundreds of responses from other POC Swifties who felt similarly. An East-Asian Swiftie added, "I sometimes get comments that I'm so 'whitewashed' when I say I like TS." 
Another Swiftie of Color responded, "I have at times been made to feel by own 'community' that in need to 'stay in my lane'…I'm over caring whether enjoying Taylor Swift means I'm not black enough tbh." As Latinitas Programs Manager, Beatriz Castillo explains, "Often the phrase 'that's white people music' would come up. And there would be an underlying tone of judgment coming from them, signaling that I was trying to be white and fitting in by listening to her music. When in reality I think her music is so universal and has nothing to do with trying to fit in–at least for me." 
Another thread titled "Mexican Swifties: anyone else having to defend Taylor to other Mexicans?" touched on the specific nuances that come from being a Latino Swiftie in an era where fake news is rampant. The original poster speaks about how during the Trump Administration, various Hispanic news outlets published unfounded stories on Taylor being a Trump supporter, "This was before Taylor became vocal about her political views and I guess the fact that she has never been to Mexico (EVER) didn't help." Since then, a large portion of specifically Latino people have disliked Taylor, with the poster asking "Does anyone else find themselves defending Taylor to EVERYONE because they think she's racist?" Even this simple question was seen as an issue. The user had to make an edit asking people to stop downvoting the original post, having to restate that they were not calling Taylor a racist, merely inquiring on why this is such a common misconception.
Your music and fandom should be your safe space. As a fan, you shouldn't have to worry about people within the group disliking your culture of all things. Similarly, navigating the nuances of being a Swiftie of Color shouldn't be an additional problem you face. While none of this is directly Taylor's fault, after all, she didn't create racial injustice and cultural prejudices, there are tons of ways she could help lighten this load. Plenty of Swifties throughout those threads expressed a lack of diversity when it comes to who Taylor invited to exclusive meet and greets, which fans were featured in concert videos, and who was being retweeted by the official Taylor Nation Twitter account.  
These aren't constant everyday issues, but when you pile them on they can make being a diehard Swiftie, a supposedly fun hobby, stressful. TikTok user @maxsmidnights13 articulated the issue perfectly, "It's really hard being a POC Swiftie in a fan base that's predominantly white where it's hard to make friends look like me that POC Swifties don't get nearly as much support by the algorithm or nearly enough recognition as the rest of the fandom does and it sucks because we have to work twice as hard to get the same attention as non-POC Swifties and how part of the problem is that it's rarely acknowledged and it's hard to present that issue to those who aren't POC." 
While sure, one retweet isn't going to change lives, a consistent lack of diversity signals to certain Swifties they don't belong. Everything adds up. This isn't shocking for someone who made their roots in the country music scene, but her fanbase has grown exponentially since then. Her music touches on universal themes and has global appeal, as such it makes sense that she would attempt to make every type of fan feel seen and wanted. This isn't some outcry for Taylor Swift to speak on issues that don't relate to her, as that level of disingenuousness can be equally bad, more so she acknowledges the racism within her fanbase and make efforts to highlight diversity in every aspect of her brand.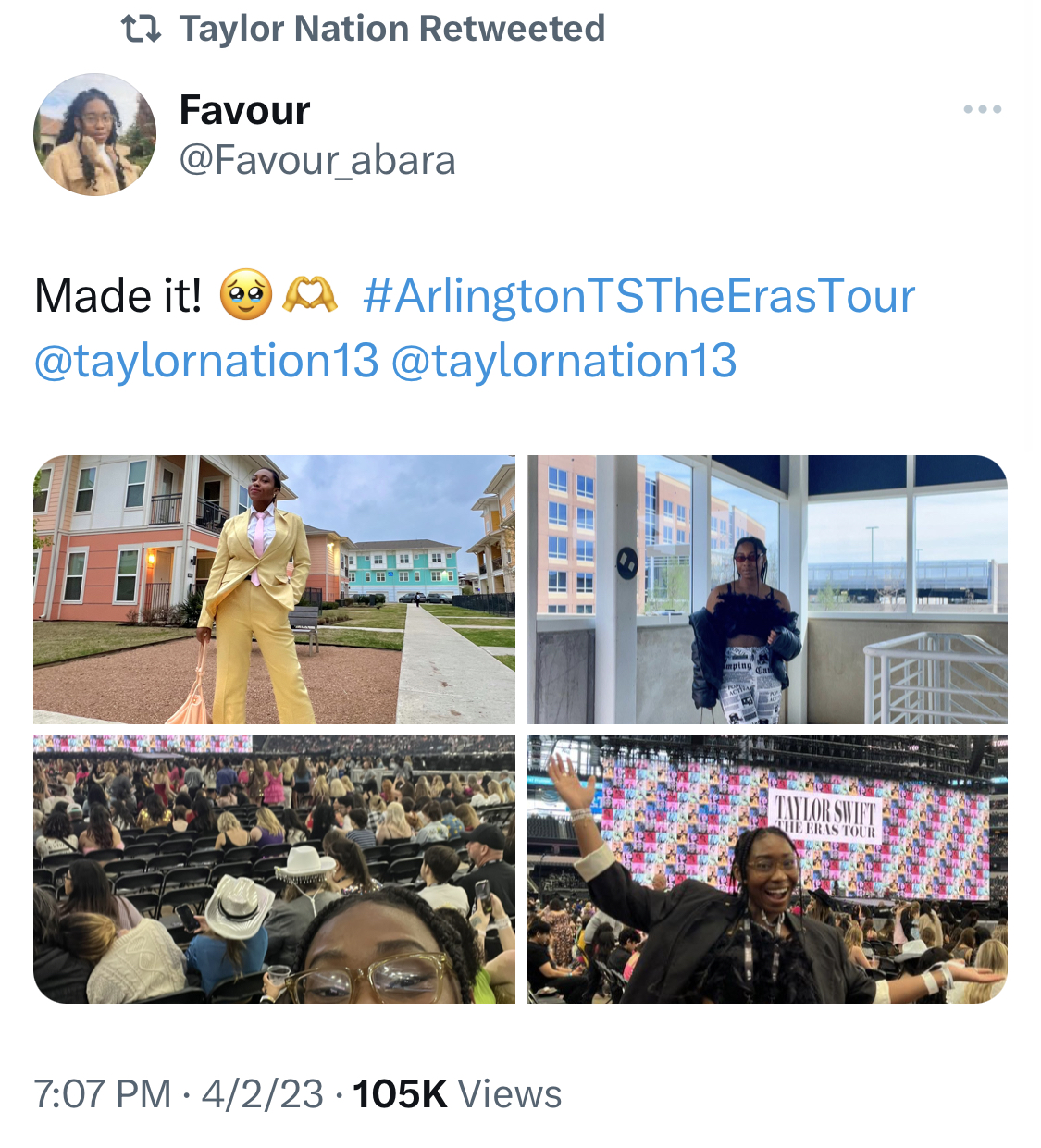 In a lot of ways, Taylor Swift and her team are already doing this. Since her political reckoning, Taylor's gone to extreme lengths to advocate for certain groups. In 2019, just a year after the Instagram post, Taylor released the music video for her single You Need To Calm Down. A video fully dedicated to, and featuring many members of the LGBTQ+ community. The video ends with a plea to sign her petition in support of The Equality Act, which according to American Progress, "would expand federal civil rights laws to protect LGBTQ people from discrimination in employment, housing, credit, jury service, and federally funded programs". 
Most of Taylor's recent costars in her music videos have been People of Color. In the Lavender Haze music video, her costar is Laith Ashley, a trans Dominican actor. The Lover music video features Christian Owens, a black love interest and former backup dancer for Swift. Similarly, Willow features Taeok Lee, a Korean man who was also a former backup dancer for Taylor on the Red Tour. As Swiftie Mia says, "Her tours are incredibly diverse in background dancers and singers. [It] gives all Swifties someone to look at up there with her and feel like it's them too." Then there's her documentary Miss Americana, where she opens up on the extreme sexism she's faced and the difficulties in being a competent woman navigating the music industry. 
Being a Swiftie has its unique challenges, but it's still an incredibly rewarding experience. Being able to bond with people who have a mutual appreciation and respect for someone's art will never not be beautiful. As always, there's more improvement to be seen, but there's also a lot to celebrate. Taylor's on tour right now, the fandom is more active than ever on TikTok, and thankfully Taylor is as well. People are making their Eras Tour outfits, there are fun fan projects happening everyday, and the comradery is palpable. If you do feel ostracized as a POC Swiftie, you are not alone. There are other Swifties of Color who post all over social media. I'd recommend checking out the hashtags #SwiftiesofColor #LatinaSwifties #POCSwiftie on any social media platform, and find your tribe! 
After all, if anyone's making you feel like you don't belong, as Taylor says, they are "A liar, and pathetic, and alone in life, and Mean." And You Belong With Me (okay, I'm done).