Talented, beautiful, and intelligent, singer Lupita Infante has emerged in the music industry singing both modern and traditional-styled Mexican rancheras, while becoming an inspiration and advocate for women through her lyrical content. She is also a rising star within the Regional-Mexican music scene and has already garnered two Grammy nominations for work on her debut album La Serenata from 2019. Infante also released a Christmas album "Alegria y Esparanza," in 2020, and is working on the release of her new album to be released this Spring. Not only is Infante a singer, but she has also cemented herself as a songwriter with songs such as "Dejaré" (co-written with Luciano Luna) and "Tú Con Ella y Yo Con Él" (co-written with Nadia Vasquez). 
With her grace, and charming and endearing voice, Infante's musical journey can be traced back to her iconic family lineage with both her father, singer and actor Pedro Infante Jr, and grandfather, music and film legend Pedro Infante, who both have inspired the singer to forge her own path and celebrate her musical and cultural heritage. Combined with her musical career, Infante has also juggled multiple stages in her life through education, various jobs, and family losses. Her determination to overcome adversity is shown through her multiple accomplishments through the years, and her optimistic approach to life. 
Born and raised in Southern California, Infante grew up bilingual and was exposed to music at a young age through her family and musical lessons. At around 10 years old she learned to play guitar through a local church, and learned how to sing. Infante also drew inspiration from her father, and reminisces about their time together, "I grew up watching my dad perform on stage and that was really interesting to watch because being so young and not really analyzing Latinidad in the United States, but kind of just being in it, I would watch him connect with the audience and to me it was magical," she shares. "He would talk to everyone, make them laugh or cry, and sing these songs that had such a power to them, and I think that was my introduction to what a live performer is," she adds. Infante's father would also often invite her to sing with him on stage, which helped propel her passion for music.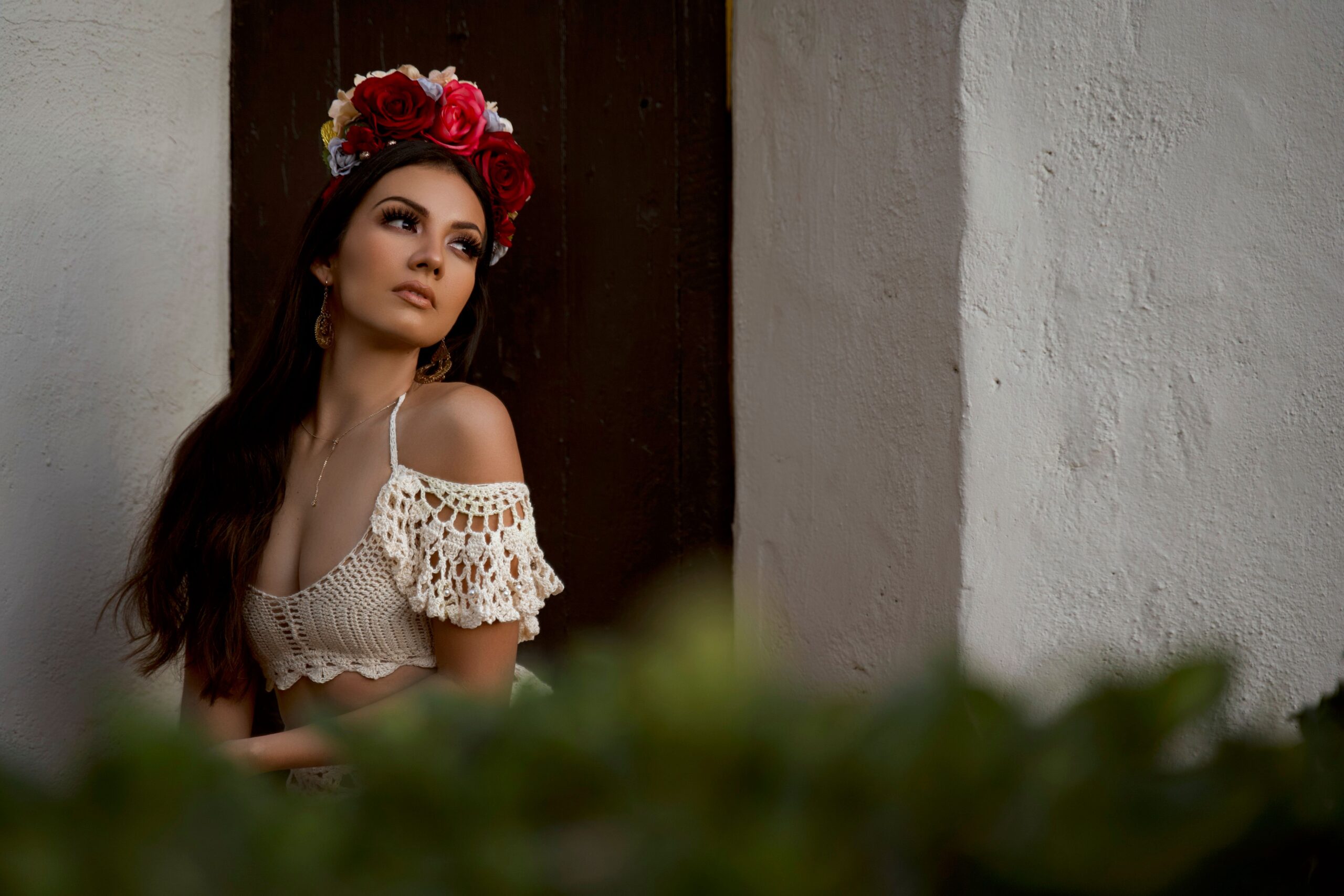 Initially growing up in Huntington Park, a predominantly Mexican part of town, Infante speaks more on her childhood, "My experience growing up here was pretty normal. I sort of lived in a bubble where I thought everyone was just Mexican, but after that, we moved to Downey, California and I realized there [were] other Latinos. My mom was also always working. It was always about working hard, doing your best, getting good grades, going to college, and it wasn't until I was older that I experienced what all of that really means." In 2009, Infante's life changed forever when her father passed away. "I was faced with a turning point in my life, and I felt like it was time for me to maybe pick up the torch and continue with tradition. I don't think I knew that at the time, but I just needed musical healing and through this music, I felt closer to my dad," she shares.Faced with some uncertainties and multiple suggestions from people, Infante chose to follow her instincts and do what she felt was right, "At the end of the day I just went with what was calling to me, and I was really able to discover a lot about myself. [Up] until this day I'm still discovering about my family, and the impact the Infante legacy has left behind," she said. Through Infante's journey, going to college also set the tone for her musical endeavors, and she started taking music more seriously while attending school. "I was in community college for a long time finding myself, trying to understand what I was going to do with the rest of my life," she said. "Music was always a part of it," she adds.
While attending community college Infante worked at a senior center for about 6 years and started teaching private music lessons. After her tenure in college, she enrolled at UCLA full-time where she studied ethnomusicology while continuing to teach. She also started self-producing songs during this time period and started developing more as a singer which eventually took her to audition for La Voz Mexico. "It wasn't until I graduated from UCLA in 2017, that I auditioned for La Voz Mexico, and you have to be in Mexico for a month at a time," she said.  "No normal job will let you take a month off, and that's when I applied for Lyft," she adds. Infante eventually worked for Lyft while taping the show through the summer of 2017, and also received her Bachelor of Arts degree in Ethnomusicology that Spring. Making it to the semi-finals on La Voz, Infante met her current management through the show who was impressed with her audition. Her management (EnTotal Agency) also worked with renowned singer and (judge) Laura Pausini. The connection helped establish her next steps after leaving the show where she signed with PeerMusic, and continued on developing even more so as a songwriter.
Currently, Infante is signed to Sony Music Latin, , and reflects on her musical influences, "During my formative years, I listened to a lot of No Doubt, Bob Marley, and Sublime. I then started getting into the female Mexican singers like Lola Beltran, Angelica Maria, and Linda Ronstadt," she said. When reflecting on her father's influence, Infante has a particular song that holds dear to her heart, "There's a song I always sing to remember my dad and his legacy, and what he gave to me as an inheritance which is this music," she said. "He recorded a song in the late 1970s and it's called "Ya Ni Me Acuerdo" a nostalgic song, and every time I would hear his recording of it, I could hear the fragileness of his voice and feel this sense of novice beginnings, and maybe just trying to find his path," she recalls. "I think he lived through a lot of pressure and weight, and it was a lot for him to live in the shadow of his father and I can feel all of that through this song. I feel that he was pushing through and that he was trying to do things for himself. It's a beautiful song and every time I sing that song, it takes me back to my dad's recording of it," Infante adds.
Acknowledging the pressures her father faced living up to his own dad, (while also losing him at a young age), Infante remains optimistic about her path and has a positive outlook going forward, "It's about finding your own path and really celebrating being a woman," she said. Infante admittedly feels less pressure when compared to her father because she is a woman and expectations are different, although there are some added challenges due to her gender and such challenges as the cultural gap and ties between American and Mexican culture. Coming from such an iconic family typically has it's pressure and comparisons, but Infante remains steadfast in her ideals. "I'm a woman, and on top of that add the complexity of being in the United States. I'm not even in the country where my grandfather was most famous, (Mexico), and growing up here it's a whole different experience for Latinos in general. I try to see the positive side of it, and just kind of knowing that nobody's going to be able to fill Pedro Infante's shoes and that's not my responsibility. That's not why we're here, but it's more of something to celebrate and at the same time celebrate how far we've come on our own without the ones we've lost, but maybe use them as a guide even though they're not here physically," she said.
Infante's college experience also helped open up her worldview and changed her perspective on life. She also dealt with feelings of uneasiness and insecurities during her time in school. "Being in college, and being a minority, and feeling like I didn't belong there came up. I also had feelings such as 'I don't know how I got into UCLA', 'maybe I'm not really supposed to be here' I thought at times, but I eventually managed and persevered," she said. When comparing the correlation between growing up as a Mexican-American versus those who grow up in Mexico, Infante shares her view on cultural identity, "It's so complex, obviously there are different kinds of resentments from people in the United States versus people in Mexico, and then the people in the US that are of Mexican descent, sometimes there is a lot of longing," Infante shares.  "For me, I'm more of an observer and I see all these complex relationships between both countries, and maybe it's a part of my ethnomusicology background, but I love to see how music plays a role in all of this and even in the musical and cultural exchange."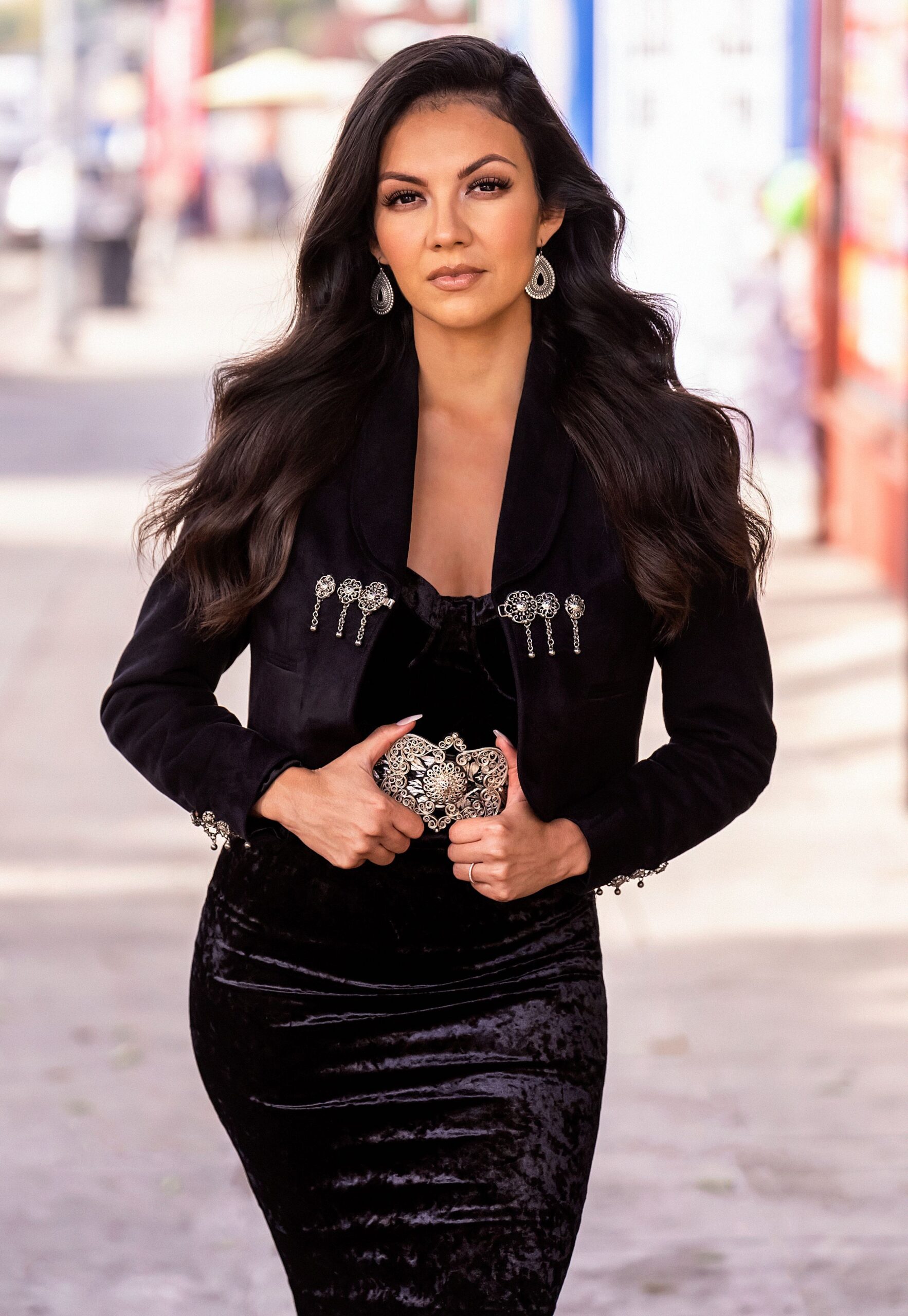 When it comes to challenges for women in the music industry, Infante feels that navigating through with determination and perseverance are key and speaks on the differences women may face when compared to men, "There's a ton of challenges that come in this industry, I think girls have it harder," she said. "Even getting ready, having to do makeup, worrying about wardrobe, and having to present yourself a certain way, there's a womanly performative aspect of what we do, but that's also the beauty of what we do. It's definitely not easy and you almost have to be fearless when it comes to different challenges, but it's almost better if you don't know what's out there to get you or bring you down. I feel like the craziest things I've done is because I dared to do it," she adds. Reflecting on Grandfather Pedro Infante, Lupita shares what her favorite film and songs are from the legend, "As far as films, one of my favorites has been Los Tres Huastecos," she said.  The film itself is a comedy adventure and was released in 1948. It features Infante as 3 different characters who are brothers but who are subsequently raised separately once their mother has passed. "It's really cool watching him because he's the bandit, priest, and military guy and each one of them is different. He does a really great job," Infante shares. 
The legacy of Lupita's grandfather has remained engraved in Mexican culture since his untimely passing in 1957. Considered one of the greatest figures in classic Mexican cinema and music, Pedro Infante is a major cultural icon, and is revered for his interpretations of classic ranchera and mariachi music. He is known for songs such as "Cien Anos," and "Amorcito Corazon," and his numerous popular films. Lupita also has many songs she admires from her grandfather, "He almost seems like a mythical type of person," she said. "I think one of my favorites is "El Muñeco de Cuerda," you can hear his velvety voice, and the musical arrangements back then were so beautiful," she adds. 
In keeping with family tradition, Infante is also making her mark on her family's legacy with her progression as an artist. She finds herself evolving and sharing the love of her deeply-rooted Mexican identity with audiences and fans alike and takes pride in connecting people to their roots, "I think as I grow into who I am and what I really stand for, I have been able to see how that impacts different audiences," she said. "I love to see how people here in the US watch one of my performances and are able to connect to something they feel like they're not as close to anymore. There's a lot of people that don't speak Spanish anymore, and I get people who come up to me and say 'My grandmother used to listen to your grandfather,' …I think it's really beautiful that through music I'm able to transport them and have that shared experience of who we are," she said. 
Currently, Infante has a new single out called "Besarte Así." It was recently released in March and is a precedent to her upcoming album. The song itself takes on a mariachi-pop sound, combined with Lupita's graceful and smooth vocal performance. Speaking of the new song, Infante shares her vision with us, "Besarte Asi, (Kissing You Like This), there's a line in that song that really gave the name to the album, 'En Las Películas De Antes Yo Lo Vi' which is referencing those classic films that I've been very inspired by because of my grandfather. 'Love like in the old movies.' There's just this very elegant type of way that love was portrayed in classic films, and all of the songs on this next album cover different stages of love," Infante shares.  
The album is expected to be released this Spring and has a classic sound, but with original new music written by Infante along with co-collaborators. We can expect songs on various love themes stemming from heartbreak, love-making, and personal reflection from Infante herself, "It's definitely a grown-up version of La Serenata. It's all original music which is really cool. It's very imaginative…such as how it would be to kiss the person you've been dreaming about kissing, there's a little bit of everything," she adds.
Infante also has the following advice for those who look up to her, "Follow your instincts and don't be afraid to really go for what you want to do. I think we don't give ourselves enough credit when we want to do something. Follow whatever you're passionate about, and I think even as women, as people, if you listen to your heart and intuition, it will take you where you're supposed to go and will bring you to your purpose, and that's been very much a part of my whole journey."
Be on the lookout for Lupita's new album, "Amor Como En Las Películas De Antes," and be sure to follow her on social media to keep up with her projects and upcoming performances.
Special Note: On April 15th, 2023, the Garden Pantheon in Mexico City will be holding an event to commemorate the 66th anniversary of Pedro Infante's passing and pay homage to him. The event starts at 10:00 am, is open to the public, and will feature special performances with various entertainment, and an appearance by Lupita Infante Torrentera, (Lupita's aunt).
Follow Lupita on social media.
https://www.facebook.com/lupitainfantexo/
https://www.instagram.com/lupitainfantexo/
https://twitter.com/lupitainfantexo
https://www.tiktok.com/@lupitainfantexo
https://lupitainfante.info/