There's a sort of ritual that happens whenever a new vehicle is bought in our household.
And usually, the late 80's American Hard Rock band — Guns 'n Roses–is part of it. 
My dad will climb into the driver's seat and usually, one of my siblings or I will sit on the passenger side. We'll be showing my dad how some of the new things work and he'll simply ask, "Donde se le ponen las canciones de rock?" (Where can I find the Rock songs?) 
There's something about Mexican dads, maybe all Latino dads, and their love for rock music. My dad certainly loves it ever since I could remember. I would hear the heavy drums, the beautiful guitar solos and the headbanging moments–all key moments that shaped my memories and helped me understand my usually stoic dad. 
I grew to love and appreciate rock because of my dad. Every key moment in our lives that has transpired, rock has been part of it–most notably, Guns N' Roses. 
Standing there in the crowd at Austin City Limits with thousands of fans anxiously and excitedly waiting for this classic band to begin their performance, I couldn't help but remember the times my dad would ask me to translate some of the songs for him. Not only did these songs help me practice translating but they helped my dad practice his English. Not until I was older that I discovered I translated some things wrong but hey, I was also getting a grasp on both languages. 
The band logo flowed into the giant TV screens and the crowd began to cheer. I only wished my dad was with me to see one of his favorite bands live. The well known rift of Slash's guitar and Axl Rose's distinctive voice made its presence known as they began to play "It's So Easy"–heads naturally banging to the rhythm of drums. Most of the audience was made up of older men and women, looking to be around my dad's age, with beers in hand and some even had cigars, enjoying this timeless band.
After all these years of hearing this band play in my living room, in my dad's work truck and subsequently in all the new vehicles at home, I finally got to witness this band live and in person. 
As Slash began the recognizable opening of "Welcome To The Jungle," the vibration of the drums and guitars mirrored those of the speakers of the newest truck we purchased–my dad turning the knob up to its maximum volume. I had to lower it so as to not disturb the neighbors and most importantly, not blow out the speakers. Seeing it live though, I only wish my dad was there to enjoy the full volume of the music.
When my dad's mom passed away, "November Rain" was played in the speakers of our desktop computer. My dad wasn't very much the emotional communicator and would never let us see that side of him that was hurting but in that moment, where Axl Rose's piano started playing and the crescendo of Slash's famous guitar solo that just rips through your heart's pain and puts it into a melody, I saw my dad in a vulnerable state. He extended his hand for me to grasp–the moment lasting no more than ten seconds, nodding his head with a sad smile and just waving for me to give him a minute. I wish our culture wasn't so restricting to males and their expression of their feelings and sorrow. My dad will make jokes, will move the sun, water, and earth for his loved ones and in the moment that he needed the most help, this band was able to provide some sort of comfort and even my presence as a 7-year-old. 
At Zilker Park, I felt as if I was standing alone in the middle of that audience and felt more connected to my dad than ever, all thanks to the magnificent performance of Guns N Roses and the countless times their music formed a part of my life.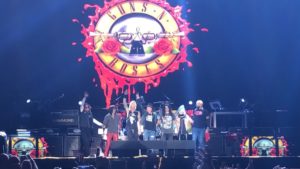 Want to read more stories like this? Give us your feedback, here!
Latinitas Magazine is a project of Latinitas, a registered nonprofit. We are funded by readers like you, so please consider donating today. Thank you!