This past Saturday, June 17th, Latinitas celebrated 21 years with their annual Purple Party fundraiser at the Mueller Branch Park Pavillion, this time with a Casino Night twist. Doors opened at 6 PM, and right off the bat guests were greeted with large purple die and Latinitas-themed Casino and Card posters to really drive the theme home. Once they signed in, the visitors were given a program for the evening, a meal ticket, and a chance to take a photo with a gorgeously hand-painted Latinitas mural by Carmen Rangel. In the center of the entrance was a table set up with everything available for the night's silent auction. Patrons could bid on the 19 bundles, each consisting of varying items housing a specific theme, like Date Night or Girl's Night Out, featuring items from vendors like Alamo Drafthouse, Starbucks, Thinkery, Esther's Follies, Origin Hotel Austin, and the list of over 45 vendors goes on and on.
In true Purple Party fashion, the guests were dressed to the nines in decadent purple gowns and snazzy fedoras. Before the program began, the attendees had time to grab some delicious food by Suculenta Cocina Mexicana, along with some aguas frescas courtesy of Latinitas alumni Brianna Martinez's company Aguas Chicas. At the heart of the Pavillion stood a stage, with rows upon rows of chairs, aimed at the stage theater-style. From the time doors opened, DJ Helios and Jennifer D'Spain Quartet remained on stage, with the DJ either blasting reggaeton or Jennifer serenading the audience with some trademark Selena classics. Her voice was amazing, and the beats were hard to deny.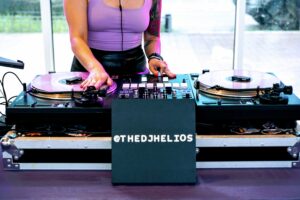 The Casino aspect of the night came in full force toward the back of the Pavillion, as there were multiple Casino games set up with everything from Texas Hold Em' to good old fashion Roulette. For a price, attendees were given chips and the chance to be entered into a raffle where they could win even more goodies. The games were fun, the music was good, and the food was absolutely divine. At around 7:40 PM, once everyone had had the chance to walk around and greet each other, the music died down and Latinitas Master of Ceremonies, Univision's Carolina Cruz came on stage to introduce the program, "Welcome, everyone! Que fiesta! We gather to show our support for a truly meaningful cause—Latinitas. It fills my heart with joy to see all of you here, joining together to make a difference…Tonight is a truly special occasion as we come together to recognize the incredible individuals who have played a vital role in the success of Latinitas."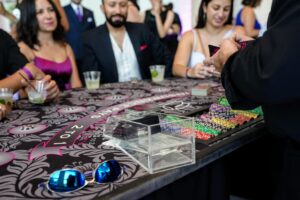 After her speech, Carolina announced Latinitas Interim Executive Director, Gabriela Kane Guardia, who shared a few words about the mission and her newfound position in the nonprofit, "Hola Bienvenidos a Purple Party! It is such a special occasion that we get to celebrate another successful year of Latinitas. As I stand here, I'm reminded of what exactly brought me into this organization, and it's each of you, and it's this community that really drew me in. I began my journey with the organization as a volunteer about two and a half years ago. Along that journey I've met so many wonderful faces and many of you are here tonight, so it's so wonderful to get to be here and celebrate this time with you. To some of you, I may be a new face in this role but I'm no stranger to Latinitas. When I started volunteering, I was helping prepared this very event, the Purple Party, a couple years ago." 
Gabriela went on to talk about how inspiring Latinitas has been not just to her, but to her younger sister, who was in Latinitas camps and clubs. Learning about tech and media, and getting empowered and inspired by their messaging. Gabriela's sister crochets plushies, and some of them were even available to bid on at the auction. Latinitas is an organization that preaches championing young Latinas into becoming courageous leaders, so to see Latinitas' very own Latina courageous leader in Gabriela was incredibly motivating.
After her speech, Gabriela invited Carolina back onto the stage to begin the Purple Party Award Ceremony. As Carolina introduced, "While we're here celebrating Latinitas and all they do, it's important to recognize the people who championed them along the way." The categories started off strong with the Volunteer of the Year Award, in which Carolina explained, "Since Latinitas began, they've relied on their community to help share in their mission and vision. Volunteers are what got their organization off the ground, and they are what continue to give them amazing support in putting on some of their biggest programs, like this one." After reading off the lovely nominees, Alyssa Padron, Emerald Lopez, Jo Anne Ortiz, Kassandra Foote, and Natalie Motta-Mena, Carolina announced the winner; CapMetro's Jo Anne Ortiz. She'd been a volunteer in several events, had been on the planning committee for Eco Chica, was featured on the Latinitas podcast, Unrepresented, and even ended up being a judge for Eco Chica. While she couldn't be at the ceremony, she did send in a video thanking everyone at Latinitas for her award. 
Next was the Ambassador of the Year Award, as Carolina continued, "Latinitas wouldn't be what it is today without their dedicated ambassadors amplifying their mission and extending their purpose in ensuring that the voices and talents of young students are uplifted and empowered on a broader scale." The nominees were Cynthia Bernard, Mel Berendzen, Denise Guzman, Christabell Nunez, Magda Sanchez, and after a tense drumroll, Denise Guzman was announced as the winner, "Thank you so much for this honor, I feel like Latinitas really has been such a filling-your-cup-everyday opportunity to give back…The friends and the support across the company I work at, Atlassian…The work that we've done and that we need to continue to do to help grow this and magnify it ten-fold. I'm here for it, I hope all of you are." Denise's 9-year-old daughter is even going to be attending Camp Latinitas this summer.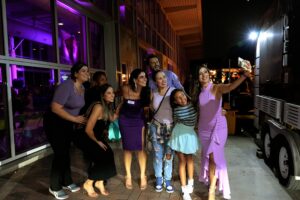 After her speech, Carolina returned to the stage to announce the nominees for the Alumni of the Year Award, Belinda Rivera, Diana Chavez, Khameyah Taylor, and Thea Wilson. After another tense round of applause, Latinitas' current marketing and communications intern, and former alumni, Khameyah Taylor was proclaimed the winner, "I want to start off by thanking all the staff, volunteers, ambassadors, sponsors, friends, and family. I'm very honored to receive this award. I've been blessed to be part of this amazing organization, a women-led organization, a multicultural organization. I truly appreciate how they have guided me and created me to be a young confident and strong woman. They have led me through my career path. They have led me through finding myself as a person in this world, especially being a Woman of Color." 
As her speech came to a close, Khameyah couldn't help but give a shout-out to those at Latinitas who've helped make her time with the organization special, "Gabi, Salwa, Alondra, Frankie, and many more staff. The list goes on. Again, thank you so much, and I love you all." 
Next up was Corporate Partner of the Year. The nominees were Atlassian, Google, JCPenney, Tesla, and ZenBusiness. After some additional suspense, Carolina announced JCPenney as the winner. They've worked directly with Latinitas for a little over a year now, creating a line for Hispanic Heritage Month that donated 100% of the proceeds to Latinitas. Their designers have visited Camp Latinitas, attended various Latinitas events, and even had three of their designers featured on the Latinitas podcast, "On behalf of all of us at JCPenneys, thank you to Latinitas for this incredible recognition. It's truly an honor for us to be recognized by an organization that has done so much work in the community to break down barriers for Latinas in STEAM, and open up a world of possibilities in media, leadership, and design. We recognize Latinos are the future, and that Latinitas is working to make that next generation of designers, engineers, entrepreneurs, and innovators." 
Lastly was Latinitas own Legacy Award, which went to Christina Olivarez, "I just want to say I'm super honored to be the recipient of the Legacy Award. I am originally from the Rio Grande Valley, and I was a proud intern at Latinitas in 2011. All my life I've wanted to be a news reporter and I really loved media and technology. But opportunities like everything that Latinitas provides is not available in the Rio Grande Valley, so when I found out about Latinitas when I was in college I immediately wanted to intern. I had the honor of watching these young girls just be innovative and creative. It was just so beautiful to see. So that when I ended up graduating I knew I wanted to be a part of this organization, and I kept donating and supporting…This mission is near and dear to my heart. And again I want to thank Gabi and Salwa and every single person that has been a part of this incredible organization."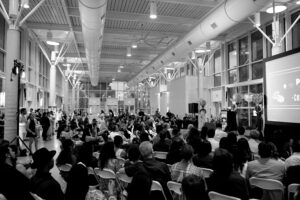 The Award Ceremony was absolutely lovely, but it wasn't over yet, as Latinitas ED Gabriela Guardia came back onto the stage to give a special award, "This is a bit of a surprise, so you might not see it on your programs, but we felt it was really important to recognize someone who's gone above and beyond for Latinitas for so many years." That person was none other than Latintias Board Chair, Karen Siles, who was absolutely shocked, "I've been part of this organization for more than 7 years. The way that I fell in love with Latinitas was when I was approached to start the Code Chica Conference. It's a one-day conference where we teach young girls how to code. I have a background in engineering, so I was like 'of course, sign me up, I will do it'. But since then, the mission lives through our hearts. … At one point I was a Latinita, I was a young girl looking up to someone in summer camp and when they said I want to be an electrical engineer, I said 'that's what I want to do too'." 
As they walked off stage, each recipient received a custom glass art piece with a purple butterfly as their trophy. Before the Ceremony came to a close, Carolina Cruz wanted to ask Gabriela one final question, "What are some of the ways parents can motivate their children to actually consider STEM careers in the future?" Without missing a beat Gabriela came in with a response, "When I think about ways parents can motivate their children, I encourage them to tell their children to be curious. I would tell them to go outside with their children, explore nature, encourage their children to ask questions. Let them explore their curiosity. Take them to museums, to galleries, to cultural events, to experience things in their communities…I encourage parents to be lifelong learners. I think when we have really great support from parents we create a really strong foundation for our students."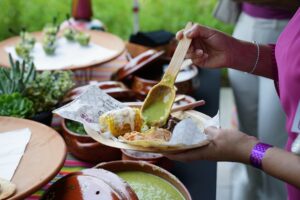 Once Gabriela said her thanks and goodbyes, there was nothing left to do but clear out the chairs and make room for a dance floor. Patrons salsaed, swayed, and sang as DJ Helios returned to the stage with some upbeat hits. People continued to auction, play games, and even tour some of the Teslas that were parked outside the venue with volunteers from the company just aching to give you a peak inside. The night was an absolute hit with the community and with the Latinitas staff.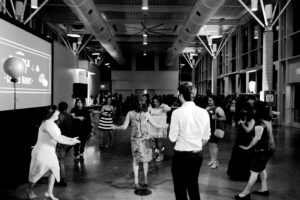 Purple Party was sponsored by Dell, Atlassian, Meta, Univision, Electronic Arts, Truist Bank, and the Economic Development Department at the City of Austin.