In the 1980s a new and fascinating genre of music emerged, which combined elements of disco, dance, pop, and electronic-styled music. This innovative form of music was coined "Freestyle" otherwise known as "Latin Hip Hop" at the time, or "Latin Freestyle"/"Latin Disco". Most artists who emerged with this new sound started in the underground music scene, and came from the East Coast in places such as New York City. Artists such as Lisa Lisa & Cult Jam put the genre on the map as their music videos were constantly rotated on MTV, and songs became hits on the Billboard charts. The sounds of Freestyle music were also widely popular in nightclubs around the country.  The musical sound behind Freestyle has a fusion of Latin rhythmic beats and instrumentation which is another reason the genre is referred to as "Latin Freestyle," with lyrical content centered on romance. Most artists in the genre were of Latino, Italian, or African-American heritage, and the music was highly popular within urban neighborhoods and especially amongst Latinos and Hispanics. Freestyle can also be credited as the precursor to 90s dance-pop and house music which was primarily popular in the early to mid-1990s. To learn more about the Latin-Freestyle sound, check out the 5 following artists who were trail-blazers in the genre, starting in the mid to late 1980s well into the 1990s. The following list contains iconic female artists in Freestyle that have created a lasting legacy in music history.
The Cover Girls
Hailing from New York City, the glamorous Cover Girls were formed around 1986 with members Angel Mercado, Caroline Jackson, and Sunshine Wright. Wright eventually left the group, and Margo Urban joined as the 3rd member in 1987. The Cover Girls debut album, "Show Me" was released at the end of 1986, and features a total of 8 tracks. Notable songs off the album include the popular "Show Me," "Because of You," "Spring Love," and the ballad "Promise." Lead vocalist Angel Mercado (of Puerto Rican descent) has such a unique and beautiful voice which became the signature sound of the group. The Cover Girls were also one of the most glamorous and sophisticated groups in Freestyle music and were known for their fashionable wardrobe which consisted of sequined dresses, stockings, heels, multi-colored outfits, beautifully permed hair, and other fashionable statements popular at the time. The group made multiple appearances on Club MTV and performed on Dick Clark's American Bandstand. The ladies also toured with New Kids On The Block and performed in Europe and Japan. Although some line-up changes occurred in the early 1990s the group's core members and songs are still popular with fans to this day. The group is currently touring as "The Original Cover Girls," with Angel, Margo, and Michelle. Catch them on tour in a city near you.
Sa-Fire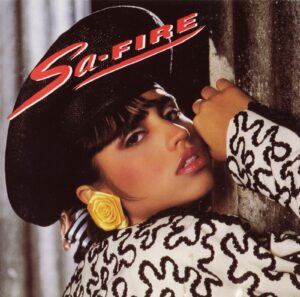 Born in San Juan, Puerto Rico, singer Sa-Fire (Wilma Cosme) grew up in New York City, and became a sensation on the music scene. Sa-Fire released her first single "Don't Break My Heart" in 1986, and her self-titled debut album was released in 1988. The first single off her debut album, "Boy, I've Been Told," was written by popular salsa singer Marc Anthony, and features Latin styled-instrumentation mixed in with an electronic danceable beat. Sa-Fire performed the single on Club MTV. Other notable songs include "Let Me Be The One," and the ballad "Thinking Of You." Sa-Fire went on to release 3 more albums and is known as an icon in the Freestyle genre, while her exotic and glorious voice is a bit reminiscent of Madonna. Sa-Fire is still performing at various festivals and events around the country. Follow her on Instagram to check out upcoming performances.
Exposé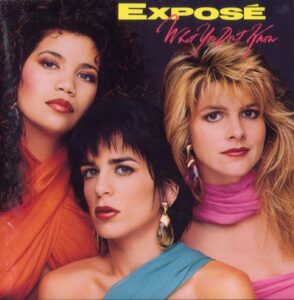 Formed around 1984, Exposé was a leading artist in the emerging Freestyle sound and became one of the most popular girl groups within the genre. Based in Miami, the group scored numerous hits with songs such as "Point of No Return," "Let Me Be The One," "Come Go With Me," and "Seasons Change." Their first album "Exposure" was released in 1987, and all 4 songs became top ten hits. Members consisted of Gioia Bruno, Ann Curless, and Jeanette Jurado who is of Mexican-American descent. The group was well-known for their elaborate fashion and well-versed dance moves. The group was also unique in that all members had sung lead vocals on various songs, most notably between Gioia Bruno and Jurado. Bruno offered strong and soulful vocals, while Jurado's lovely and angelic voice made for a great counterbalance. Jurado sings lead vocals on the group's well-known ballad "Seasons Change." All 3 members complimented each other very well, and Exposés legacy has remained intact as one of the most well-known groups from their era. Jeanette Jurado also made an appearance in the 1995 film "Mi Familia" featuring Esai Morales, where she plays a 1950s-era singer, singing the song "Angel Baby" at a dance party.  Check out Exposés' full discography here, and social media for upcoming performances. 
Sweet Sensation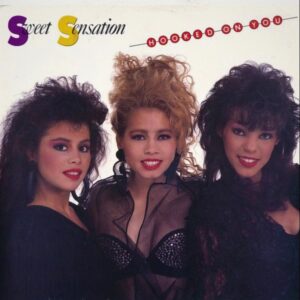 Formed around 1985, Sweet Sensation originated in The Bronx in New York City and consisted of lead singer Betty LeBron, and various members including Margie and Mari Fernandez, and Sheila Vega. The group's members were primarily of Puerto Rican descent and became known for their popular songs "Hooked On You," "Love Child," "Never Let You Go," and the ballad "If Wishes Came True," a staple at many high school proms in the early 1990s. Like many other Freestyle groups at the time, Sweet Sensation had a keen fashion sense and displayed the colorful fashions of the 1980s and early 1990s in their music videos. Lead Singer Betty LeBron's radio-friendly and Freestyle-oriented voice marks the group's signature sound. Sweet Sensation released their first album "Take It While It's Hot," in 1988, and their second album "Love Child," in 1990. The group still tours at many Freestyle music festivals around the country. Follow Betty and Sweet Sensation on Instagram to learn more, and check out their music discography on digital platforms.
Corina Ayala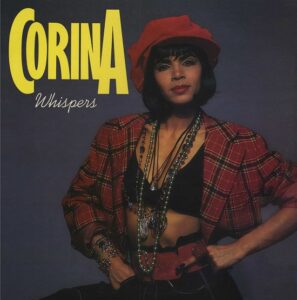 Corina is a Puerto Rican Freestyle artist, actress, and beauty queen from New York City. She released singles "Out of Control," and "Give Me Back My Heart," in both 1987 and 1988. Her self-titled debut album was released in 1991 which featured the popular song "Temptation." Her dance tracks were often played at nightclubs, and she performed on shows such as Club MTV, Entertainment Tonight, and The Apollo. At the age of 14, Corina won Miss Hispanic America and was a runner-up for Miss Puerto Rico. She's also acted opposite Marc Anthony, Susan Sarandon, and John Cusack in various films such as "East Side Story" from 1990, and "Cradle Will Rock" from 1999 where she portrays Frida Khalo.  Corina released the single "Tni Li Neshika," in 2021, still tours in Freestyle festivals, and is working on a potential new album. Check out Corina's music here,  it'll surely make you want to dance!
Lisa Lisa & Cult Jam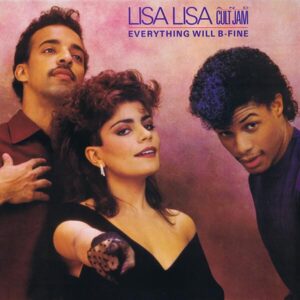 Formed in New York City around 1985, Lisa Lisa & Cult Jam was a group that consisted of Lisa Velez and band members Alex Moseley and Mike Hughes. The group became highly popular and was one of the first musical groups to emerge in the Freestyle genre, and Velez (Puerto Rican descent)  became an inspiration for other Latinas that followed in the music industry due to her success. Lisa Lisa & Cult Jam's first album was released in 1985, and a collaboration with the 1980s Hip Hop & R&B group Full Force. The album spawned the hits "I Wonder If I Can Take You Home," and "Can You Feel The Beat." The group's music videos were in constant rotation on MTV, and they even scored crossover hits on the pop charts with songs such as  "Head to Toe," and  "Lost in Emotion," from their 1987 album Spanish Fly, making Velez one of the first Latinas to cross over into the pop, dance, and R&B charts.  Lisa Lisa is currently on tour. Check out more music here. 
References:
(32) The Cover Girls – Because Of You [Official MV] – YouTube
Show Me – Album by The Cover Girls | Spotify
The Cover Girls (@wearethecovergirls) • Instagram photos and videos
(32) Lisa Lisa & Cult Jam – Lost In Emotion (Video) – YouTube
(32) SaFire – Boy Ive Been Told Official Music Video HIGH QUALITY – YouTube
(32) Safire – don't break my heart (1986) Freestyle Music – YouTube
Sa Fire (@safireofficialpage) • Instagram photos and videos
Safire music, videos, stats, and photos | Last.fm
Home | Exposé – Expose' is Gioia, Ann Curless, and Jeanette Jurado (exposeonline.net)
Exposé (@exposeonline) • Instagram photos and videos
(32) Exposé- Point Of No Return – YouTube
(32) Exposé – Let Me Be The One – YouTube
(32) Exposé – Come Go with Me – YouTube
(32) EXPOSE "Seasons Change" – YouTube
Betty Dee (@missbettydee) • Instagram photos and videos
Sweet Sensation (@officialsweetsensation) • Instagram photos and videos
(30) Give Me Back My Heart – Corina – YouTube
(30) CORINA GIVE ME BACK MY HEART 1989 5 – YouTube
(30) Corina OUT OF CONTROL VIDEO – YouTube
(30) Corina – APOLLO THEATRE – Performance TEMPTATION – YouTube
CORINA/Artist/ Public Person (@thefirstcorina) • Instagram photos and videos
Full Force Biography, Songs, & Albums | AllMusic
ABOUT | Lisa Lisa (thereallisalisa.com)
(310) Lisa Lisa & Cult Jam – Head To Toe – YouTube
(310) Lisa Lisa & Cult Jam – Can You Feel the Beat – YouTube
(310) Lisa Lisa & Cult Jam, Full Force – I Wonder If I Take You Home (Official Music Video) – YouTube
(310) Lisa Lisa & Cult Jam – Lost In Emotion (Video) – YouTube
LISA LISA (@lisalisall77) • Instagram photos and videos
Lisa Lisa & Cult Jam | Spotify
Spanish Fly – Album by Lisa Lisa & Cult Jam | Spotify