Recently crowned Miss San Antonio USA, 22-year-old Lillian Perez is grateful for her accomplishments, and her ability to overcome adversity which has only driven her ambition, confidence, and success. Reflecting on her recent win, Perez is also excited to share her thoughts on the competition and what came to mind as she was announced the winner, "The first thing that really came to mind was, oh my gosh… it's happening," she said. "I'm a former Miss San Antonio Teen USA 5 years ago, so I knew that when I wanted to come back as a "Miss" I wanted to do it strategically when I felt ready," she adds. Perez's days were filled with intense training mixed in with work and school cultivating in long productive days, "Throughout training it was one of the most difficult seasons of my life. I'm a fulltime student, I also work, and along with that I participated in research with a graduate student. I was exhausted, and at the end of a 12-hour day, it's hard trying not to go for the cheat meal. Your goals don't care if you're tired and of course with anything that you're working towards, there's days where you are doubting yourself, and it gets hard. So the moment they called my name I was like 'I did it…. I can't believe I did it', and it's one of the best feelings by far." Perez also has an exciting summer coming up, as the stunning beauty queen is currently prepping for the Miss Texas USA pageant this coming July.
Initially growing up in Del Rio, Texas, Perez always knew the world of pageantry was for her, "When I was asked what I wanted to be when I was younger, I always said, "Miss Texas," she said. "I always kind of knew it was a calling for me and once I was in high school, I started to stream pageants online to learn more about the industry." During Perez's sophomore year in high school, she moved from her hometown of Del Rio, Texas to San Antonio, and entered the Miss San Antonio Teen USA pageant during her junior year which she ultimately won. Perez has many fond memories as a teen title holder and speaks on that particular time, "It was the best experience of my life, and the best weekend of my life hands down was at the Miss Texas Teen USA pageant." Perez was able to form friendships with other girls, and had a blast networking and meeting others, "The experience is indescribable, but my favorite thing about it all was the growth you get along the way," she said. Perez's initial move to San Antonio came with its challenges as well, as she had to navigate living in a new city, "It was a rough transition for me," she admitted. "That adjustment was hard, but thankfully I did [it], and I also have a very supportive family. Their contributions have really gotten me where I am today." Perez eventually graduated from high school in 2019.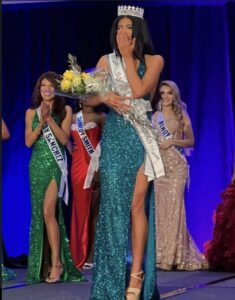 Currently, she is a full-time student at UTSA (University of Texas San Antonio) where she is studying Kinesiology (Science major) and Business Administration, "My goal is to get into a doctorate program (grad school) for physical therapy," she said.  Perez will graduate next Spring with her Bachelor's degree, and is currently busy juggling two-part time jobs at CycleBar (Stone Oak). She works the front desk and is also an instructor. Speaking of her work, Perez offers insight into her passion, "I've always been passionate about wellness, health, and moving your body. After taking my first class, it was so much fun, and I couldn't get enough of it which led me to becoming an instructor. I never had the confidence to put myself out there, but it wasn't until last Spring that I was like it's now or never," she recalls. Perez eventually entered the boot-camp process and became a certified instructor.
In terms of managing a work/life balance, Perez is handling her obligations with a strong work ethic, "I can't stress the importance of time management. My days have been 12-15 hours, getting up at 5 AM every day, going to class, instructing, and training. I cannot be more grateful for those moments, and I still make time for my meal plans, and still stay on-point with my trainings. Navigating your time properly really gives you a mental edge," she said.  Perez also makes time to enjoy city life in San Antonio and loves how friendly people are in town, "One thing I love about the city in general is that people are so welcoming. [The] people are amazing, and the food is amazing. I love being able to go to a variety of events, I love everything about the city." Perez's favorite places include The Pearl near downtown, and La Fruteria in Southtown.
Speaking of her Latina/Hispanic heritage, Perez comes from a multi-cultural background with ancestry from Portugal, Spain, and Mexico, "My dad grew up in Mexico, and eventually moved to Del Rio," she said. "It's always kind of weird, being born and raised here, sometimes you don't quite fit in with the fluent Spanish speakers, or others, your sort of in the middle. These challenges presented themselves sometimes at school, or jobs I've held, but my background has never been an issue for me in pageantry. In my experience as a Latina in the pageant world, everyone has been very supportive."
 When it pertains to pageantry, Perez offers insight into self-doubt but believes that pageantry offers opportunities to   overcome such challenges, "Pageantry really forces you to question your confidence. In terms of the work and       preparing for a pageant, there's a lot of work that goes into it that a lot of people don't realize. There's interview   training, stage presence, it's all about cultivating that confidence. The beautiful thing is that it's an opportunity to push    past your self-doubt, it's about 'why not me', I do have what it takes. Be prepared to overcome your mind, and be able    to stand firm in who you are," she said. Perez also loves the experiences that also come along with pageantry such as     the networking and amazing sponsorships offered by the Miss USA/Miss Universe Organization "Thankfully being    a title-holder, you get to work with some wonderful sponsors–it's truly an experience." When speaking of social media, she also believes that utilizing online platforms can be a beautiful thing, but detrimental if not used properly. In   advising young women out there, Perez shares her thoughts on the subject,  "It's easy to fall down that hole in   comparing yourself to others online, and it's important to take accountability and be mindful of what you're feeding   yourself. It's important to take control over your life and with confidence. With that will come success, growth and   prosperity. Disconnecting sometimes is also needed, and gives you space to work on yourself."
 In terms of health advice for others, Perez encourages people to take care of themselves physically and mentally, "It   can be intimidating to start working on yourself physically, but I can't stress enough the importance of taking care of   yourself. Both of my grandmothers passed away from physical illnesses, so seeing that really solidified the importance   of health and wellness for me." she said. Other challenges Perez has faced include battling an eating disorder, sexual   abuse, and feelings of self-loath through the years in which she recently started the process of healing from. Perez's   obstacles have only propelled her to reclaim her life and keep on pushing forward, "It's a very recent journey for me,   growing up I was always called lanky or anorexic, and I understand what it's like to feel uncomfortable. I'm also very thankful I took the step in hiring a coach to help me in my journey from healing."
Perez also credits Miss San Antonio director Ché White, and former Miss Texas Alaya Benavidez for their mentorship during her pageant journey. Both White and Benavidez have been strong supporters of Perez and she is forever grateful for their genuine friendship, honesty, and mentorship.
Going forward, Perez has plans to work with community organizations and be an advocate for those who have suffered from abuse (physical, sexual, mental), "Coming forward has put me on this path of healing, and stepping into who I am. It's been a very challenging thing, and I'm still in that process of working through [it]. I definitely look forward to working with my community to empower any victims. If there's one thing I want, it's not to waste time. I wish I had started my healing journey years ago, but now I would love to be a source of drive that pushes people to be comfortable in speaking out," she said. "Healing comes from growth. There [is] so much value in that, you can go through hell and back that doesn't mean you're any less capable [than] the person next to you, and to get to that next level in life, you need to prioritize your mental health, and can't shy away from getting help. Everyone's life has so much value and everyone has a purpose."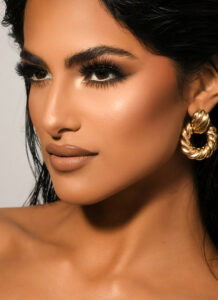 Perez also believes that kindness goes a long way and encourages people to support others, "It's so important to hold onto your character, and be in support of others. I hold a lot of pride in my integrity and in my kindness." 
As for prepping for the Miss Texas USA pageant, Perez is excited to be representing San Antonio and is currently working with coaches, and training to perfect all areas of competition in the fields of fitness, stage presence, interviewing, modeling, and evening wear, "It's definitely more intensified, I'm pushing harder in the gym and have more frequent trainings. I get to work with some amazing coaches that I'm grateful for," she said. She is also excited to be working with a Houston-based designer for some of her upcoming pageant looks. Feeling the love of pageantry from a young age, Perez wants to utilize her platform to help people, "I know this is for me, being able to come out successfully in both the Miss Teen and Miss categories solidifies that this is what im meant to do, I'm meant to help people, and push people to grow." 
Catch Lillian at the Miss Texas USA competition in Houston from July 14-15th. The pageant is one of the most competitive in the country, and both nights are sure to be filled with exquisite glam, and memorable moments. The pageant will be available to stream online and to attend in person via ticket purchases.
Follow Lillian and the Miss San Antonio USA and Miss Texas USA organizations on social media for support and to keep up with events.