At 19 years old, popular singer Ashley Acosta has made a name for herself with her powerful and versatile vocal abilities. She has mastered singing in English and Spanish, and is known for her multiple appearances on Spanish-language television networks where she's competed in a variety of musical competitions. Born and raised in Houston, Texas, Acosta received her first big break in entertainment at 11 years old on Telemundo's La Voz Kids, where she performed a stunning version of "La Cigarra", a challenging and traditional Mexican song. She then appeared on Univision's Sabado Gigante, both in 2015. In 2021, she won Estrella TV's Tengo Talento Mucho Talento where she split the winning prize with a fellow competitor in the all-female season that year. This had been the second time Acosta had appeared on the show, so the win was all the more sweeter for the young singer. In 2021, she was also featured in Billboard's Music list of "23 Women in Regional Mexican Music" to watch. As a young and up-and-coming artist, there is no doubt she has the vocal ability to sing just about anything, and she is a great reminder that genuine raw talent still exists in today's music scene. 
Since winning her last competition, Acosta has been working hard to forge ahead in her musical career and recently graduated from high school last Spring marking a new chapter in her life, "After graduating last year, I was able to do more things music-wise, and had more flexibility," she said. Graduation had initially been stressful for the singer as she was juggling multiple classes along with traveling and recording new music, "After I received my diploma, I knew my hard work paid off," she adds.
When it comes to music, Acosta realized her passion for singing as a baby and was encouraged by her father to pursue music, "I was shy growing up, and my dad encouraged me a lot which helped me overcome that issue," she said. "When I was around a year old, I started feeling passion towards music, and my parents recognized that, and thanks to them I'm in the position I am now. The first song I remember singing was 'So This Is Love,' from Cinderella." Acosta's journey has also taken her to perform in various cities around the United States, and at multiple festivals and concerts in Texas.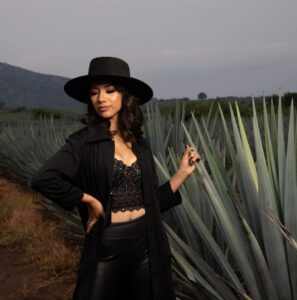 Her musician father, who is also a DJ, has been essential in managing her career, and her mom has also contributed to her daughter's success by adding to her fashion sense in the ways of creating wardrobe for Ashley's performances. Speaking of her mom's talent, Ashley is excited to showcase her upcoming music videos, "The two videos that are coming out soon that I actually recorded in Guadalajara, Mexico….I will be wearing dresses that were all made by my mom, and I'm really proud of her," she said. 
When reflecting on her multiple TV appearances, Acosta is grateful for learning and growing as an artist, "My professional singing career started around 11 when I appeared on La Voz Kids, and all of my experiences have been so much fun. I never really had a ton of friends growing up, but I was able to make a lot of friends and memories along the way, and even keep in touch with some of the judges on the shows I've been on such as Ana Barbara." Other judges Acosta has had the privilege of meeting and interacting with include Pedro Fernandez, Daddy Yankee, and Chiquis.
Additionally, Acosta can sing a variety of musical styles such as blues, jazz, pop-rock, and mariachi. She has been influenced by a diverse pool of musicians and artists that span through the decades, "I love artists such as Selena Quintanilla, Rocio Durcal, Amalia Mendoza, Flor Silvestre, Pedro Infante, Whitney Houston, Ella Fitzgerald, and so much more." Acosta also loves newer contemporary artists such as Billie Eilish, "She's amazing, I love her lyrics and songs," she adds. To hear Ashley's diversity in vocals and music, listen to her rendition of the classic jazz song, "Misty," where she does an excellent job at interpreting such a mature sound. Her voice is almost unrecognizable as it is a huge contrast from her power vocals, which further showcases the range in her outstanding and beautiful vocal abilities. 
Acosta's musical influences can also be heard through her original works of music. In 2021, she released original songs with singles such as the banda-styled "Te Necesito", "Quiero Arriesgarme Contigo", and "Inalcanzable". Her musical style overall incorporates the sounds of mariachi, ranchera, pop-oriented ballads, and banda. Songs such as the ballad "Un Amor Tracion" and the melancholy love song "Dejate Querer" are also dear to her since they are self-penned by the singer. Speaking of her music, Acosta reflects on her songwriting, "I've written many songs throughout my life, but so far those two are the ones that have been produced," she said. Reflecting on her own song "Dejate Querer" she explains, "This song is about a girl who is telling a boy to let himself be loved. The girl knows the boy feels some type of attraction towards her and basically she is in love with him as well." The song is a reflection of Acosta's music versatility as you can hear influences of jazz and blues, along with her guitar playing, "We are also planning on putting that particular song on Spotify to go along with my other singles," she said.
Speaking of her Mexican roots, Acosta reflects on her heritage and strong ties to Mexico as most of her family hails from Salamanca, Guanajuato, "I'm really proud to be Mexican, and I love my culture and roots. I love everything such as our food, folklore dancing, and the music especially, including the history of Mexican music. It's really amazing. I love showcasing my culture and sharing my music with people." she said. Acosta strongly cherishes her roots and often travels back to Mexico to visit with family and record music as well.
In terms of being a female singer in Regional-Mexican music, Acosta shares her thoughts on women in the industry, "I'm really confident in myself as a Latina singer, and I have a lot of potential. I feel like it's harder in the music industry for Latina women to succeed, but I don't dwell on that.  I like to appreciate that I've been able to accomplish so much as a Latina singer," she said. "Men are perceived as having more power in the music industry and having a greater chance, and at times I can get impatient, but I give myself credit for pushing myself to keep going, and there's so much more to accomplish," she adds.
When it comes to her hometown of Houston, Acosta speaks of the love she has, "My blood runs in Mexico, and it's beautiful out there, but I've been in Houston my entire life. Living in Houston, there's a lot of opportunities and more diversity. I'm really proud that my parents had me here, and I'm proud of my roots," she said. Acosta has also had the opportunity to work with Houston-based boutique, 'Estilo Isabella,' where she's modeled dresses and even had the chance to wear the boutique's beautiful gowns in her videos.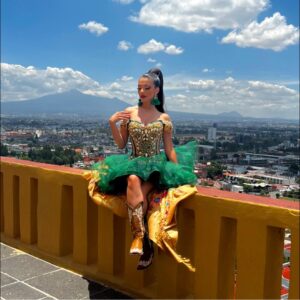 Currently, Acosta has over 172K followers on TikTok, and is working on music projects to be released this year. She is also working with Jorge Cabrera who is a musician in popular Mexican singer Ana Barbara's band. Acosta is currently singing with Cabrera's group, Fusion Latina, and they perform throughout the state of Texas and the Houston area. Going forward, Acosta is excited for her future and share's what her current plans and goals are, "We can expect new music videos with a known artist from Ecuador, and possibly a new album," she said. "I also have a variety of other musical projects in the works, and will be traveling to film more music videos soon," she said.  Plans for continuing school to study music is also a potential for the young singer as she talked about her interest in exploring music theory.
Ashley also has advice for young women who are navigating through life and their careers, "My parents always remind me that I may be young, but emphasize the importance in keeping myself healthy. It's definitely important to keep our bodies healthy, but also having a good balance with fun as well. Advice I also always give to people is to have patience and expect to go through challenges, and to have a lot of love and passion for what you do. I have to remind myself to be patient, and that God gave me a gift for a reason. Having patience, passion, and humility are so important, and I'm just grateful for everything I've been able to achieve."
Catch Ashley this summer where she will perform on July 22, 2023 at the PlazAmericas Mall in Houston, Texas. Doors open at 7:00 pm and the concert is from 9:00 -11:00 pm, with an after dance-party featuring Ashley's dad as the DJ, (DJ Cannelo). Info & ticket information available via Ashley's Facebook. 
Follow Ashley on social media to keep up with her music. 
Instagram: @ashley.juliette.acosta
TikTok: @ashley.juliette
FB: Ashley Acosta | Houston TX | Facebook
References:
 La Voz Kids | Ashley Acosta canta 'La Cigarra' en La Voz Kids 3 – YouTube
I Have Talent A Lot of Talent by EstrellaTV
Regional Mexican: 23 Women You Should Know – Billboard
QUIERO ARRIESGARME CONTIGO *Ashley Acosta – YouTube
AMOR DE UNA TRAICION. – YouTube
Cinderella – So This is Love – Lyrics – MrsDisney0 – YouTube
Thinking Out Loud (Cover) / Fusion Latina Houston – YouTube
TTMT 11 – FINAL – Ana Barbara – YouTube
Ashley Juliette Acosta (@ashley.juliette) | TikTok
Ashley Acosta 🇲🇽 (@ashley.juliette.acosta) • Instagram photos and videos
ASHLEY ACOSTA jazz Misty – YouTube
Public account (@estiloisabella15) on Instagram
Ashley Acosta | Houston TX | Facebook
PlazAmericas | Houston's Mall of the Familia
Solo Tu – Pedro Fernadez (Mi Forma De Sentir) Video Oficial.wmv – YouTube
Chiquis – Porque Soy Abeja Reina (LETRA) – YouTube