On Monday, April 10th, 2023 iconic film star, and Academy Award Winning Puerto Rican actress Rita Moreno graced the stage at The University of Puget Sound in Tacoma, Washington, as part of The Susan Resneck Pierce Lectures. Moreno is notable for being the first Latina to win an Academy Award for her role in West Side Story , (1961), and for her multiple achievements in film and entertainment through the decades. The series had the honor to host Moreno this year, and typically hosts annual events where prominent individuals in the arts such as writers, artists, and intellects are invited to speak at the university, (Series is named after Susan Resneck who was president from 1992 – 2003.) The University itself is nestled in Tacoma (southwest of Seattle) and surrounded by beautiful- lush greenery and water. I had the honor to attend the event which I had been anticipating for weeks. When I finally arrived at the university's campus that Monday, I immediately took notice of how beautiful and vintage it was and was even more excited about the event. As I walked into Schneebeck Concert Hall, (University School of Music) I noticed many individuals walking into the venue to take their seats.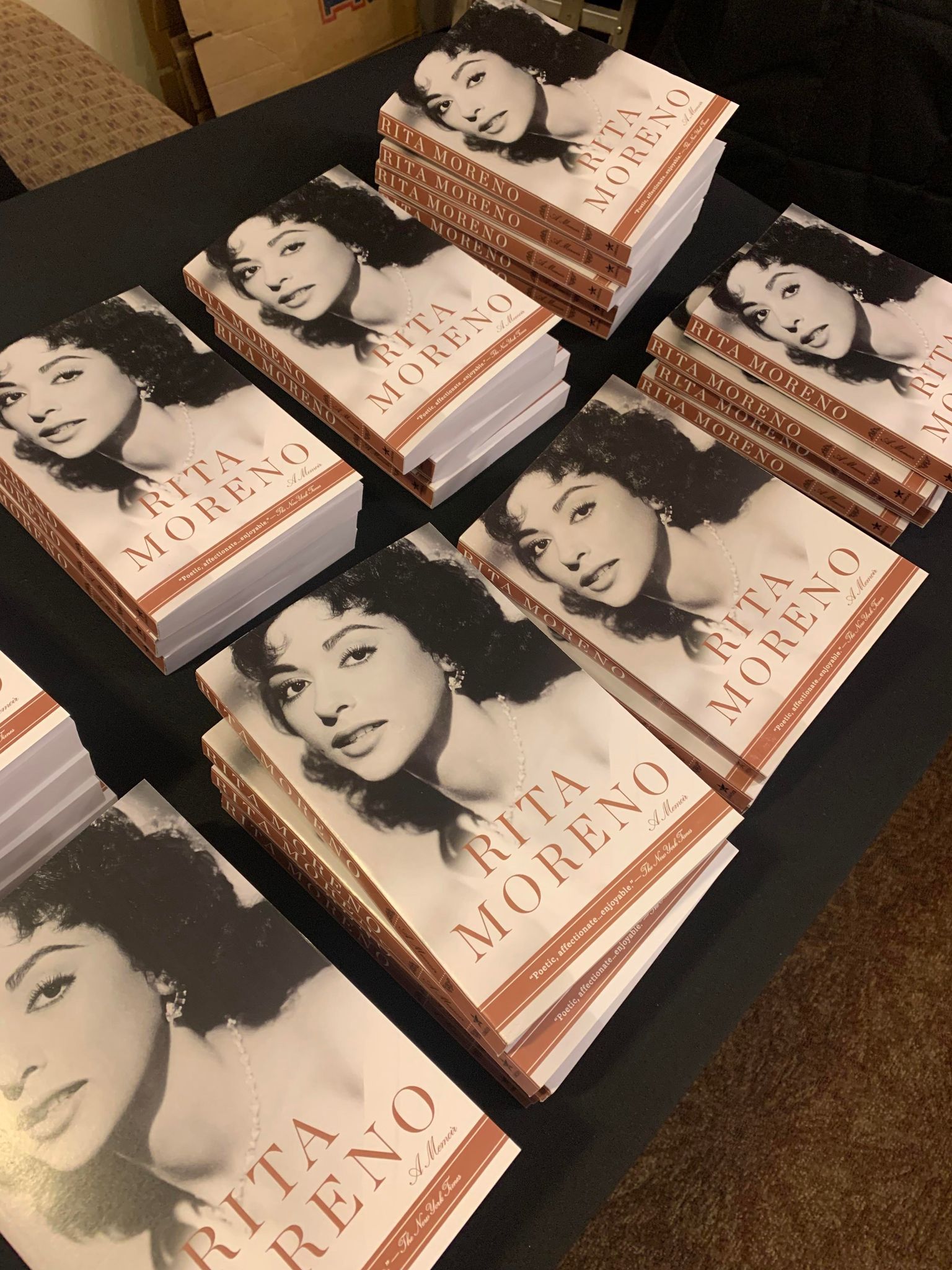 Before I initially sat down, I purchased Moreno's biography in the lobby of the hall which was amazing! I was ecstatic to see they were selling Miss Moreno's book, which is also available at the university's bookstore. I was given a program and then went to find my seat. The venue appeared to be sold out, so I was grateful that I arrived just in time, and sat near the back. I was hoping to find a seat closer to the stage but there were so many people, and I didn't want to disturb anyone.  Before Moreno initially took the stage a video monologue was played of a summary depicting her work. Footage of her academy award win as she hugs co-star George Chakiris from West Side Story, who also won for Best Supporting Actor for the film, and scenes from various films including Gene Kelly's Singin' In The Rain, where she plays starlet Zelda Zanders, (a minor but significant role for a Latina in 1952.) I was extremely elated watching the visual footage, which was a great build-up to her appearance on the stage. The stage itself had a screen in the back depicted in red with the school's logo on it along with two chairs and a mini table in between. 
After the video monologue, University President Isiaah Crawford, Ph.D., proceeded to give the introduction, and Associate Professor of History Andrew Gomez and Moreno then appeared on stage along with a roaring applause from the audience. As Moreno stepped onto the stage, she was wearing a long black-sleeve sweater-top, and what appeared to be red overflowing pants or a skirt with red heels. I could see her glamorous earring studs sparkling from the stage, which I absolutely loved! They were definitely an added touch to her ensemble, and at 91 years old she sounded and appeared to be very youthful and healthy.
As the event officially started, Moreno began to recollect various moments from her experience in Hollywood. She spoke on the typecasting and discrimination Latinos received during the studio-system era, and how roles were largely limited to her because of her Puerto Rican heritage. Moreno recalled moments of playing exotic women in a span of films where her skin was darkened and where she spoke with a generic accent. She also spoke about coming to the United States from Puerto Rico as a child, and her experience with racism while growing up in New York City. There were many fascinating and insightful stories to characters she's played, including the one time she told iconic dancer and director Gene Kelly 'no" when she refused to cut her hair for her scene in Singin' In The Rain. (The film had been set in the 1920s, and many women had short-styled bobs or curls). She said this initially took him by surprise but he understood her reasoning and therefore she was allowed to wear a wig instead.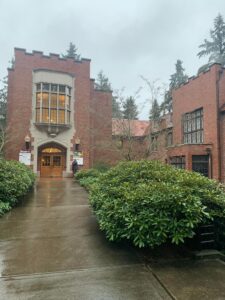 Moreno also brought up her initial change of name in the beginning of her career. She was born Rosa Dolores Alverio Marcano, and just like many other actors had a change of name for simplified pronunciation. Her well-known love affair with the legendary actor Marlon Brando was not brought up, which I was hoping for. Although I've seen her documentary where she speaks on this, I was hoping for more insight into the relationship with Brando, but I believe it's touched more upon in her autobiography. Other topics that were spoken on included her dislike of the original lyrics to the song 'America" in West Side Story. Moreno had stated the original lyrics included negative connotations to her beloved Puerto Rico with lyrics referring to the island with "tropical diseases." She said she initially had wanted to back out of the film due to the lyrics she was required to sing, but they were essentially changed to her relief. According to Moreno, the lyrics had been reworked before finalization and less harsh than originally written. 
Moreno then spoke about a film called Popi (1969) where she starred with actor Alan Arkin. She mentioned a love scene that was required during filming and how uncomfortable both she and Arkin were on set during this scene. According to Moreno, Arkin's wife walked in during production which added to the already tense scene between the actors. Moreno also recalled that most of her roles before then never included love scenes and that most "Island girls" she played would sometimes get raped or treated with disdain on screen. I loved how Moreno spoke upon her first-time meeting studio executive Louis B. Mayer with her mother in his New York City apartment which I found fascinating.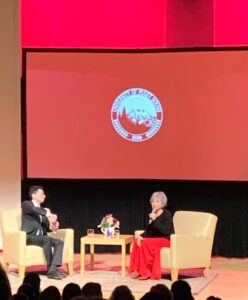 Louis B. Mayer was a co-founder of Metro-Goldwyn-Mayer (MGM) studios and was known for his staunch approach to stars and his successful films. MGM had also been known for their famous musicals and top stars such as Joan Crawford and Elizabeth Taylor. Moreno also mentioned her chance and ability to visit film sets after she was signed to her contract with MGM, which included seeing sets that starred legendary actors Judy Garland and Humphrey Bogart. Since the event was only limited to an hour, there was only so much that Professor Gomez could go over, and I could tell Moreno loved sharing her stories. Towards the end of the conversation, they did allow for questions from the audience via cue cards, and Moreno briefly mentioned surviving her attempted suicide decades ago during her relationship with Brando. For those unfamiliar, Moreno had a long-term relationship with actor Marlon Brando during the 1950s into the early '60s. She had initially brought up the suicide attempt briefly, as she was allotting to her many experiences of survival in life and her time in Hollywood as a young actress. It was a very brief mention, and I wished there was more time for her to elaborate, but she does speak about this more in other interviews online, and in her autobiography and documentary. Moreno also acknowledged her age, and referenced her daughter Fernanda and how they cherish their experiences and moments as much as possible. (Rita's daughter was in the audience). This commentary had me thinking a great deal about life, and how much we can accomplish and still do into our elder years just like Moreno has done. A true inspiration. 
In the end, Moreno's wit and charm stole the show. She is amazingly funny and can capture an audience like no other. Her genuine storytelling is extremely captivating and transports you back to the Golden Age Of Hollywood. I, along with the audience, was left with the joy of witnessing an intimate conversation with an iconic film star whose experiences and success have inspired so many Latinos. I applaud The University of Puget Sound for hosting this special event, and I encourage others to watch Moreno's riveting documentary on Netflix and also tap into her filmography. A personal favorite of mine is the film "This Rebel Breed" from 1960, where it touches on racism and troubled youth. Moreno gives an outstanding performance, and the realism of the film cannot be denied.
Read the film review here.