The search for new, exciting music is an endless life journey. Whether it be my personalized Release Radar on Spotify, recommendations from friends and family, or exploring new genres and artists, I'm always on the lookout for individual musical discoveries. As someone who listens to pretty much every genre, my catalogs of new music tend to be all over the place. I'm hopeful that the hodge-podge list of new music below that I've been listening to lately will have something compelling for every reader. 
Daniel Caesar 
          NEVER ENOUGH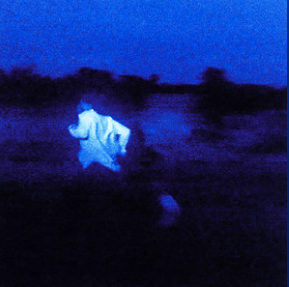 First up on this list is Daniel Caesar's new album, "NEVER ENOUGH." Released just on April 7th, this 15-song compilation is a soulful, emotion-packed experience mirroring the hauntingly beautiful blues shading the album cover. Perfect for a summer dusk drive, my personal favorites from the album are "Superpowers," "Always," and "Let Me Go." "Always" in particular I have on repeat; it's the sentimental, bittersweet heartbreak song that brings out cathartic, healing tears. 
Favorite Lines: "And just maybe \ Enough time will pass \ We'll look back and laugh" ("Always")
    2. Labrinth 
    Never Felt So Alone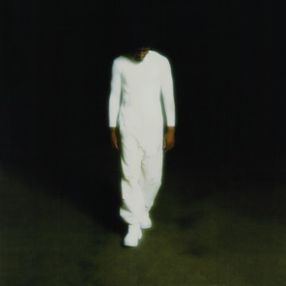 A single released by Labrinth on April 7th, this song pairs nicely as a listening experience with Daniel Caesar's new album. Featuring Billie Eilish, "Never Felt So Alone" has the same cathartic and catchy vibes as "NEVER ENOUGH." Labrinth's and Eilish's voices harmonize in an ethereal way as they sing achingly about the all-too-common human experience of loneliness. Contrary to its name, "Never Felt So Alone" is most releasing and healing in its ability to make listeners feel less lonely. 
Favorite Line: "And I think what if we weren't riding, dying together?"
  3. Hailee Steinfeld 
         SunKissing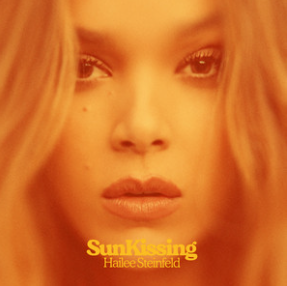 A single released on March 24th, Hailee Steinfeld's "SunKissing" is a mood shift away from Daniel Caesar's and Labrinth's works. "SunKissing" is the absolute perfect, upbeat vibe for the summer and all its beach drives and pool days. It's a catchy, fun, light-hearted bop that I've been obsessively playing on repeat in the car with windows down. 
Favorite Line: "Light drifting, sun kissing"
Milky Chance 
             New Singles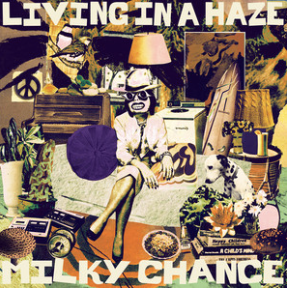 I had to include Milky Chance on this list. They're one of my personal favorite artists of all time; every song they release is singular and amazing. On March 1st, Milky Chance released two new songs: "Living In A Haze" and "Frequency Of Love." On just April 18th, Milky Chance also released a third new single titled "Golden." In typical Milky Chance fashion, all three songs are completely different from each other, and yet all three are stunning listens. "Frequency Of Love" is a slower, hypnotic listen that sends you into a dreamlike state. "Living In A Haze" and "Golden" are both more upbeat, energized pieces that you can't help but dance to. 
Favorite Lines: "Dreams up in my head \ How far can I get \ I hope it's not too late to fly cause I \ Feel like I been going under tonight, oh my" ("Living In A Haze")
 5. Jonas Brothers 
      Waffle House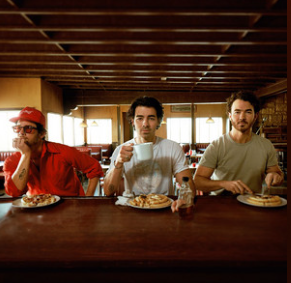 Apparently April 7th was a great day for music discoveries, because the Jonas Brothers' brand new single, "Waffle House" was also released. As someone who has long adored the Jonas Brothers, I had to include "Waffle House" on this list of new music to listen to. Like with most of this trio's songs, "Waffle House" is a quirky, high-energy pop hit perfect for a boost to your day or commute. 
Favorite Lines: "No, don't get stressed, it's gon' get figured out \ Oh, deep conversations at the waffle house"
https://www.youtube.com/watch?v=IS-2ZPDFDH4
6. Rosalía & Rauw Alejandro 
                       RR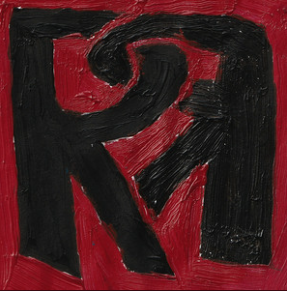 Even though it's been almost a month since Rosalía and Rauw Alejandro released their collab, I felt "RR" needed to be on this list since I've been playing these three songs on repeat (all three, not just "BESO"). While "BESO" is the most popular song and my personal favorite on "RR," "VAMPIROS" and "PROMESA" are also bops. "VAMPIROS" has a satisfyingly edgier energy and rock-like sound while "PROMESA" is a more chill listen. Overall, "RR" provides a well-rounded, layered musical experience that has something for everyone. 
Favorite Lines: "Ya yo necesito otro beso \ Uno de esos que tú me da' \ Estar lejos de ti en el infierno" ("BESO")
7. Karol G 
MAÑANA SERÁ BONITO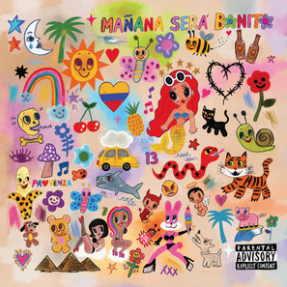 This last one on the list isn't too new given that Karol G's latest album has been out for about a couple of months now. Nevertheless, "MAÑANA SERÁ BONITO" is music 2023 has brought us that deserves repeated listens. My personal favorites are "CAIRO" and "PROVENZA." "MAÑANA SERÁ BONITO" also features some great collabs, like "X SI VOLVEMOS" with Romeo Santos. 
Favorite Line: "Ahora si no es con él a mi lao' no me duermo" ("CAIRO")
Sources:
Spotify: https://open.spotify.com/album/7ivbFszr1TbVadj89BIy1y
Spotify: https://open.spotify.com/track/736PP5LTtREkDgktNmX3Gu
Spotify: https://open.spotify.com/track/71XJNtOdwmL1UWOQQvsKoH
Spotify: https://open.spotify.com/track/4AwJSk491AvHk2AAJReGzZ
Spotify: https://open.spotify.com/album/33JqWTchq6piiQddrRIvJX
Youtube: https://www.youtube.com/watch?v=E7X77GGTGQg
Spotify: https://open.spotify.com/album/2Ffexjpw1Q1qdwLWEVThEJ
Youtube: https://www.youtube.com/watch?v=uGbQYsCBKAc
Youtube: https://www.youtube.com/watch?v=csRqlNZCVOc
Spotify: https://open.spotify.com/track/5iE3eUH2WGCXcE2xr6DEmU
Spotify: https://open.spotify.com/album/50uChhk7AKkzDKytDixjYW
Spotify: https://open.spotify.com/track/609E1JCInJncactoMmkDon
Spotify: https://open.spotify.com/track/3Eax1yebRxj6LSYpxE9Yd3
Spotify: https://open.spotify.com/track/75rqqKvzJCGv2oq9C4yFDt
Spotify: https://open.spotify.com/album/4kS7bSuU0Jm9LYMosFU2x5
Spotify: https://open.spotify.com/album/1yzsYuo0fqKWvYimSWL5RA
Spotify: https://open.spotify.com/album/1wLB2bnCl2m5m9M9g8r93Y
Spotify: https://open.spotify.com/album/1skkjCQGfaGg0wpVw6cq5w