If your city is lucky enough to be one of the stops on Taylor Swift's highly sought-after Era's Tour, chances are, this isn't the first time you've heard about it. No, it's much more likely that, with the show selling out 52 nights, each holding over 70 thousand people, like Houston, your town too has been abuzz. I was excited before the tour was even announced. Like many Swifties, I'd been aching for Taylor Swift to go back on the road since I wasn't able to attend her previous show for Reputation in 2018. During quarantine, when everything was at a standstill and my life was certainly going through its challenges, I promised myself I would attend her next tour. This past Saturday, April 22, in Houston, Texas I was finally able to do so. Let me tell you how it went. 
The doors of NRG Stadium open at 4:30 PM, my mother (a fellow Swiftie) and I arrived at 4:14, even though the main show wouldn't start until 7:50. Even getting there as early as we did, traffic was already beginning to be an issue. I was nervous about parking, but we were able to find a great spot right next to the stadium, paying the usual $40 fee. We went through security, bought some merch from the trucks outside, took a photo at one of the radio stations stands, and got in the line to enter. By that point, again, even though we'd arrived way earlier than the show, the line took 30 minutes, and we didn't end up entering the stadium until 5:15. We beelined straight for section 123 and hurried to check out our seats.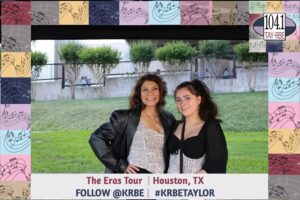 Let me just explain to you, Dear Reader, I waited 7+ hours on Ticketmaster for these tickets. When my time came, I only had mere seconds to decide what I wanted. After all that anticipation, the entire transaction process only took maybe 5 minutes, if that. The tickets were $290 each, which was fine, aside from the exorbitant Ticketmaster service fees (I ask you Ticketmaster, what service?). After going to attend this tour let me tell you, these tickets were worth every penny. I sort of had an idea, but I didn't know how lucky I would be. Standing only 5 rows away from the stage, my mom and I stared at each other, "This is insane." We muttered, mouths agape, "We will definitely be able to see her."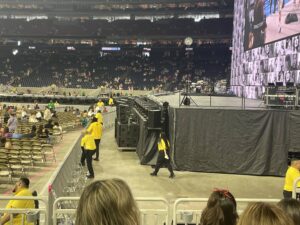 We got some stadium-priced food and Chick-Fil-A lemonade and waited for the openers to begin. Before long, the first one, singer-songwriter Gracie Abrams jumped on stage. Her setlist was fairly short, only 4 songs deep, but she had high energy and a solid voice. Her songs "Where Do We Go Now" and "I know it won't work" were definitely the highlights of the set. Personally, I was much more familiar with the second artist, Beabadoobee, real name Beatrice (Bea) Laus. She's a Filipino-British singer-songwriter with an early 2000s rock edge. Her set, 9 songs long, was incredible. Her voice was so soft and clear, and melded beautifully with the electric guitar she played during almost the entire set. Decked out in a black miniskirt and knee-high boots, with electric guitar glued to her hip, Bea was the epitome of the Cool Girl I'd always wished I could be. My absolute favorite song of hers "10:36" and her new cozy lovesong "Glue Song" were my standouts of her set.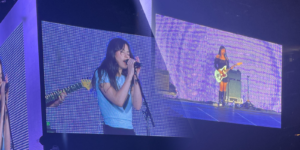 Then it was time for the real show to begin. At 7:50 PM the large screens surrounding the stage all switched into a clock counting down 2 minutes. As soon as the clock struck a metaphorical "midnight", all the lights went off. What followed was three hours and 14 minutes, yes I counted, of the most insane and incredible live performance I have ever seen. No, truly. I have seen concerts and even Broadway shows, and nothing holds a candle to the production level, set design, and sheer energy of one Mastermind Taylor Swift. 
I mean picture it; a pitch-black stadium. In the middle, a spotlighted stage with a catwalk spanning about ¾ of the stadium floor. At first, nothing happens. Fans wait with bated breath as suddenly from the middle of the stage a dancer emerges. A 10-foot-tall peacock-like fan strapped to their waist, flowing as they strut. "It's been a long time coming," a pre-recorded Taylor says. From the darkness, one by one more dancers appear. Gracefully floating through the catwalk. They make their way to the center as old Taylors from interviews and songs past join in harmony with a beautiful string backing track. The dancers form a circle, and one by one lay down their fans on top of each other. The music is swelling, the anticipation is reaching its peak, and then all at once the dancers pull back their fans to reveal a dazzling and absolutely Bejeweled Taylor Swift. A goddess in the flesh. Now, I think to myself, this is an entrance. 
Dressed in a gorgeous custom Versace bedazzled bodysuit, matching custom Louboutins, and her signature red lip, Taylor looks otherworldly. After singing some of her most energetic songs from the album Lover, Taylor explained that The Era's Tour is just that. A tour through every album era. All 10, though not in chronological order. Given the full show is over three hours, with somewhere around 20 wardrobe changes in the mix and an astounding 44 songs sung, this review is not going to be a play-by-play of how it went down. Instead, I'm going to highlight some of my standout moments from the night and why, I personally feel it is well worth the money and wait. 
First, and I think most important, Taylor has nonstop energy throughout the entire production. Not only is this wildly impressive for a show that lasts several hours, but it's necessary. Stamina can be the detriment of a show. Production can be on point, wardrobe can be wadrobing, but if you're not able to sing the songs and move to a beat, an audience will feel your lack of energy. For Taylor, there was no missing link. She sang live and danced the entire night. Not only did she sound amazing throughout, belting some powerful notes (please reference this video of Taylor during "Don't Blame Me") but she never missed a beat. Think about the training that has to go into this sort of thing. Even the dancers got a break, the backup singers got a break, but Taylor was on stage singing song after song, hitting every mark, and playing instruments the whole time.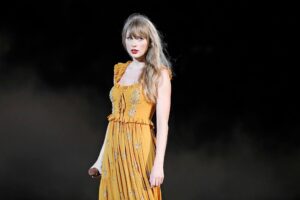 Second, if the custom designer outfits weren't indication enough, the production of this entire show is insane. I first noticed it during the third era transition, when we jumped from Fearless to Evermore, a personal favorite of mine. If you weren't aware, the album cover for Evermore is Taylor standing in front of a beautiful forest. And so, during the less than two-minute-long transition period, the audience was staring at a video of a forest on the screen. We're looking at these trees when all of the sudden literal trees, we're talking 15 feet or taller, begin growing from the stage floor. Sprouting out of nowhere. I was able to find a video of the transition period, which I'll insert here. 
It wasn't just the transition periods. Honestly, I should have taken note of the production value three songs in, when a three-story scaffolding appeared as a prop for the song "The Man". I repeat. A three-story scaffolding as a prop for one song. During the Folklore era, another personal favorite, an entire one-story house rose from the ground with Taylor perched atop the ivy-covered roof. As she sang she walked along the fully functional roof making her way down the stairs for the second song "Betty", "To explain this song it should be said that I have a history of this one recurring theme in my music…and that is sort of woman-splaining to men how to apologize." Taylor joked as she introduced the song.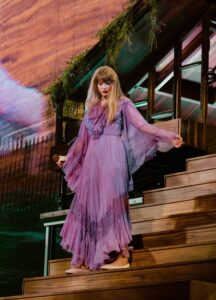 During Reputation's iconic "Look What You Made Me Do", Taylor appears before 12 dancers dressed up as older versions of herself, encased in moveable glass boxes. She goes up and down taunting them before they are released from their cages and chase her onto a moving platform. And a real standout for me during the show was Midnight's "Mastermind", when Taylor acted as a puppeteer seemingly controlling all her dancer's movements. This was made all the more impressive by the chess-like flooring that sprouted from the LED stage. Another great touch, as the interactive stage made for an impeccable view no matter where you were seated. As audience members from different sections got different aspects of the show. 
Every part of this show was impressive. I mean the sheer scale, 77 thousand attendees. All belting out her lyrics at the top of their lungs. Yet somehow Taylor was able to make such a large space feel intimate. From the jump, her charisma and personable nature were on full display. Case in point, Taylor has these charming ways of introducing songs. After her energy-boosting entrance, Taylor allowed the audience to lose their minds a little screaming and cheering for a moment, "Gotta be honest, what you just did–it's making me feel really good." She teasingly remarked, milking the attention and even pumping her arms a little, flexing and kissing her muscles before stating, "The more it makes me think about what you just did the more it makes me feel…powerful. You're making me feel like I'm the first artist to ever play three shows in this gorgeous stadium." She adds excitedly before taking it home, "I guess what I'm trying to say is you're making me feel like I'm 'The Man'." Cue music. 
Taylor allowed the audience to see her vulnerability as she teared up during the song "Marjorie". Taylor explained her emotional state, "It feels really sort of crazy for me to play that song here in Houston, Texas because that's the song I wrote about my grandmother Marjorie who passed away when I was 13. And she lived in Houston, Texas, that was her home…so singing that song with you in this stadium in this way. Looking out and seeing you guys all connecting to it in your own ways just really–oh it does something to my heart Houston, Texas," she says as she holds back tears, "AHH, Subject change!"  
To add to this level of intimacy, toward the end of the night Taylor does a two-song acoustic set featuring two surprise songs. Thus far, the songs have never repeated. It's a fun way of making each show feel a little special and different. My surprise songs were "A Place In This World" a song off Taylor's Debut album she rarely plays, "So this is a song that I wrote when I was like 13 years old and I was on my first album. And I'm sure I related to it when I wrote it, but I think I relate to it more now 20 years later." Her second song was a piano version of "Today Was A Fairytale". Originally released as a single in promotion for the rom-com Taylor starred in, Valentine's Day, "Today Was A Fairytale" is an absolute favorite of mine. Without saying too much, I will admit I did sob throughout the entirety of this one.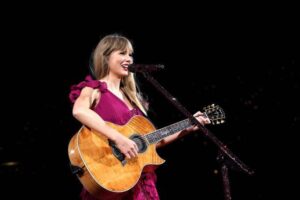 Long Story Short, Taylor Swift's Era's Tour blew me away. It somehow surpassed my already fairly high expectations. I honestly think anyone could more than enjoy this show. It's an artist, a performer with over 20 years of experience, at the top of their craft and it shows. There was never a moment where she lost her sparkle. Every single line uttered, every song, every moment came with a hair flick, a teasing look, a sassy move. I keep using the word impressive but truly that is what it is. How else can you describe someone singing and dancing and telling a narrative story for three hours, never losing a moment of energy or missing a line, or souring a note? I mean my god, even the quick changes were expertly done. 
There are some shows where I could say they were good, though I wouldn't attend again. This? I would go every day if I had the stamina for it. I mean, look at where I was sitting. Look at how much I paid. Look at how long I was entertained. This show is well worth the price. Honestly, $290 for those seats is a steal, and I'd happily take it after all the nonsense Ticketmaster pulled. If you have the opportunity to catch this show, don't miss out. Taylor Swift is touring the Era's Tour throughout the US  through August 2023.