After months of promoting and planning, this past weekend Latinitas finally held their latest Start-Up conference, Eco Chica. A one-day-only event where attendees, ages 9 to 14, are given an exclusive look at what it really takes to be an entrepreneur. The kids are separated into groups and then tasked with coming up with a business idea, logo, slogan, and budget, all culminating in their pitch presentations, which they conduct in front of a panel of judges for a chance to win prizes ranging from recycled backpacks all the way to $100 gift cards. As a reward for their participation, every attendee is gifted a complimentary Laptop courtesy of Human-i-t.  
This year, Latinitas decided to add a bit of a twist. As part of their "Eco" theme, all business ideas pitched must be eco-friendly and sustainable. When asked where the idea came from, Latinitas Program Coordinator for Eco Chica, Mia Gomez-Reyez explained it came from the kids, "It was pretty much a response to what we could already tell our students felt really really strongly about…In recent years, especially with climate advocacy and all of those things, a lot of our students on their own doing Start-Up Chica have decided to try and make businesses that solve environmental problems because they just feel very passionate about it." When it came time to decide if they should theme their next Start-Up, the answer was pretty obvious.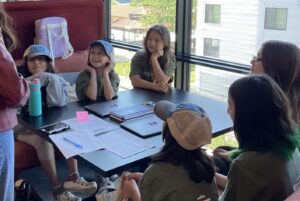 This year's Eco Chica was held at Atlassian's beautiful office space in Latinitas hometown of Austin, Texas. The space was breathtaking, and thanks to Atlassian's generosity Latinitas was able to utilize the entire building. Once the chicas were all checked in downstairs they headed to the second floor for breakfast and some downtime before the event started. At 10 AM on the dot Eco Chica Hostess and Spectrum News Reporter Karla Leal introduced herself and announced the agenda for the day. The participants weren't just going to be expected to blindly pitch a business. Instead, the day was built into sections. In each section, the girls would come to the main room on the second floor and hear one of Latinitas' chosen speakers talk on a specific aspect of Business. Afterward, the girls would head upstairs to use what they just learned to add more dimension to their concepts before pitching at the end of the day. 
First up, Karla Leal introduced Eco Chica's keynote speaker Celine Rendon, who shared her upbringing as a first-generation immigrant living in California and Texas. She spoke about her interest in environmental justice, how she started out attending protests, including a protest against the FC Soccer Stadium's original location, and how that love for the environment inspired her throughout her career. Next, came Dell's Senior Leader Gina Cano, who spoke about Objectives and Strategy. Similarly, she starting out her talk educating the girls on her own life experiences. Growing up in Beeville, Texas, how her father was a self-made millionaire, and how even when she worked as a bagger at HEB she knew her main goal, "I didn't know what I wanted to be when I grew up, but I knew I wanted to be in charge."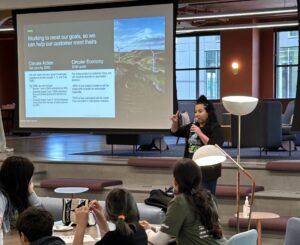 She laid out the girl's first task; find a problem and find a solution for it. At 10:50 the girls migrated to the third floor for their first brainstorming workshop. The session lasted for an hour, and by the time they were done plenty of business ideas had been thought up. All that thinking definitely made the participants hungry, as they hurried downstairs to grab some lunch and hear Alexandra Gyarfas, Balcones Resources Director of Marketing, speak on the recycling process in Austin. Once the kids were properly motivated to save the environment, a couple of speakers from the nonprofit Girlstart passed around worksheets and tools tasking the girls to create their own invention that could safely sweep plastic out of the oceans.
After a few absolutely adorable presentations, the next speaker, Sustain The Mag founder Reza Cristián, came onstage to introduce the next Business topic; marketing. She spoke about how important it is to make sure your business has an identity. It has an aesthetic, signature colors, a catchy slogan, an even catchier logo, and a certainty that everything aligns to support your chosen mission. As an activity, Reza flipped through a slideshow of various logos and slogans, having the kids scream out which brand owned which. Something the children seemed to really enjoy. After her point was made, the kids hurried upstairs for their second hour-long workshop, this time to brainstorm the identity of their businesses. 
At 2:30 the kids entered the main area once more, this time to hear from their last speaker of the day, Handsome App founder April Dominguez, who advised on how to pitch a business. This was important because, as she stressed, your business idea can be amazing but if you're unable to properly explain what it is and how it works, no one will know. She delved out some pretty great advice with the girls, even getting vulnerable for a moment, sharing her own insecurities when it came to giving pitches. However, she often told herself one thing that would calm her nerves. When it comes to pitching your own business, "No one knows as much as you know." 
Following her talk, the teams headed upstairs to finalize their pitch presentations in one last workshop. While they did that, I caught up with Eco Chica Committee Chair, Alyssa Padron to see what she was most looking forward to throughout the day, "I am super excited for the girls today to explore a little bit more about environmental sustainability. Thinking more long-term about the world that they live in, and how they can be part of improving that for the future…I think everyone has a really awesome energy coming into today. There's a lot of really good, exciting ideas. It's really just exciting getting to empower all of these girls to be the change that they want to see in the world." 
At 3:40, after a full day of planning and brainstorming, all nine teams made their way downstairs to pitch their businesses in front of the panel of judges, which was comprised of ZenBusiness' Victoria Padron, Tule Capitals' Lala Elizondo, Capmetro's Jo Anne Ortiz, Austin Resource Center's Eva Marie Cardenas, and Wells Fargo's Mireya Hord. Each team had four minutes to pitch, followed by a short question-and-answer session with the judges. 
The pitches began with Team 1, who proposed their company Food 4 Others. The concept: an app that repurposed restaurant foods by alerting nearby charities/ shelters when a restaurant had remaining and edible food to spare. For all the research, wages, and materials necessary Team 1 was asking 300K from the judges to get their business off the ground. Team 2 came in strong with their business titled Blooming Earth. A company that would partner up with trash collectors, utilizing all their compostable and plastic waste in an eco-friendly farm. The foods would be used as fertilizer, and as for the plastic, the Team opted to purchase wax worms which can decompose the material. For their marketing strategy, Blooming Earth was set on using social media to reach their target audience; everyone.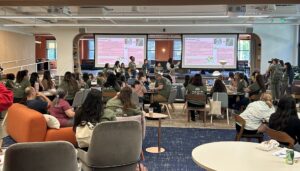 Team 3 was a personal favorite of mine. Their business, Belleza De La Fresca, was a makeup brand made of fruit. The literal translation of the title is Beauty From The Strawberry, and true to its name Team 3 planned on using dehydrated strawberries and strawberry skin to create eyeshadows and other makeup products. Their products would come in either reusable or biodegradable packaging and would have cute names like besos for lip balms or bonita banana for a specific blush. The team cited allergies as their main weakness and asked $1 million from the judges to start their business. 
Team 4's business, Rethink Reuse, pitched an app that would tell you how to repurpose certain pieces of trash (plastics, packaging, etc.) into art with how-to articles. Their slogan, Make Art–Save The Earth, really captures their mission. Rethink Reuse was thinking of using social media, specifically influencers, as a way to reach their target audience; everyone. They asked a modest $7,500 from the judges. Team 5's harrowing The Cooler sees sci-fi come to life with their invention of drone-like products that would be sent into the sky to vacuum all the C02 out of the air. They would target people in major cities with pollution and were asking $680K for their invention. As for the profits? Team 5 said there would be none as they are "a nonprofit". Though they were open to partnering with the government for government-issued drones.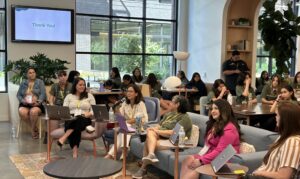 Team 6, Monarca, had an ingenious solution to a problem I wasn't aware even existed; soccer balls. Monarca is an eco-friendly alternative to traditional soccer balls made of natural latex. This way the balls can stop ending up in landfills, and more people can, as Monarca's slogan suggests, Play With Passion. Through fundraising events, the Team is hoping to raise $8,700 and sell their products online. 
Team 7's Clean Sip introduces A New Way To Drink Fresh. The Team is promoting filtration straws and is planning on targeting them towards countries without "good water". As their marketing strategy, they will tell people they know about their business. Their signature color is light blue because that is the color they want everyone's water to be. Team 8's Trash 2 Cash is making recycling accessible by setting up an app that offers monetary rewards each time you recycle. In the middle of presenting how their app had a $10 download fee, the Team lowered the price to $3 to allow for even more accessibility. 
Lastly, Team 9 pitched their brand Clean Green Clothing Dream with the caption Planting Better Fashion. As the slogan suggests, the Team is set on creating durable and sustainable clothing made up of compostable materials such as plant fabrics. In an effort to appeal to their target audience of 0 to 45-year-olds, CGCD will be utilizing social media and various ad campaigns to draw in consumers.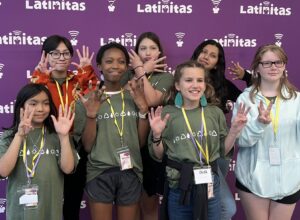 After all the teams presented, the judges went into a private area to deliberate, coming out a while later to announce their findings. In third place, receiving $25 gift cards to JD Market gifted by the company, was Team 9, Clean Green Clothing Dream. The team excitedly ran on the stage to take photos with their riches. Second, receiving brand new backpacks made entirely of recycled materials donated by Gina Cano from Dell, was Team 3's Belleza De La Fresca. My screams were audible. And, after much deliberation, in first place was Team 6's Monarca, with $100 gift cards. The teams took photos and seemed absolutely elated to be recognized. Though, the fun wasn't over just yet as each Eco Chica participant headed to the lobby to pick up the beautiful laptops Human-i-t gifted.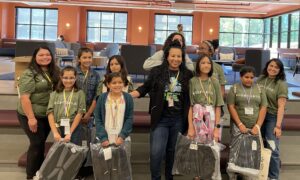 All in all, Eco Chica was an incredibly inspiring event to attend. It contextualized the realities of being a business owner to young kids in a way that they may have never experienced otherwise. It paired them with Speakers who have similar life experiences to them, Women of Color who know what it's like to work in Business, and were able to pass that knowledge along. I'm excited about where these kids will go next. They got a life-altering experience at Eco Chica, and I'm looking forward to seeing what businesses this will inspire. I asked Latinitas Program Coordinator for Eco Chica, Mia Gomez-Reyez one last question and I want to leave you with this. 
"This moment for you, if it was a Taylor Swift song, what song would it be?" 
"Probably "Only The Young", cause I think that's what I remember a lot when I hang out with the kids. They're really the ones that are going to do the most amount of change that I'm gonna be able to see because they're the youngest. They're gonna do it. And they're really bright, they have so much passion and so much fire."  
Eco Chica is Presented by: 
And partnered with: