So I recently came back from a vacation in the iconic Las Vegas, Nevada and it was incredible. It was my first time in Sin City, and thankfully we had an impeccable stay cooped up in the Signature at MGM Hotel. I was only in town for 5 days, but we truly made the most of it. I walked over 8 miles on our first day. Which may not be a lot to some, but to someone who works from home and gets most of their steps in walking upstairs to my kitchen–this was intense. It was scorching hot and humid, but I bared the heat (and the steps) and traversed the City of Gamblers and Gimmicks to tell you my findings. So here are my favorite activities I got to do while in Vegas, as well as some helpful tips I learned along the way. 
1. The Hunger Games: The Exhibition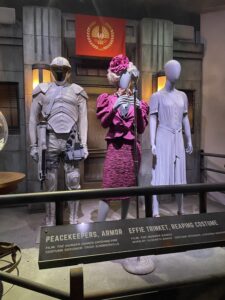 Those of you who know me, will not be surprised by this at all. As soon as we stepped foot in the Las Vegas Airport, I was treated to a large advertisement for The Hunger Games Exhibit at the MGM Grand. I had no idea what this meant, but honestly, I didn't care. The Hunger Games is my favorite book series and has been since I was twelve years old, and little Camila received the entire Hunger Games Boxset for Christmas. Now a full-fledged adult I could use my own money to indulge in my obsession. And I did, not even making it 10 minutes before purchasing tickets to attend. 
The Hunger Games Exhibit is just as it sounds. A museum-esque exhibit featuring tons of clothes worn throughout the films, set pieces, merchandise, trivia, and games. As a mega-fan, the whole experience was unreal. Before you can enter, you sign a waiver as the end of the exhibit features a whole archery minigame. Armed with Nerf-style bows and plunger-tipped arrows, you're allowed to try out for "Rebel Training". Facing a wall-sized screen you, and your team, are then tasked with hitting as many of the Capitol's enemies as possible. While they very much looked like Star Wars robots rather than anything seen inside The Hunger Games, the entire game was pretty fun. At the end of the exhibit, patrons are treated to a photoshoot and a sneak peek at what Lucy Gray Baird will be wearing in the upcoming Hunger Games prequel, Of Songbirds and Snakes. 
2. The Fremont Street Experience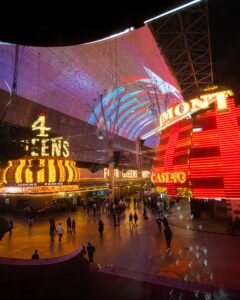 Have you ever been scrolling through TikTok and seen a video of a crazy-looking hotdog from a place called Dirt Dog? Or seen people literally getting weighed outside of the Heart Attack Grill? Both of those places are located in Fremont. Essentially, the OG Vegas Strip. Vegas's birthplace, and despite the new gimmicks, that old-school vibe is everpresent in the Fremon Street Experience. It's a walkway about 5 blocks long, covered in a giant LED Canopy, jam-packed on both sides with fun shows, casinos, and old-school steakhouses and diners. My personal favorite part of this place, aside from walking it, actually was the casinos. 
While I'd never stepped foot in one before, I did know just from walking through hotel lobbies that these new electronic versions of classic games were not exciting to me. There weren't enough actual tables with actual workers at the helm. But all the casinos we entered in Fremont were filled with table games. In fact, I won my first $20 at a table of roulette in Fremont. We walked up to this group of oldtimers who looked like they hadn't moved in years, and I placed a few chips on Black, won, doubled my money, and walked away. Which brings me to the third thing you can always do in Vegas…
3. Gamble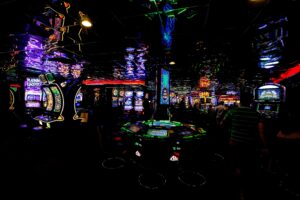 Look, you come to Vegas for a reason, right? I encourage everyone to spend their money responsibly. As I devastatingly have to tell you after I turned that $20 into a $25, I did lose it all on some penny slots. Still, on the rare occasions after that heartbreak I did indulge, it was a fun time. Definitely not a hobby to pick up outside of Vegas, but hey, what stays in Vegas, am I right? 
4. Touring The Hotels on The Strip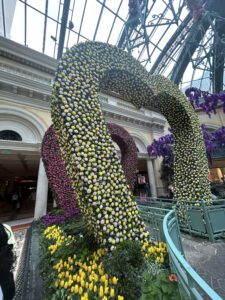 In case you weren't aware, each Hotel on The Strip has its own theming, fit with a unique color story, attractions, and artistic displays. It may sound simple, but honestly, my favorite part of the whole trip was just walking around the hotels and seeing what made them special. For example, on the first day, we hit up Bellagio's Conservatory and Botanical Gardens. A breathtaking indoor space filled with massive flower displays that change seasonally. This season's theme was clearly love, and it was amazing to experience it all for free. This is another benefit, simply walking through these gorgeous architectural feats costs you nothing. So, if you're low on funds it's a great way to enjoy the town without emptying your pockets. 
We also headed into the iconic Flamingo Hotel, which has an outdoor wildlife habitat with adorable ducks, turtles, and of course, Flamingos. Diving into the hotels was an amazing way to beat the heat while exploring the city. Though I will warn you, unbeknownst to me, The Strip is huge. It is a very large section of land, and definitely not as walkable as I had once imagined. Little tip, please wear comfortable shoes. We did end up having to dip into the Sketchers store for this reason. 
5. Attend A Drag Show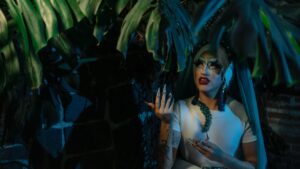 Short of getting married, I can't think of a more Vegas thing to do than attend a drag show. Especially now, as the legislation against Drag Queens and Trans people has gotten so dangerous, showing support for the LGBTQ+ community is always a great move and a fun time. As a major fan of RuPaul's Drag Race (currently rooting for my Puerto Rican Queen Jessica Wild), I was ecstatic to get tickets to see RuPaul's Drag Race Live at the Flamingo and it was such a blast. Unlike regular drag shows, this is definitely catered to fans of the show so if you're unfamiliar it might not be for you. But otherwise, it was such a fun night filled with dancing, lipsyncing, and absolute mayhem in the best way. 
Considering we flew out the following day, attending RuPaul's Drag Race Live was the perfect way to end the trip. If you're heading to Vegas, or have any Summer Vacations planned, feel free to let me know in the comments below.