Looking for summer activities to get involved with? Camp Latinitas is offering exciting and rewarding Day Camps starting June 26th through July 28th. This is an amazing opportunity for young girls and nonbinary students aged 9-14 to engage and network with others while taking part in educational activities stemming from media, health, fashion, business, and technology. The Day Camps offer students a chance to explore interests, build connections, and make meaningful memories and lasting friendships. This summer's Day Camps each have weekly themes from Monday through Friday and will occur during 9:00 am to 4:00 pm. Students will learn from mentors and speakers, and take on a variety of projects while tapping into their creativity each week. At the end of the week on Friday, students will have the chance to present their educational projects, and parents are more than welcome to attend the weekly showcase.
Our first week of Day Camps, which runs from June 26th – June 30th, is Cine Chica Summer Camp. Students interested in media, storytelling, film, photo, and audio plus video projects are encouraged to register. The second week of Day Camps is Design Chica, which runs from July 3rd – July 7th. Students will engage in activities related to technology, UX, and web design, and learn to create tech-fashion while designing their virtual portfolios. The third week of Day Camps is Power Chica, which takes place from July 10th – July 14th. In this week's camp students will learn how to utilize their leadership skills to navigate through entrepreneurship, social advocacy, community relations, and receive leadership training. They will also learn how to create their own businesses, social media campaigns, and brands. The fourth week of Day Camps is Healthy Chica from July 17th – July 21st. Activities such as learning about health combined with beauty, nutrition, fitness, self-image, and self-care will be offered. Students will also create their own projects related to these topics while utilizing media and technology. The last week of Day Camp offered is the Game Chica Summer Camp from July 24th – July 28th. Students will take on and explore social issues of interest while creating their own video game to relate to and promote a positive message.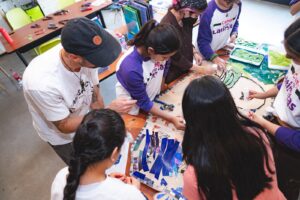 All Day Camps will be held at the Latinitas Headquarters in Austin, Texas, with the potential for field trips during the week. Take advantage of these amazing networking and learning experiences this summer! For more information and questions on how to sign up or volunteer, please contact beatriz@latinitasmagazine.org, or estefania@latinitasmagazine.org.
Regular Pricing: $325, Tuition covers all project-based expenses.
Latinitas HQ
1023 Springdale Rd Suite 2C
Austin, Texas 78721
Contact: (512) 576-3949