Originally Published on BoldLatina
Part of being a 'Bold Latina' is daring to step up and change things, but it really takes boldness to do that in a historically male-dominated industry like gaming. And this is precisely what Cristina Amaya, Judith Barbosa and Elaine Gómez —three of the five co-founders of Latinx in Gaming— are doing.
These three women not only run this organization but also work at different companies within the gaming industry. Cristina is the Events Manager at the professional esports organization Team Liquid; Judy works as a gaming specialist at Red Bull Gaming; and Elaine is a game designer at E-Line Media.
How is Latinx in Gaming building bridges within our community? Hear it from them: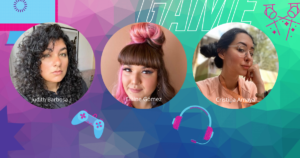 How did you all get together to start Latinx in Gaming?
Cristina Amaya: Back in 2018, we put together a panel for the Game Developers Conference (GDC), that happens every year in San Francisco. A couple of people who were on that round table, we really wanted to have a space where all Latinos would hang out and meet. There was never a space that was Latinx-focused alone. And I really wanted to make that with that group of people. So we started out as a simple Facebook/Discord group, and we've grown since then!
How are you bringing Latinxs together?
Judith Barbosa: We do that through the places we go. The beauty of it is that we're all heavily involved in the gaming industry, from different angles and across the country. We've got Elaine and Cristina on the West Coast, and I'm on the East Coast. We've got people in Seattle. I'm in New York City. The beauty of it is that we started by just going to places we would normally go and making sure that Latinx in Gaming had some sort of presence, whether that was a panel, a round table… or a mixer! Because social experiences are really important to us as well. Between that and amplifying our message online through social media, Discord Facebook or even LinkedIn, we are trying to constantly have a presence everywhere that we know people that look like us wanna go.
How does your Discord channel work?
Elaine Gómez: The Discord is almost like… a bajillion chat rooms! We have categories, and then whoever is interested in that topic or wants to talk more broadly, they're more than welcome to. I think at this point we have over a thousand people on our Discord. We have a lot of members. People talk about anything from movies and shows that they enjoy, to the politics and things that are going on in the world and in the United States, and also to get support in whatever projects they're making. We have channels for art, for character design, for audio… If people want feedback or want to share their projects, they do that in those channels. It's really nice to see how people form groups and friendships. It has been really nice to see people grow and come out of their shells as well. It has been really nice to see the growth of people. Not as professionals only, but as human beings. And it has been really nice to give them that space to do that, where they feel safe to do that.
Judith: I think that it's something unique that we've done. When we went to San Antonio for PAX South, we did some cool things like creating a space to host salsa lessons, available to everybody, not just Latinx people. These are opportunities for us to showcase our culture, and make it accessible and approachable, in the gaming environment. With Discord what I think is cool is that we not only have social channels. Yes, we have categories, we sat and watched the Walter Mercado documentary together, but also we have networking situations and opportunities to collaborate, we've got students trying to break into the industry, we've got experienced people willing to offer their advice whenever they're available, both in scheduled moments —like interviews and webinars— but also just for fun when they have free time. We share our experiences all the time!
Do you think that the Covid situation has encouraged this?
Cristina: Yes, absolutely. I spent a lot of my time online as a kid, especially because I was a big nerd and into gaming, so a lot of my friends were already online! But one of the coolest things that's happened this year was we got a lot of people coming in from Cuba. I had grown up in Florida, my mother is Cuban, and I had never thought that I could talk to people living in Cuba on the Internet! And now I see them in there, and they occasionally talk. It's so cool to see that they're online, and they're with us, and they're a part of the conversation.
We see a recent tendency among US Latinxs to reach out to their roots. Are you reaching out to organizations, gamers and developers in Latin America?
Judith: Something we implemented within the last year was the Latin American outreach network that we're building. We've got people in our founding staff who have been fostering these connections for a long time, for their individual groups, and their individual initiatives. But now we put it all together and we got a whole network of people across multiple countries in Latin America, who are basically serving as regional leaders for us. They are familiar with the local landscape; so we're using them as point people, for them not only to tell us what their communities need, but also to have them constantly in mind.
Elaine: Regarding people who were born here in the United States and are trying to reach out to their roots abroad, that's really big! That's definitely a conversation we are having in the community. Latinx who have been born here, they perhaps don't speak Spanish or Portuguese, so they feel like they cannot connect with their families or people in their country in a way that others do. There is definitely that reef and we try to bridge it as much as possible because we want to validate the identity of everyone in the community. We're building a family where you can feel free to learn about your culture, and we will teach you Spanish if you're open to that. It's all about learning. And we want to uplift people, not put them down because they're not "Latino enough." That's a really big issue here in the US: "You are not enough because you don't speak the language, and you weren't born in the country; so you aren't really Puerto Rican, you aren't really Cuban." And that's so invalidating for so many people. We have seen people cry talking about this stuff because it really hurts! We're here for you, even though we don't know you. We might not be from the same country, but I value you, and that means everything to a lot of people who are like… "nerds" or they're more closed up, or not as social as other people. That could really make a big impact on their lives.
Here in Latin America, the video game industry is very male-dominated. As women, how do you feel as professionals in the video game industry? Do you see misogyny or sexism in your day-to-day work?
Judith: One resounding YES! But it's also interesting because we all have different perspectives.
How does this sexism materialize? Is it related to not being able to reach the top-level positions within a company, or there is more?
Cristina: Sure there is that, but it's also in how you're talked to, and in how people tell you how to talk. Also, #MeToo allegations as far back as in June all came out, and it became a wave of about two-hundred women, some men and some underrepresented genders who came forward to talk about their experiences with sexism, sexual assault and other really hard topics, in the gaming industry. This, for example, had Ubisoft completely overturned. A bunch of people from the senior level had to leave.
Elaine: I think it's a global issue and regardless of what industry you're in, it's a systemic issue that stems from society and unfortunately it just filters through to our jobs and our careers.
One last thing I want to ask you is about the events in which you will be taking part in the future. In October you're hosting UNIDOS Online. What can you tell me about that?
Cristina: UNIDOS Online is gonna be a three-day celebration of Latinx culture. From a game jam to an esports event, to a ton of different panels; we will also be doing cafecitos in the morning with the Puerto Rican Game Developers Association. It's gonna be a ton of really fun stuff. What I'm most excited about is that it covers so much of the different types of devs that exist, not just in the US, but in Latin America; it's showcasing all the amazing talent we have —It's a bigger and better version of what we did earlier this year in March, in Latinx DIRECTO! I honestly was kind of worried that we didn't have enough content, and now we have so much!
Elaine: The most exciting part is that we allowed the community to show us what they wanted to have in the event. We really didn't program much. That's why we were scared, because we don't really have a program! We were just waiting for our people to say "This is what I want to do." And it's amazing how everybody rallied together. I'm doing a cooking stream, and other folks are going to talk about games that they like, or what it's like to work in games… All these different topics range so widely, and it's so cool to see how we're literally giving the community a stage and allowing them to shine. I think that was our number one goal for the UNIDOS program. Then, we were very fortunate to have sponsors coming and help us achieve this goal. And we're also fundraising money! There's two organizations that we picked. One of them is GameHeads, an organization in San Francisco that works with minority youth of colour. They teach them game designing and game development. All the kids are working on such awesome projects! It's their own after-school activity. And we understand that they're the future of the industry, so we want to invest in that. The second organization is Panthera's Jaguar Corridor Initiative. The jaguar is such a figure in all of our cultures in some way. There is something about the jaguar that is so special. This organization builds sanctuaries for jaguars across Latina America, and we want to raise money for them, so they can do what they do best: save the jaguars and create safe spaces for them.
Judith: Obviously with GameHeads there's a direct connection: we're talking to the youth, we're teaching them, we're enabling them to consider gaming as a career path in addition to a hobby; but Pantera I think is an incredible opportunity, and something that I don't see often within games: It's speaking directly to our heritage, by conserving the environment in the countries that we live in, that our families live in and that we come from.