AUSTIN, Tx.—Do you have a chica at home who has an entrepreneurial spirit? Latinitas invites girls ages 9 through 18 to its annual StartUp Chica conference on Oct. 10 to learn business skills, invent a company or product idea, and work with real, qualified tech mentors. This year, Latinitas invited Co-founder and President of Siete Foods Veronica Garza to be the keynote speaker. 
According to Siete Foods' website, Garza was diagnosed with various autoimmune conditions that kept her from eating traditional Mexican foods such as flour and corn tortillas. Garza explained on their website that she decided to adopt a low-inflammation, grain-free diet and started making grain-free tortillas for her and her family. 
Now, one can find Siete Foods' products at their local grocery store.
"I never really intended for this to go beyond my own kitchen," she said in a video posted on their site. "This started as a way to preserve my family's culture without sacrificing my own health." 
With a mission based on making and sharing real food, gathering and advocating for healthier lifestyles among Latino families, Latinitas is excited to have Garza speak at Startup Chica.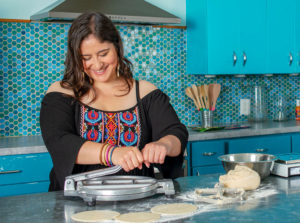 To read more about Garza, scope out her Q&A by Latinitas Magazine: 
Describe your typical day as President of Siete Foods?
In addition to being President, I also am Siete's Chief Innovation Officer. With those two roles, my day is never very typical. I spend a lot of time in the kitchen, and collaborating with the R&D team to create delicious new products. When I'm not in the kitchen, I'm often in meetings with team members across various functions of the business, strategizing, or helping ensure we continue to get the best products on the shelves for our customers. 
When you were younger, what did you envision yourself doing?
I never really knew what I wanted to do when I was younger. I've always been interested in a variety of things, but the things I was most passionate about always seemed to have a creative component. As a kid, I thought you had to be a doctor or a lawyer to be successful; it wasn't until later in life that I realized you could build success out of almost anything that you feel passionate about. 
What is your favorite part of your career?
I love that Siete solves problems for people by creating heritage-inspired foods (like tortillas and tortilla chips) that are made from simple ingredients, so people with dietary restrictions can enjoy foods they might not be able to eat otherwise. 
What are some of the challenges you've faced to get to this point in your career?
Mustering up the courage to get the business off the ground was probably the biggest hurdle I had to overcome to get to this point in my career. Before Siete and before this role, I had never started a food company or business that reached customers at a national scale. Starting this business also meant that I had to make a complete pivot from teaching into a different profession. Making that transition would have been a lot more difficult had I not done it with my family by my side.
What would you do for a career if you weren't doing what you're doing now?
I would have probably still been teaching. I greatly admire teachers for the work they do, but it just wasn't the profession for me. I'm very grateful that I now get to be in a role that allows me to wake up every morning and be happy about doing my job. 
What does true leadership and/or entrepreneurship mean to you? 
To me, to be an entrepreneur and/or a leader, you have to know that success is rarely ever achieved alone, and that connection and relationships are the key to success. 
What are three traits that define you? 
Adaptability, resilience, and problem solving.
When working as a team, what qualities make a strong team player? 
Humility, love, and compassion.
What advice would you give to young Latinas and girls of color who aspire to become entrepreneurs?
Compared to your peers, you may not see yourself as well-represented among entrepreneurs, but don't let that discourage you from giving it a shot. Get comfortable with the idea that you may not have all the answers, knowledge, or experience you think you might need to start a business; learn to ask for help —whether it's from a mentor, family, or friend. You can start small and learn along the way. But always continue to dream big.
To learn more about StartUp Chica or register your chica, check out startupchica.com. The conference will take place via Zoom on Saturday, Oct. 10 from 11 a.m. to 4 p.m. CST. For more questions, please contact Program Coordinator Andrea Morales at andrea@latinitasmagazine.org. 
About the writer:
Elisa Garcia is a graduate of the University of Texas at Austin with a bachelor's in journalism and is now the Magazine Editor of Latinitas Magazine. She has experience in social media, reporting and videography. Garcia enjoys covering pop culture trends, arts and life community events and feature profiles on women empowerment. Her works have been published in The Pan-American Newspaper, ORANGE Magazine, San Antonio Weddings and Latinitas Magazine. You can read her work at elisaruthgarcia.com! When she's not writing you can catch her with her cat, Opal.
Want to read more stories like this? Give us your feedback, here!
Latinitas Magazine is a project of Latinitas, a registered nonprofit. We are funded by readers like you, so please consider donating today. Thank you!